MARY BRYAN
Twenty years ago. I don't live in an area that's serviced by the public bus.
Would you ride the bus more often if it did service your area?
Yeah, definitely.
---
HANNAH ROLLI
Maybe three years ago. When I went out to eat at EWU, I would ride the bus.
Why don't you ride the bus anymore?
I have a car and I live like 2 miles away from anywhere I need to go.
---
JIM BARTHELMESS
About five years ago.
And why haven't you taken the bus since then?
Because I live in Kendall Yards and I walk everywhere.
---
STEPHANIE FLEISHER
Never. I mean, in Seattle I did.
So why not in Spokane?
I use my own car for transportation because it's easier.
Is there anything that would increase the likelihood of you taking the bus?
No. I like to just come and go as I please.
---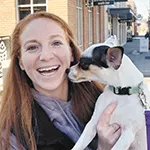 KATHRYNE STAUDINGER
The public bus? That would be never.
Why not?
I have my car here, and I rode a public bus for a lot of my time in South America and I don't want to do that again. But I do have a bus pass actually, so that's something I should do sometime.
INTERVIEWS BY MACIE WHITE