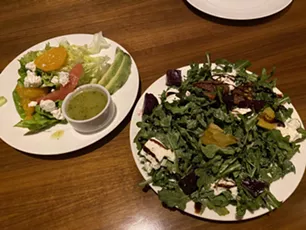 O
ne of the best things
about
Inlander Restaurant Week
is that if you're on the budget of, say, a journalist at a weekly paper, many of the region's fanciest restaurants offer you the chance to try three courses for just $33, lower than a single entree might run you on a normal night.
Table 13
, located in the Davenport Grand Hotel, is one of those great options this year.
To start, we ordered two salads from the first course options, although frankly we didn't realize that "
burrata and beets
" really meant an arugula salad with burrata and beets. While arugula can sometimes be overwhelmingly peppery, this salad was actually super tasty, using greens that had just the right kick to go with the creamy cheese, firm beets and heirloom tomatoes.
Still, the real surprise was the
grapefruit salad
. Anyone who's ever had some orange juice right after brushing your teeth might be wary of the mint-lime vinaigrette paired with the mandarin orange, grapefruit and goat cheese salad. But the combination made for a super bright, refreshing start to the meal.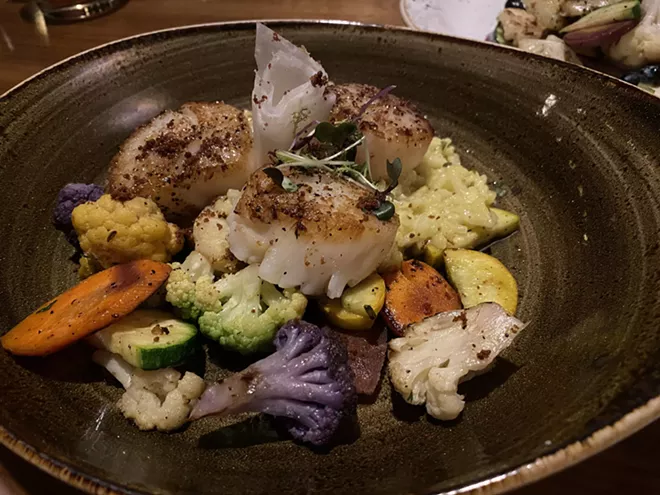 For the mains, we went with the
scallops
and the
blueberry duck breast
. Both were cooked slightly rare for our tastes (though not enough to send anything back), but because they just barely kissed the pan, the well-seasoned scallops were incredibly buttery and soft. With its unique flavor, the lemon-tarragon risotto underneath almost threatened to outshine the main star of the dish. We couldn't get enough of it.
Finally, dessert. The
Rolo Dome
, a super rich chocolate mousse, filled with caramel, and covered in ganache, was
almost
too much to power through between the two of us, but somehow we managed. The
blood orange cheesecake
, on the other hand, had a near perfect balance of tart, salty and sweet. I'd highly recommend rounding out your meal this way.