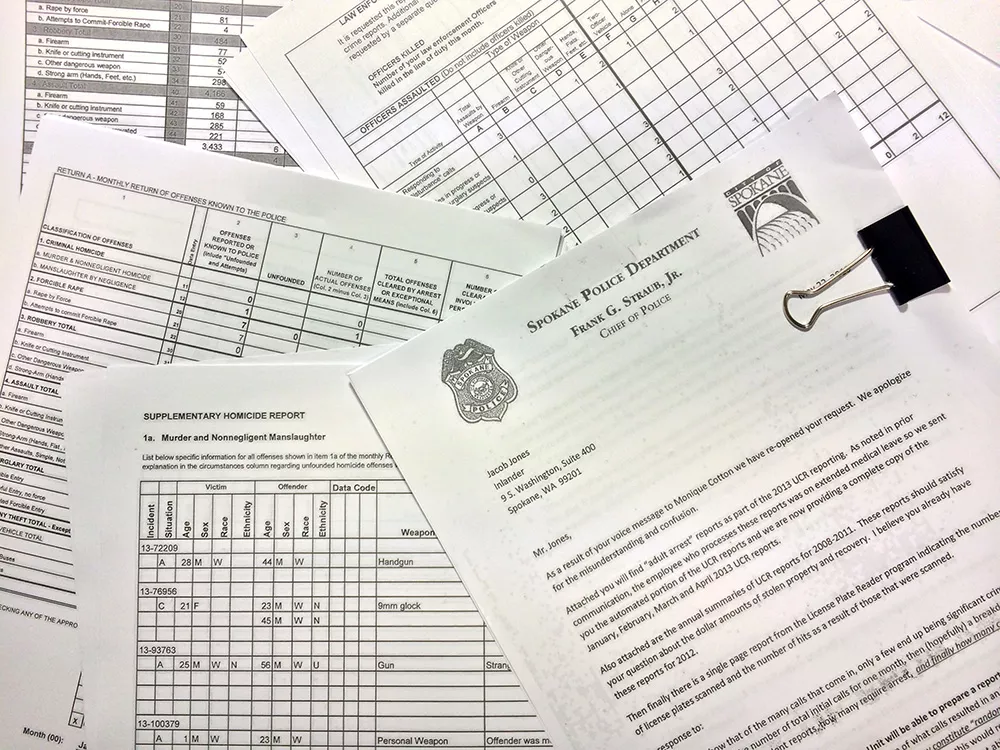 Catching Up
For the first time in a decade, the Spokane Police Department is caught up on public record requests, according to Police Chief Frank Straub. The backlog of requests has been a longtime issue at the department, with waiting times for records sometimes stretching beyond three months. Department spokeswoman Monique Cotton says new staffing and Straub's focus on "public requests as a top priority" are to thank.
Next week, the Spokane City Council will consider an emergency budget ordinance cutting one vacant records specialist position and spending the savings on increasing the salaries for the other 27 records specialists. Straub told the council the department will also likely add one or two more specialists dedicated to body camera footage once police begin using the cameras later this year.
"Now we have good people," Straub told a council committee meeting Monday. "We don't want to lose them."
— HEIDI GROOVER
Deadline Looming
With less than two weeks until the March enrollment deadline, more than 5 million people nationwide have signed up for private health insurance plans under the Affordable Care Act, according to the Obama administration.
The Congressional Budget Office has projected that 6 million people will enroll in health care coverage by the end of March — down from its original forecast of 7 million after the disastrous rollout of the federal insurance marketplace, Healthcare.gov. Enrollments are now on pace to reach the 6 million milestone.
In Washington state, more than 112,000 people have signed up for private insurance plans through the exchange, about 21 percent of the state's eligible population. According to a Kaiser Family Foundation study, only five states — Vermont, Rhode Island, Connecticut, California and Idaho — are beating Washington's enrollment rate.
March 31 is the last day for consumers to purchase a health policy for 2014. Anyone who isn't insured will face a tax penalty.
— DEANNA PAN
Loophole Plugged
The legislature didn't do it. The Spokane County Board of Commissioners has shown no interest in doing it. But now, the city council has a found a way to plug what many see as a loophole in the state's growth management law.
Last year, Spokane County expanded the area where developers could build densely within the county, but the Growth Management Hearings Board struck down the expansion a few months later. In that short time, however, several developers managed to get far enough in the application process that their properties were "vested" — meaning they can still build in the newly expanded areas, even though the expansion was found invalid.
That's long infuriated land-use activist groups. And it's sometimes frustrated city municipalities as well, which are often on the hook for extending water and sewer service to the new areas.
"When you keep spreading out further and further, it costs more and more and more," Councilman Jon Snyder said at a council meeting Monday. "When the county commissioners decided to put 4,000 acres into the urban growth area ... it was basically a stealth tax increase."
Monday night, the city council voted 4-2 to delay extending water and sewer lines to new properties inside expanded urban growth areas until any legal challenges to the expansion had been resolved. While it doesn't apply to agreements that had already been made, the lack of services in such areas would likely delay development in future growth area expansions. County Commissioners opposed the ordinance, arguing it was illegal and would chill development and business growth in the county.
"This is old thinking," Spokane County Commissioner Al French said at the meeting. "This is not working together to benefit the region."
— DANIEL WALTERS