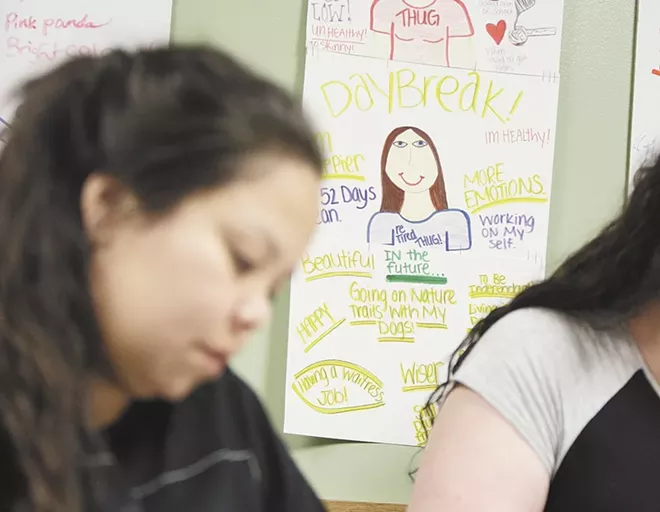 T
he city of Spokane's proposal to turn a former Grocery Outlet
into a
city-owned homeless shelter
has been the recipient of fervent community opposition, particularly from one of the parcel's other tenants, the Project ID disability center.
Now, however, the city of Spokane has the preference for another property.
"It was pretty obvious after that meeting that some of that elected officials, both with the city and the county were hesitant about the location after the meeting," city spokeswoman Marlene Feist said. "It made sense to start looking for additional options."
An email last week from Community, Housing and Human Services Director Kelly Keenan, explains the primary problem was a matter of funding. The city was hoping for a boost in funding from Spokane County, but that agreement hasn't been secured yet.
"I am not feeling confident the county will contribute funds in time to have a project up and running by cold weather, which will mean Grocery Outlet is not feasible for us based on capital we have available," Keenan wrote in an email to City Councilman Breean Beggs last week.
<!—————StartFragment—————>Instead of Grocery Outlet, Keenan suggested the project be located at the Daybreak Youth Services administrative building at 960 E. Third.
"This is our preferred location now considering it appears we will need to act independently for this season," Keenan writes.
Spokane County spokesman Jared Webley says the county hasn't been dragging its feet.
"Our Housing and Community Development Advisory Committee are still waiting on answers to questions from the city," Webley says. "The commissioners aren't going to decide on whether to hand out $1.2 million until those questions are answered. It is inaccurate to say the commissioners aren't interested or are not going to fund it."
An Aug. 6, Kathleen Torella, with the county's Community Services, Housing, and Community Development Department, sent a letter to Keenan asking him to provide the county with the request for a detailed business plan, addressing issues like security, transportation and the shelter's "plan to reach and serve homeless individuals in the unincorporated areas within Spokane County."
The letter also included questions raised in July at a meeting with the county commissioners, including: "Why did the city of Spokane choose this location for the shelter?," "how will shelter beds be made available for the county's 12 cities and towns?" and "by placing the shelter in this location, does the city of Spokane expect the crime rate to become better or worse, and why?"
So far, Webley says, the county has not received a response to the letter.
Beyond the timing issue, Keenan outlines a number of advantages to the Daybreak location when compared to Grocery Outlet, including Daybreak's "ready-to-go office space connected to a basketball court space," its close proximity to public transit and the EnVision resource center and transit options, and ability to more easily control access to "to increase safety for staff and clients."
Keenan writes that other potential sites include 3614 E. Ferry Ave. and 724 N. Monroe, both properties currently owned by Pioneer Human Services.
Feist says the city hasn't abandoned the Grocery Outlet site proposal, however, stressing that the city is still assessing the site.
But either way, time is running out. The Condon administration was widely pilloried last year for its
failure to open
warming centers before the cold weather to provide shelter for homeless people after the House of Charity shut down its 24/7 shelter program.
Rich Reathaford, chief financial officer for Daybreak Youth Services, says that the city has looked into the Daybreak location, but hasn't yet made a formal offer.
"I know they've looked," Reathaford says. "So did a brewery. So did a church. The first one to a table with an offer that's acceptable to our board wins the race. But nobody's crossed the finish line yet."
And once a formal offer comes in, there are a still a number of other hoops and hurdles that need to be jumped through.
"The clock is ticking," Councilman Beggs says. "If we don't get it figured out, we have to do these satellite warming centers, which are very expensive and not very effective."