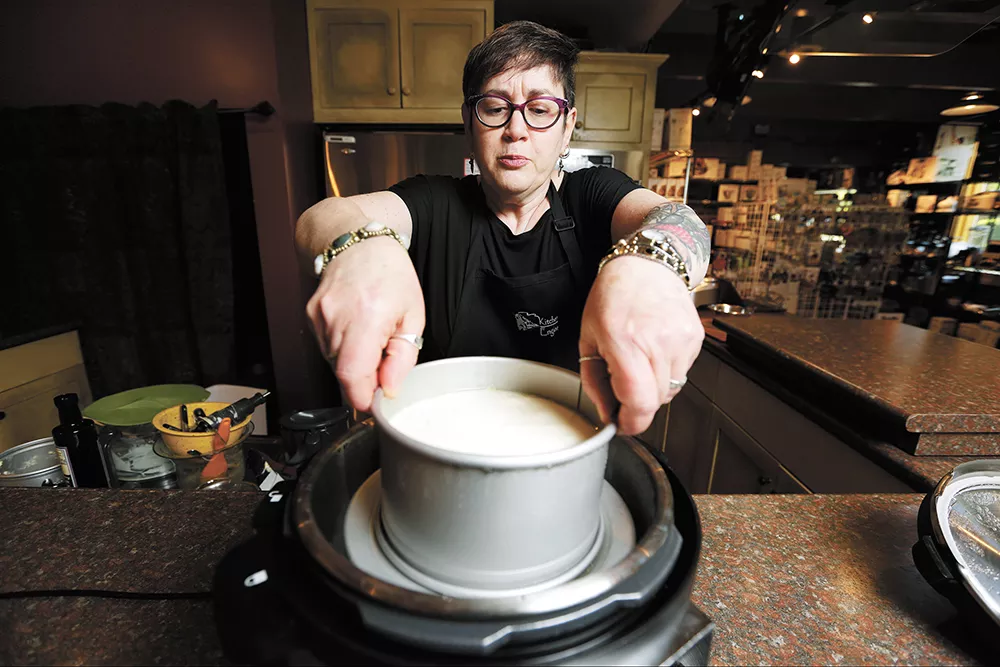 This isn't your grandma's stovetop pressure cooker, with risk of unexpected and dangerous explosions that simultaneously splatter the kitchen ceiling with whatever contents were inside.
No, the pressure cookers of today are, thankfully, much safer to use and somewhat fool-proof, thanks to innovations in technology and design. Chances are, we all know at least one person raving about the wonders of their pressure cooker and how it's helped simplify meal routines, from hands-off cooking to meal prepping and easy, one-pot dinners.
Though the Instant Pot is far from being the only pressure cooker on the market, the brand name is synonymous with the trend. Instant Pot, which came on the market back in 2010, and other brands' similar devices are technically considered multicookers because they can be used as slow, rice and pressure cookers, as well as yogurt makers.
The countertop devices work by building internal pressure from steam, which increases the temperature at which water boils and thus decreases cooking time for foods like grains, beans and meat. Modern electric multicookers come with numerous programmable options for pressure level and cook time, and even preset options for common foods.
For those new or recently introduced to the multicooking trend — especially users overwhelmed by vast amount of praise for pressure cookers on blogs and social media — opportunities to learn more about the method happen regularly in the Inland Northwest.
At the Kitchen Engine in downtown Spokane, employee Marilee Kinsella teaches twice-monthly multicooker classes in the store's teaching kitchen. For these demonstration-style sessions (which regularly sell out), Kinsella teaches her own adapted recipes for a full meal: tikka masala-style chicken, coconut lime basmati rice (see recipe on page 30) and her favorite, a New York-style cheesecake topped with fresh blackberries and a drizzle of reduced blackberry balsamic vinaigrette. Participants leave class with all three recipes, an understanding of the pressure-cooking process and helpful tips and tricks Kinsella has learned since she began using multicookers several years ago.
Kinsella, like many others, bought her multicooker after hearing of a friend's success and began experimenting at home. Due to interest from the Kitchen Engine's customers, the self-taught, lifelong home cook began sharing her know-how via classes in February.
"A lot of my students who sign up are scared to use a pressure cooker," Kinsella notes. "I always ask that question first, 'how many of you already have one?' and about three quarters of the class have already purchased one, but it's sitting in the box and they're just afraid."
Kinsella remembers the stovetop pressure cookers of old, too, and stories of her grandmother cleaning pressure-spewed tomato sauce off the ceiling.
"I think a lot of people associated pressure cooking with that, and the old way of manual pressure cooking where, if you don't do it right and follow directions 100 percent, you could have a pretty bad accident," she says.
With that in mind, Kinsella reassures newbies that their Instant Pot, Fagor or other brand of multicooker won't blow up like that when used properly. She also reviews safety precautions.
To start, she recommends first-time users read their device's user manual from cover to cover, and to try simply boiling water in the cooker to get accustomed to its interface and features. No matter how many times you've used a multicooker, Kinsella advises to always check gasket seals around the lid and the steam release valves before each use.
After a few years of nearly daily use of her multicooker, Kinsella has seen many recipes go terribly wrong, but she has also had as many, if not more, pressure cooking revelations.
"Cooking with a multicooker helps my husband and I stay relatively healthy with our diet," she says. "We aren't gluten-free and we eat everything in moderation, but the multicooker is so nice when I'm here working until 8 pm and I can come home and get a nice dinner on the table in half an hour."
Pressure cooking is a great method, she says, for hard boiled eggs because it makes the shells peel right off. You can also cook dry beans without needing to pre-soak. A juicy pot roast cooks under pressure in less than half the time an oven requires. Desserts with high moisture content — cheesecake, puddings, flan — are also perfect for pressure cooker preparation, she says.
What's not ideal for the device, in her opinion, are vegetables and seafood. And definitely don't cook anything with alcohol inside a multicooker, unless you burn off the alcohol entirely before sealing things up, Kinsella says.
"In a pressure cooker there is nowhere for it to go, so it just comes into the food and you end up with very bitter food," she says. "That was a big trial and error — I ruined so many cuts of meat trying to figure out why it turned out so bitter."
Perhaps the most profound learning moment Kinsella's had, however, is that the "instant" in Instant Pot is a bit of a misnomer. It's still faster than a lot of traditional methods, but there are other elements of time at play.
"Nothing is instant," she says. "You have to wait for the pot to come up to pressure, and that depends on what you are cooking and how much liquid in the pot there is."
Pressure cooker newbies can also learn more about the stress-less process during public classes at the Kitchen at Second Harvest, the teaching kitchen located inside the regional food bank's East Spokane headquarters.
Emily Kanally, Second Harvest's director of nutrition and kitchen programs, teaches those classes based upon her own experience using an Instant Pot at home. Kanally uses her device about once a week, and likes it for making bulk batches of pasta, stews and soups or whole chickens that can last her throughout the week or be frozen for quick reheated meals.
Kanally was turned on to the pressure cooking trend by her sister, who homeschools two girls and told Kanally that the time she's saved using an Instant Pot has been "revolutionizing."
"What I like about it is that it's 'set it and forget it,'" Kanally says. "Once you turn it on, you don't have to touch it again until it's completely done. There's no stirring, nothing. You can go water the garden, take a shower, and go to the store and come home and it's ready."
Second Harvest hosts its demonstration-style multicooker classes every few months (the next is planned for August). For these sessions, Kanally teaches how to cook a full "faux-tisserie" chicken that's then used in recipes for chicken stock and chicken noodle soup. All recipes taught in the multicooker sessions, which cost $30 per person and raise money to support the Kitchen's free classes for its low-income client base, are posted at the nonprofit's website, secondharvestkitchen.org. ♦
Cooking with a Multicooker with Marilee Kinsella • Next sessions: Tue, June 19, and Tue, June 26, from 5:30-7 pm • $39; pre-registration suggested • The Kitchen Engine • 621 W. Mallon Ave., Suite 416 • thekitchenengine.com • 328-3335
---
Coconut Lime Basmati Rice
3 cups coconut water
2 cups white basmati rice
1 lime, zested and juiced
1/2-1 teaspoon kosher salt
1/4-1/2 cup chopped fresh cilantro
Rinse the rice multiple times until the water goes from cloudy to mostly clear. Soak the rice for up to 30 minutes, drain and transfer to your multicooker. Add coconut water and salt. Set your cooker to pressure cook on high for 3 minutes. Use a 10 minute natural pressure release following the cook time. This additional 10 minutes is necessary to complete the cooking. Then, release any remaining pressure using the valve. Transfer to a serving bowl and mix in the lime zest. Add some lime juice to taste and mix in the chopped cilantro.
(Recipe by Marilee Kinsella)