When Jason Jones first heard about the program, he was still behind bars, in prison for a drug offense. That's when he got the call from local pastor Shon Davis that changed everything. Davis told him about classes that over the course of six weeks would hand him the tools, training and connections to get him a job in the construction industry.
The last time Jones had held a job — a real job — was working in a movie theater back in high school. He's 46 now.
"I was in class [in] April," Jones says. "I was at work by June."
Since April, the Inland Northwest Associated General Contractors, thanks to federal grant funding distributed by the city of Spokane, have been conducting Head Start to the Construction Trades training classes.
Todd Wright, who also has a felony on his record, says he was at a state office renewing his food card when the woman helping him told him about the class. "She pointed up at the flyer on the cubicle wall," Wright says. "That was it. It changed my life."
Last week, with a tape measure holstered under his mud-splotched, black T-shirt, Jones is hooking a long blue chain between the tines of a backhoe and a massive concrete cone. He and Wright are working for T. LaRiviere Equipment & Excavation, installing a catch basin under a street near the Northeast Community Center.
"Yeah, we work hard and we're in the dirt all day. But we both make, like, 30 bucks an hour," Wright says. "Bottom line is that that class brought Jason and I to where we are at now. And where we are at now is a pretty damn good spot."
The AGC classes aim to tackle two problems at once.
The first problem: A person's past can doom their future. It can be hard to get a job with a criminal record, or not much of a résumé. And if you can't get a job, it's easy to slip back into destructive habits.
"They're not going to keep walking the straight and narrow if ... they can't make enough money to assist their family the way they feel they should," says Judith Gilmore, grant coordinator for AGC's apprenticeship program.
The second problem: The housing and apartment markets are booming right now, but because the recession hollowed out the construction industry, there simply aren't enough workers for all the work available. Gilmore says that contractors have seen it firsthand.
"It seemed like a perfect storm, when contractors were dropping to their knees and begging [AGC Director of Apprenticeship Mike Ankeny] for trained people," Gilmore says. "Particularly women and minorities."
Already, more than 30 people have found work through the Head Start to the Construction Trades program, and there are a lot more on the way.
"Some have had substance abuse issues, and have lost jobs or have lost families," Gilmore says. "Almost everybody who comes is on a second chance."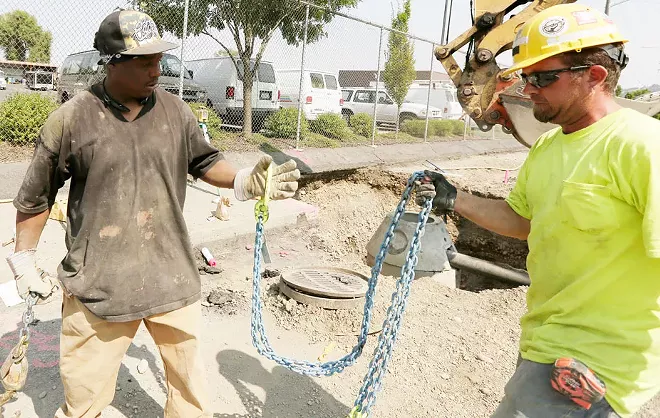 FIXING THINGS
Danielle Rosenberg's little brother watches from the audience as she's handed her AGC training certificate and a tape measure during the Head Start to the Construction Trades graduation ceremony, last Thursday at the East Central Community Center.
"I've had a pretty bad drug addiction since I was really young," she says. That addiction, Rosenberg says, was why she lost her last job at an Old Country Buffet four years ago. She says she's been clean for 14½ months, thanks to Washington state's drug offender sentencing alternative program. But while celebrating her sobriety, she knows she needs to find work. That's why she took six weeks of AGC training.
"I'm going to need a job to able to do things, to have the things I need to support myself," Rosenberg says. "It's giving me a fresh start. I'm learning all these skills."
Shawn Kingsbury, founder of Pura Vida Recovery and an instructor in the Head Start to the Construction Trades program, says the classes teach more than how to hammer a nail or use a saw.
The mornings focus on fitness of the mind and body. Participants listen to a podcast about neuroscience and the power of positive thinking. They watch TED Talks. They do interval training and yoga. They work through the curriculum to understand the intellectual skills, like math and geometry, that construction requires.
The afternoons are dedicated to hands-on practice.
"Tools can be really intimidating," Kingsbury says. "A Skil saw can be really intimidating. A Skil saw, to make a straight cut, it takes a lot of repetitions to learn."
He says he'll take a 2-inch-by-6-inch board, draw 25 evenly spaced lines, and tell students to "make these 25 cuts."
"I have a hashtag called #10,000reps," Kingsbury says. Practice, practice, and then practice again.
The students work on actual construction projects. They've built a bunkhouse, built a juice bar, and they've rehabbed shelves and tables at Habitat for Humanity.
Todd Wright and Jason Jones' class went out to the Spokane County Raceway and built an observation tower, enabling officials to view every part of the course. Wright, who has a construction background, took Jones under his wing, helping him learn the basics.
The classes are free, but they aren't easy. "They're not getting paid for six weeks," Kingsbury says. "They have to find a way to survive and show up to class."
Showing up is tougher than it might sound. Many of the participants don't have valid driver's licenses or access to a car. One man was an hour late to his first class. He'd gone to the Vets Garage — the location of the previous class, advertised on an old flyer. He didn't have a car, but he didn't give up, Gilmore says proudly. He persisted, walking more than three miles from the Vets Garage to the East Central Community Center.
"If they need a bus pass, we'll get them a bus pass," Gilmore says. AGC works with the city prosecutor's office and the Center for Justice to help those with a suspended driver's license get on a payment plan to reactivate their licenses.
Scott Foster, project manager for T. LaRiviere, looks out from his pickup truck, overseeing the construction site where Jones and Wright are working. All he has to do, he says, is just call AGC's Ankeny when he's looking for new laborers from the Head Start to the Construction Trades program.
"I tell him what I'm looking for, what I need, and he tries to come up with a fit," Foster says. "We've had about a 50 percent success rate, where they really, really like what they're doing. Some of them, maybe they need to go back and learn some more."
Gilmore says that there are other programs that connect felons with jobs. But many of these train people for low-paid dishwashing jobs, or jobs in kitchens.
A going-nowhere job often isn't enough, says Layne Pavey, founder of I Did The Time, an advocacy group working to help former inmates transition back to society.
"Being stuck working a low-income and minimum-wage job may be the thing that leads them back into addiction," Pavey says. But the Head Start to the Construction Trades program, she says, helps people find what can be a career, one that provides a path for advancement, and a sense of satisfaction and pride. For Wright, who'd spent years working odd construction jobs under the table, it's a welcome shift.
"When you work under the table," Wright says, "you get treated like you're working under the table."
COSTS AND BENEFITS
Five of these AGC construction training classes — including one to come next year — have been funded by $60,000 of federal Community Development Block Grant dollars from the city of Spokane. Two more classes, Gilmore says, have been funded by a nearly $18,000 grant from the Spokane nonprofit Women Helping Women. That has allowed AGC to fund a miniature training class for juveniles age 16 and 17, and an upcoming all-woman construction training class in September.
And in October, drawing on city and county funding, AGC will be running a class inside prison.
"This will be the first time this has ever been tried inside Geiger [Corrections Center]," Gilmore says.
Gilmore hopes that the program can expand further.
"I need to talk to you about some money," Gilmore says to County Commissioner Josh Kerns after the Head Start to the Construction Trades graduation last Thursday. "It's a small amount of money compared to what your budget deals with, but it's amazing how we can stretch it like salt-water taffy. If we can get this many people training to work, I can't see how anybody loses on that."
Right now, Head Start to the Construction Trades generally serves only residents of the city of Spokane, part of the conditions of the grant funding. For residents outside of the city to be able to enroll in the program, she says, they need funding from the county.
The county commissioners opted not to ask voters for a tax increase this year. Instead, they're asking every department head to cut 7 percent across the board from their budgets. But Gilmore argues that the money the program is asking for is a drop in the bucket compared to the benefits it produces.
"$100,000 a year," she says, "seems like a pretty small amount of money to get 50 people working." ♦