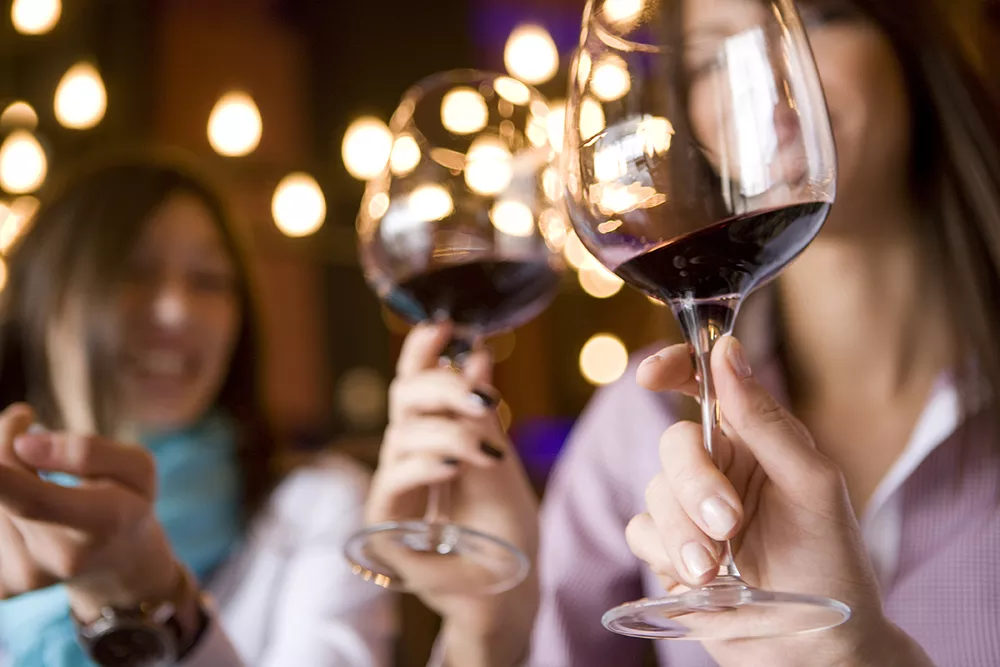 It starts simply enough. She comes home from work exhausted, literally running on empty. No time to relax — the kids need help with homework, everybody's hungry. She opens a bottle of wine and sips it while fixing dinner. Has another glass when they all sit down to eat. Another after the kids have gone to bed. By 10 o'clock, the bottle's almost empty. Might as well finish it up.
Variations on this scenario play out across America among women of all ages and ethnic backgrounds, independent of marital status, economic standing, political affiliation or family makeup. Each woman's circumstances are unique, but the scenario has one constant: wine.
According to a Gallup poll, the number of women drinking on a daily basis has steadily increased in the past decades. In 2002, 47 percent of white women reported being regular drinkers, up from 37 percent in 1992. Regular alcohol consumption rose from 21 to 30 percent for black women and 24 to 32 percent for Hispanic women.
Accident, arrest and hospitalization rates mirror this trend. According to Gallup, between 1998 and 2007, the number of women arrested for drunk driving rose 30 percent (while male arrests dropped more than 7 percent), and the number of dangerously intoxicated young women showing up in hospital emergency rooms rose 52 percent between 1999 and 2008.
These studies do not specify what type of alcohol was consumed, but a 2013 Gallup Consumption Habits poll stated that 52 percent of women prefer wine over beer or hard liquor. The Wine Institute, an industry trade group, reports that women are the primary buyers and drinkers of the industry's 800 million gallons of wine sold in the United States annually.
"Wine has a glamorous element about it," says Huston Stolz, a chemical dependency counselor with a masters in Clinical Mental Health Counseling. Stolz is executive director of Colonial Clinic, an outpatient drug and alcohol treatment facility that has served patients in the Spokane area for more than 30 years.
"Many people think of wine as sexy and glamorous, and view drinking an expensive bottle of wine at dinner as proof of being sophisticated," Stolz says. "People have private wine cellars in their homes. They take winery touring and tasting vacations. Wine is included on train rides, river trips, at fundraising events, and whole regions of the country have much-publicized, touristy wine districts. Even presentation of wine in fine stemware and the matching of certain foods with the appropriate wine are excessively discussed."
Indeed, the cult of wine is everywhere. Boutiques devote entire sections to wine paraphernalia, from coasters to glass holders that attach to the side of the bathtub. Amazon.com has more than 20 pages of wine gadgets, and Pinterest, the immensely popular lifestyle sharing site, has thousands of examples of wine bottle and wine cork crafts.
Prime time television glamorizes and normalizes wine drinking on a nightly basis. The Good Wife comes home from a tough day defending herself or her client and pours herself a generous glass of wine. Scandal's hard-charging Olivia Pope goes home and sinks into her pure white couch with a glass of red wine that's larger than her hand. Several cast members of various Real Housewives series have introduced their own wine brands.
Social media is saturated with wine culture and has become a gathering spot for women who drink, especially moms. The Facebook site "Moms Who Need Wine" boasts of nearly 650,000 followers and "OMG, I So Need a Glass of Wine or I'm Gonna Sell My Kids" claims 131,000 followers. To be fair, both sites include a plethora of parenting tips that have nothing to do with wine.
"When we see posts on Facebook or on parenting blogs that support drinking behavior, we can find all the justification we need to drink. How could this be a problem if all these women, these mothers, are living this way?" says Nicole Sprankle, who has been in recovery for 10 years and is the local facilitator of SMART Recovery, a nonprofit, science-based addiction recovery support group.
"Social media reinforces women who are in that grey area — before addiction but beyond social or occasional drinking," Sprankle adds. "Sadly, many of the women I work with through SMART report that they don't know how they let their drinking escalate, but admit they drink every night and will make a special trip to the store to buy wine if they are out."
It's easier than ever for anyone of legal age to purchase wine. From the drugstore to the grocery store, liquor is readily available and wine is cheaper than ever before.
How did we get here? Social mores around women drinking are more relaxed now than they were generations ago, and alcohol consumption can start in high school, escalate in college and continue into adulthood.
"I don't remember being pressured in high school, but in college, drinking was just something people did," says Ashley (who does not want her last name used), a 25-year-old professional woman and graduate of the University of Idaho. "There was pressure, yes, but just maybe teasing, especially on Greek row. You could choose not to drink, but people offer — or beg — you to drink with them. I never personally experienced bullying, but I could see it happening."
College women say they often "pre-game" or "pre-funk" before going to a party or a sporting event, wanting to have a buzz on before the evening starts.
"Everyone did pre-gaming in college at bars or at home. Even now, my girlfriends and I have a glass of wine or a shot before we go out," Ashley adds.
Binge drinking sounds like it would entail hideous amounts of liquor, but in fact, just four drinks in two hours is considered a binge, an amount common with coeds who sometimes feel they need to match the drinking of their male counterparts. What they don't realize is that women metabolize alcohol much differently than men. Female bodies have more fat, which retains alcohol, and less water, which dilutes it, and males have more of the enzyme alcohol dehydrogenase, which breaks down alcohol before it enters the bloodstream.
"I think most women know they can't drink as much as men can, but they still do." Ashley says. She cautions women to be aware of how much alcohol they are consuming, and to always be with people they trust. "Not all men are gentlemen and a lot will take advantage of a wasted woman, so be aware and don't put yourself in an unsafe position."
Binge drinking isn't relegated strictly to college kids. According to the Centers for Disease Control and Prevention, 10 percent of women between 45 and 64 say they binge-drink and 3 percent of those over 65 also admit to binge drinking. Still, the vast majority of adult women believe they drink responsibly and have the situation under control.
"I typically have one or two glasses of wine in the evening with dinner and afterwards, sometimes a bit more," says Barbara, a local 54-year-old professional woman. "Most of my friends are social drinkers, but I don't know too many who drink every day." She continues, "Women are taking charge of their own choices, and one of those is the right to enjoy an adult beverage without attaching any stigma to it ... I don't feel that my drinking is a problem. I drink when I feel like it, I never get drunk, and as an adult without small children to care for on a daily basis, I have the right to choose wine whenever I feel like it."
For many women, wine is an indulgence they believe they can take or leave. "I can readily consume a bottle a night over four to five hours," says Lee, a career woman in her 60s. "I tend to use wine as a punctuation mark to events of the day — coming home from work, completing piano practice, cooking dinner, watching a favorite TV series.
"However, there are times when I don't drink at all, and my wine consumption varies depending on whether or not I need to lose weight, am spending time with my Mormon family in Utah or training for a difficult sports event, in which case I don't drink at all," she says. "I always take January off to shed weight gained between Halloween and New Year's. It is a fitting way to start a new year."
Study after study tells us that moderate wine consumption (one glass of wine per day for women) is good for our health; one glass of wine per day for women may decrease risk for heart disease, ischemic stroke and diabetes. The negative effects of alcohol on the human body are also well known and include liver disease, memory loss, brain shrinkage and cancer of the mouth, esophagus, pharynx, larynx, liver and breast. "I would not say that one glass a day is harmful, but I would not agree to it being beneficial either," says Stolz. "Alcohol has no nutritional benefit to the human body. Some people who report drinking a glass or two of wine per day are drinking much more. People who develop alcoholism often drink much like others in public, but drink much differently when alone."
Stolz adds that Baby Boomers are especially susceptible to developing a drinking problem. "They have more time and more money, so drinking can easily become part of their everyday private life, as well as their social life. Keeping it in check after retiring is often seemingly no longer necessary." ♦
---
STAYING SOBER
Is it possible you're drinking too much? Ask yourself:
• Can you go a night without alcohol?
• Does socializing revolve around drinking?
• Are you foggy in the morning?
• Does your family think you drink too much?
If you decide you have alcohol issues, the first step to recovery is admitting you have a problem. People then often seek help, either through individual or group counseling or a treatment program.
The behemoth of nonprofit treatment programs is Alcoholics Anonymous, created in 1935 by a surgeon and a stockbroker, both struggling to stay sober. Today the worldwide organization has millions of members and daily group support meetings.
The foundation of AA's Twelve Step Program is for the alcoholic to admit that he or she is powerless over their addiction, that the addition — not individual choice — drives their behavior. In the second step, the alcoholic must surrender to a higher power (which may or may not be God) in order to overcome their shortcomings. Meetings are encouraged but are not mandatory, and many people credit their sobriety to the support and understanding of other recovering alcoholics.
Although AA works well for millions of people, it's not always a good fit for women who have felt subjugated by men (a higher power) all their lives, who lack self-confidence, have been victims of sexual abuse or struggled with eating disorders. Instead of relinquishing their recovery to a higher power, those women need to feel in control of their lives and develop the belief that they personally possess the power to get and stay sober.
Alternatives to AA have sprung up in the last decade; one of the best known is SMART Recovery. SMART focuses on self-empowerment, personal choice, a balanced lifestyle, a holistic approach to recovery and science-based tools such as cognitive behavior therapy and Rational Emotive Behavior Therapy, which examines irrational beliefs that lead to poor choices and addiction. Group meetings are part of the treatment but are not mandatory. Online services allow for anonymous participation via a screen name on the website. SMART does not require members to relinquish control of their recovery to a higher power.
— Linda Hagen Miller