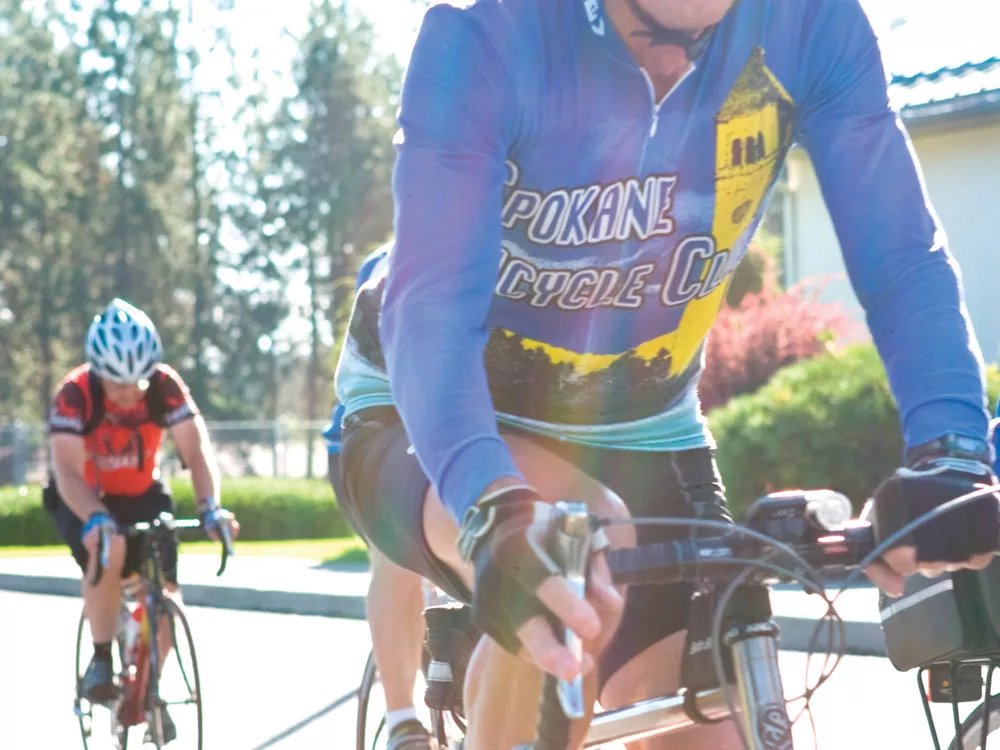 There was a moment in April 2009 when it looked like Spokane's nascent bike scene would never come together. At a virtual "meeting of the five families" in an REI conference room, members and representatives of local cycling clubs and events gathered to discuss the idea of forming some kind of uber-group — an entity that could connect the dots and advance the cycling agenda in Spokane. Just when it looked as if momentum was building, things fell apart under groans of added bureaucracy and more meetings.
But times have changed. Spokefest founder Bill Bender's offer to sponsor groups and events under the umbrella of his event's 501(c)(3) organization may have been met with only mild interest then, but these days people come to him.
"We started out with a group of people who were dedicated to putting together a ride," Bender says of 2008's inaugural Spokefest — a 21-mile community ride through Riverside State Park and back. "We have now had bunches of people come our way wanting to add new features to it, wanting to tack on things. They're all wonderful things."
Since that first ride, the Spokefest organization has absorbed the annual Bike To Work Week (though WSU spokeswoman Barb Chamberlain and her group of dedicated volunteers still run the event) and, this summer, produced two Spokane Summer Parkways events — ciclovia-like road closures on the city's near north side that turned Howard Street into a temporary bike-and-pedestrian mall. (Bender says Mayor Mary Verner, at the second event, expressed an interest in the group holding three Parkways events next summer.)
The group has also donated 30 bicycles to the East Valley School District and 80 helmets to the Spokane County Library District, as well as begun talks with Spokane's Bicycle Advisory Board to look at ways in which the organization can help the city accomplish its bike-related goals.
All this while not skimping on the main event: Spokefest. For the third annual ride, organizers have added to the original 21-mile and Riverfront Park loops a 9-mile shortcut ride that follows (roughly) the well-worn Bloomsday course, as well as a 47-mile option that diverts hardcore cyclists out to the Four Mounds area and back onto the original course.
"We're trying to have this be open to a broad audience," says Bender, who's projecting that about 2,000 riders will take to the various courses on Sunday.
By next year's race, that broad audience could even include racers. Bender says he was approached by the Spokane Rocket Velo club — which has hosted state masters race championships in Cheney for the last two years — about staging a nighttime criterium race in the streets of downtown Spokane the day before the Spokefest ride.
"We talked early in the spring and didn't quite feel like we could pull it off for this year," says Bender. "But that's a continuing conversation."
That continued evolution — connecting the dots, as Bender says, between disparate cycling groups and their grand ideas — is making Spokefest far more powerful (and the city that much cooler) than cyclists might ever have guessed a year and a half ago.
Spokefest starts at 9:30 am on Sunday, Sept. 12 at Post Street and Spokane Falls Blvd., in Riverfront Park. The kids' one-mile loop through the park begins at 10 am. $20, adults; $15, children. Allages. Visit http://www.spokefest.org.