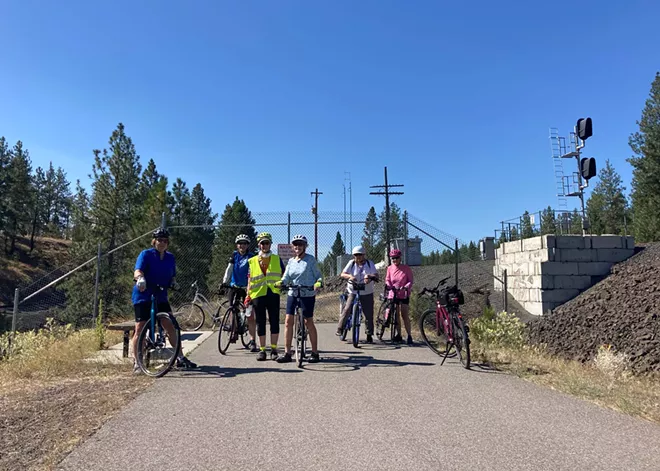 "What kind of a cyclist are you?" asks Eileen Hyatt, who's leading the Friday morning ride.
"Well, I don't own any Lycra," I say. That explains enough, apparently.
It's Spokane Bicycle Club's 50th anniversary this year, and I'm joining one of their group rides to find out what all the fuss is about.
I grew up using my bike to get to school or work around the Chicago suburbs. Now that I'm new to Spokane, I've been casually pedaling along the Centennial Trail, Riverside State Park, and the Palouse Highway. I'm not trying to race anyone. I just like the exercise and exploring — and more than anything, I love the excuse to be alone.
So as I cruise up to the cyclists gathering at the entrance to Fish Lake Trail, I keep asking myself, Why would anyone take such a perfectly solitary activity and make it, uh, social?
This isn't your typical cycling group. I'm sure Spokane Bicycle Club has plenty of middle-aged men with those silly little bike hats. But today's handful of riders are all women, mostly retired, but who all rock bike shorts with the confidence I wish I had.
Some women have been riding or racing their whole lives. Some are transitioning from other sports. A few are new to Spokane, while others have each neighborhood memorized. They ride together each Friday morning to exercise, chat, and learn about safe routes to get around the city.
More than just a "third place," the rides are a resource. What's missing in safe bicycle infrastructure is made up for in an informal pooled knowledge about side streets, traffic patterns and shortcuts.
Hyatt herself is a longtime bike education advocate. For years, she worked with schools and the Spokane Regional Health District to teach students and citizens how to bike safely and legally. In its 50 years, the club has helped draw bicycle maps for Spokane County, put bicycle lanes in transportation plans, raised money for the Centennial Trail, and pushed to put bike racks on buses.
We chat while we wait for all the women to arrive — favorite trails, best bike vacations, injuries, the usual. I off-handedly mention that I can't put my bike in my little car. Hyatt, on my right, immediately leans over.
"After the ride, don't leave until I show you how to take your front wheel off," she says.
We start cruising down the Fish Lake Trail, an old railroad that was converted to a smooth, paved path more than a decade ago. I learn from the women next to me about cycling culture in England, teaching anatomy at local universities, and why it's okay that I have no idea what I'm doing with my life. We reach the fence that abruptly cuts off the trail, past which trail advocates and rail companies can't agree on how to extend the path over modern day train tracks. It's another project SBC is working on, Hyatt says.
Our only choice is to turn back. We're back to where we started after riding about 17 miles, a meager feat for these aging but agile athletes. With the patience and attention of a teacher, Hyatt shows me how to release my brakes, open the quick release and lift my front wheel off. She makes sure I know how to align it properly when I put it back on, too. Now I can join the group for some of their other rides around Spokane, or explore far off trails in the Palouse or Idaho. I feel unstoppable.
"But next time, please wear bike shorts," Hyatt pleads. I thought my athleisure joggers were acceptable, but apparently they're still too risky for a bike safety advocate, too loose to be flapping around close to my gear chain. I look at the women, at the trail I just learned about, and at my perfectly installed front wheel. Maybe I do have the confidence to wear bike shorts after all. I guess it's good to not always ride alone. ♦