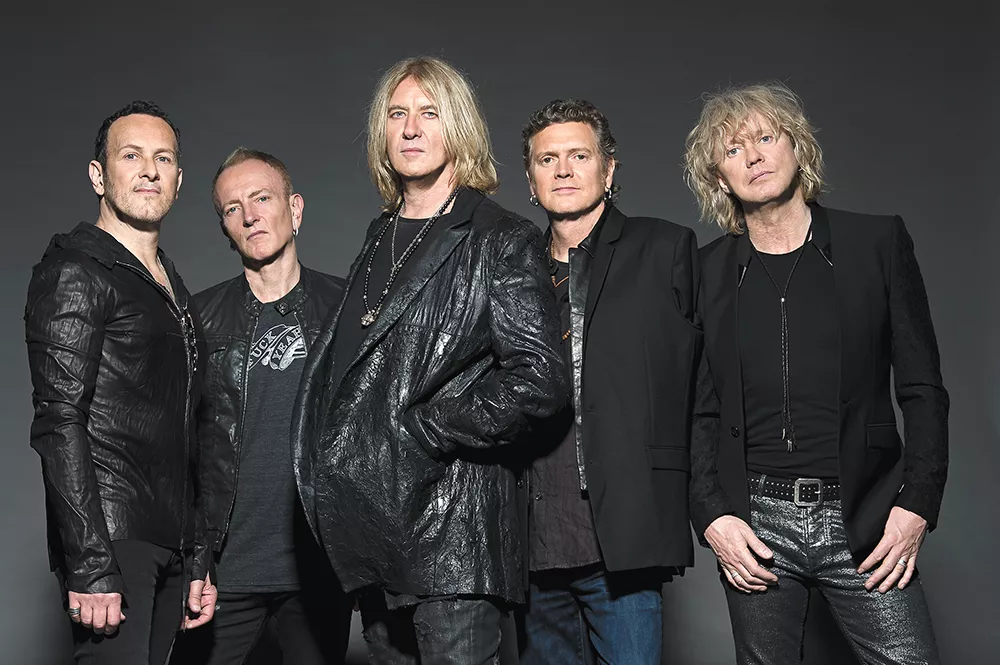 My vocal enthusiasm for Def Leppard's show at Spokane Arena was initially met with skepticism by a co-worker nearly 20 years my junior. After a snide (but understandable) aside about the cheesiness of "Pour Some Sugar on Me," one of the band's biggest (and most overplayed) hits, he challenged me to convince him of the long-running British hard-rockers' worth.
Challenge accepted.
While I can't defend every aspect of Def Leppard's catalog — "Let's Get Rocked"? Ugh. — I can easily make the case for the band's ongoing worthiness and historical significance. To wit:
• Street cred. When Def Leppard first formed 40 years ago and started making noise in their home country, they quickly became one of the leading lights of what rock historians call the "New Wave of British Heavy Metal." They were among a collection of bands, including Iron Maiden, Motörhead and Judas Priest (and countless lesser-knowns), that re-injected some hard-hitting crunch into rock by fusing some of punk's speed and aggression with the bloated bombast of bands like Led Zeppelin and Black Sabbath.
• Pioneering metal into the mainstream. Much to the chagrin of headbanging die-hards, Def Leppard's knack for hooks made them attractive to major labels and American audiences. They had some of the first hard-rock videos on MTV, and their 1983 Pyromania album made them massive stars, eventually selling more than 10 million copies in the U.S. alone. The only thing keeping them from hitting No. 1 was Michael Jackson's Thriller. Many rock bands would follow the path Def Leppard blazed with their combination of aggressive songs, serious hooks and the occasional power ballad.
• Longevity. Granted, Def Leppard's new music hasn't been the reason they've sold more than 100 million albums around the world. Most of those sales came in the '80s and early '90s. And longevity isn't always a good thing (I'm looking at you, KISS). But Def Leppard is still essentially the same band as when they first made it, save for guitarist Viv Campbell replacing Steve Clark after his death 26 years ago. They still make new music (2015 saw the release of their most recent album of originals), they still play 20,000-seat arenas, and they kill it every time they take the stage. It helps that singer Joe Elliott can still hit most of the notes he needs to.
• Great taste in covers. The band doesn't do a ton of cover songs in concert. When they last played Spokane in 2015, they played their version of David Essex's "Rock On" and that was it. But once in a while, they'll pull out something from their 2006 all-covers album Yeah! that shows Def Leppard grew up listening to more than metal. T. Rex, the Kinks, David Bowie, the Faces, Thin Lizzy and Badfinger are all in the band's arsenal.
• "Foolin." Come on, that song's a jam. ♦
Def Leppard with Poison and Tesla • Wed, June 7 at 7 pm • $29.50-$125 • Spokane Arena • 720 W. Mallon • spokanearena.com • 279-7000