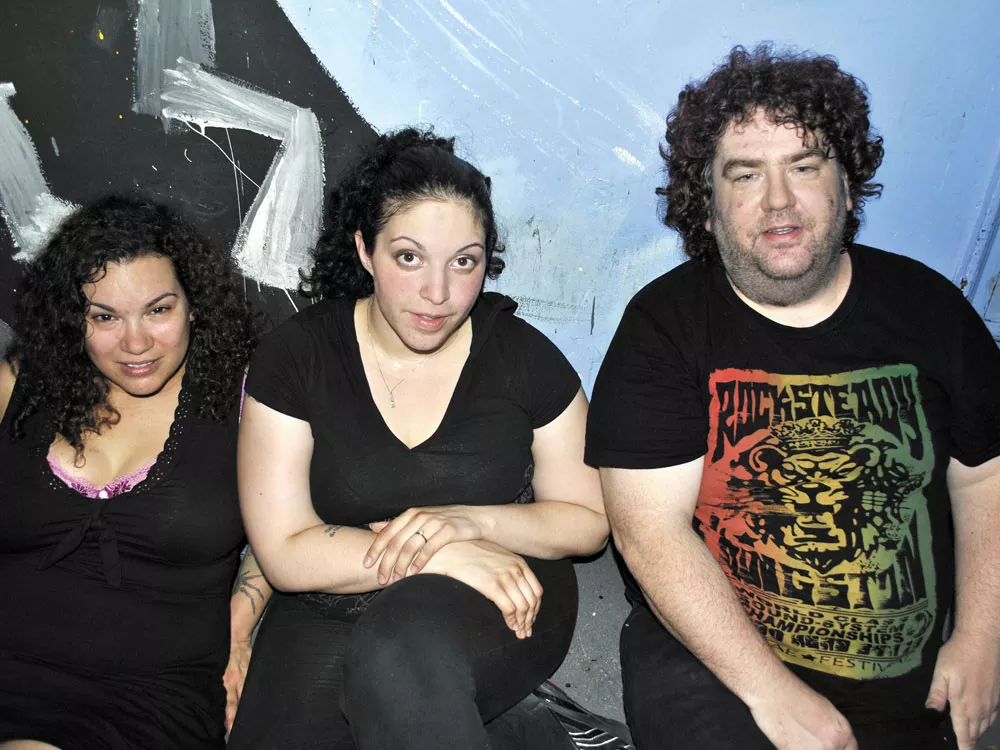 The history of punk rock is chock full of sexual vulgarity. Think band names: The Sex Pistols, the Buzzcocks, the Cramps, the Slits, the Castrators. The list goes on. Olympia, Wash. in the '90s alone had Bangs, Jack Off Jill and (at least) a half-dozen others. Locally, we have the Swallows.
It is into such august company that the Bloody Muffs have placed themselves. Many of these band names were expressions of feminist or queer rage at a male-dominated status quo. The Muffs' origins are slightly less principled:
"One time I said those words in that exact sequence and the person I said it to got really repulsed," says Lesac Dedouche — or "Jonesy" — of the Bloody Muffs. "I thought, if that's the reaction I get, then this is the name of my band."
All Jonesy needed was time. He had the name and the street credentials as a regular New York musician to start a band — he was just waiting for what he calls "the right moment."
The Bloody Muffs found their moment sometime around 2009 inside a dive bar in the Big Apple. Jonesy was introduced to local musicians Jessica Carmen and Kat Kaos. With them, the Muffs were complete.
Despite the prestige of the New York punk scene (think CBGB, the Ramones), the alternative punk outfit doesn't seem too keen on their roots.
"It's a really stuck-up scene here [in New York]," Jonesy says. "Just look at old punk footage, the only thing they know how to do in New York is hold their hands, stand with their arms folded and clap politely at the end."
The Muffs want a pit. They want drunk, pissed-off fans stomping the hell out of each other. And on their first national tour, they just might get it.
Their '70s-infused punk is louder and more grunge-influenced than many of their three-chord contemporaries.
They deliver familiar themes (drinking, drugs, girls), but the female vocals and harmonies set them apart.
"The punk crowd doesn't always like us," Jonesy says.
"We've had the guys with blue mohawks just walk away from our set, but it's OK. We're just a good old rock-and-roll band that plays loud, fast music. If I was in the crowd, I'd hit somebody." 
The Bloody Muffs plays with Sea Swallowed Us Whole, FAUS and Doc Holiday • Thurs, Oct. 28, 7 pm • $6 • Cretin Hop • All-ages • 327-7195.