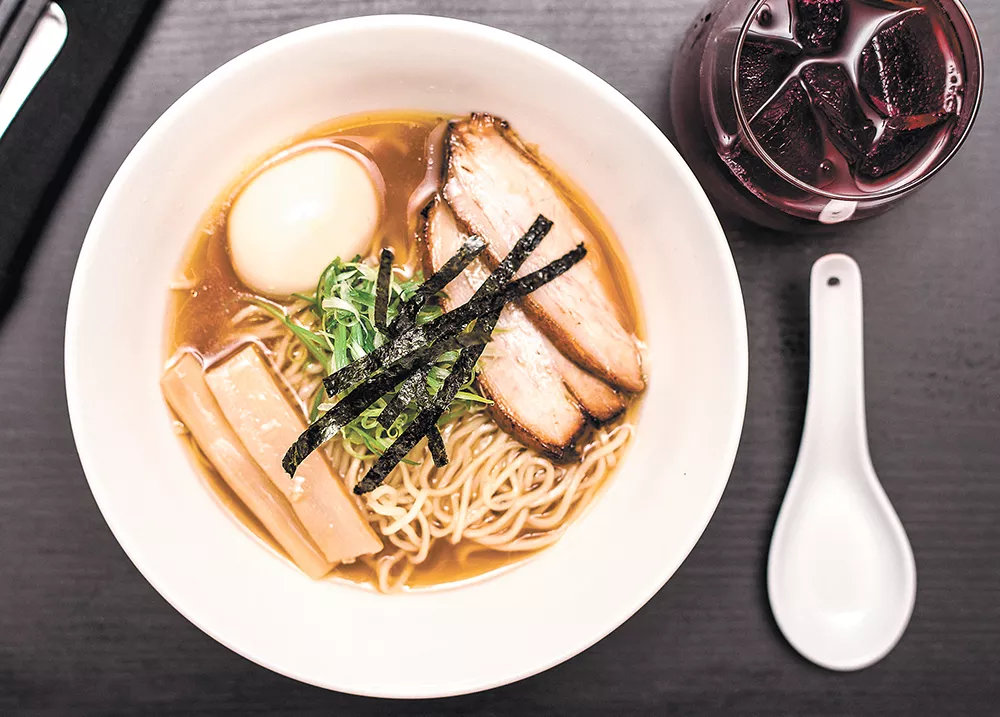 Bin Sun is on a quest. The owner of Liberty Lake's Ding How pan-Asian restaurant and the former Ugly Fish Asian bistro in Coeur d'Alene went to Japan last year expecting to expand his knowledge of sushi, yet returned home with a newfound love of ramen.
With minimal retooling at the restaurant, but a lot of study and experimentation on Sun's part, Umami Ramen opened last month in the former Ugly Fish location inside the Riverstone development. The menu offers cuisine more typical of urban settings like Seattle, Los Angeles or New York, the latter where, in 2004, Chef David Chang's Momofuku Noodle Bar helped launch the American revamp of ramen.
Ramen, explains Sun, is simple, "which is why you want to make it so tasty."
His culinary kodawari — loosely translated as an uncompromising and relentless devotion to a pursuit — led him back to Japan to the Ramen Adventures school in Osaka. His first lesson there was crushing bones for the broth, the lifeblood of good ramen.
Traditionally, ramen's essentials are broth, noodles, toppings and flavorings. It can be characterized by what the broth is made from — tonkotsu (pork-based) or jidori (chicken) — and its seasonings, such as shio (salty), shoyu (soy sauce), or miso (bean paste). It can be served various ways; hot, cold or tsukemen style, with the noodles served in a separate bowl to be dipped into the broth.
Umami's basic ramen bowls (chicken, pork, and tsukemen-style) range in price from $9.95 to $11.95, with house special bowls priced up to $13.95. Diners at Umami can add typical ramen toppings, ranging from chili paste to spinach, soy-brined brisket and soft-boiled egg for $1 to $3.
Sun makes his noodles from scratch, including the kale noodles used in Umami's vegetarian ramens ($11.95 to $12.95). Each of his base broths stew for at least 16 hours, gaining flavor from ingredients like grass-fed beef bones, slow-cooked vegetables, or fresh mackerel.
It's ironic to consider that in the U.S., ramen has become synonymous with cheap convenience food, thanks to dehydrated, heat-and-eat noodle brands like Top Ramen and Maruchan. Traditional ramen is anything but, and can be quite healthy. This perception may be why so many American customers expect it to be served in a salty broth, says Sun.
For that reason, "some customers will love it, some will hate it," he says.
Sun attended culinary school in his native China before relocating to America. He lived in California and Alaska, eventually relocating to Washington, where, in 2004 he opened Ding How with wife Yi Liu.
Just before opening Umami — the restaurant's name refers to ramen's savory flavor profile, imparted by the meat-based broths — Sun invited staff to join him in his ramen journey: "I challenge each one of you to make healthy, tasty ramen," he remembers telling them. "Never settle for less." ♦
Umami Ramen • 1927 W. Riverstone Dr., Coeur d'Alene • Open Tue-Sat, 11:30 am-2:30 pm and 4-9 pm • facebook/umami-ramen • 208-667-1166