"I have a bit of a shaker problem."
That's a potential career-ender for an artist whose craft relies on a steady hand. And if that artist is mixing up cocktails using exacting recipes as part of their work, it really might become an issue.
The shaker worry Sheila Evans is describing, though, is more of a hoarding situation than a nervous-system breakdown. As she worked on her latest project, a book called Mixology: the Art of Classic Cocktails, she found herself a bit addicted to collecting all the beautiful accoutrements necessary for a proper classic beverage — the antique glasses, juicers, and yes, shakers.
The shaker in question is an antique Indian brass-and-enamel one she found at the United Hillyard Antique Mall the day after discovering a new drink, the Pegu Club, at a birthday dinner. A little research indicated the drink was the house cocktail at its namesake bar in 1930s Burma, and finding it in Spokane, of all places, made her decide to add the Pegu Club — a gin-based drink flavored with bitters and lime — as the final entry to her book of cocktail recipes and accompanying paintings.
Mixology: the Art of Classic Cocktails collects images of 19 classic cocktail still-life paintings Evans composed this summer, along with a few recipes and some personal reflection on her immersion into cocktail crafting. On Friday, Nov. 7, she'll have a public showing of the 12"-by-12" paintings and a book release party at Mizuna.
The decision to make cocktails the centerpiece of a new series of paintings came out of a random desire to mix things up for the lifelong Spokane resident, both in theme and painting style, after years of "doing these big, sort of abstract-but-realistic floral things, more pastel than oil," Evans says. "I think I just wanted to do something different," and she'd had an idea kicking around for several years that still lifes of cocktail ingredients could make for some striking visuals.
"I just love them, I always have," Evans says during a chat at Casper Fry over a Corpse Reviver No. 9, a gin-based cocktail and a mutation of one included in her book, the Corpse Reviver No. 2. "I love the process of making it. I like watching somebody make it. There's so much care, and they're making something. As a craftsperson, I can appreciate that. And there's so much beauty in the glassware and everything that goes with a cocktail."
While brushing up on her oil-painting skills just took a quick, week-long refresher course, making drinks instead of simply ordering them was a taller order. She researched recipes and used weekly cocktail parties with friends to try different versions of the various drinks she was interested in painting. Typically, Evans would do two paintings and perfect two recipes each week.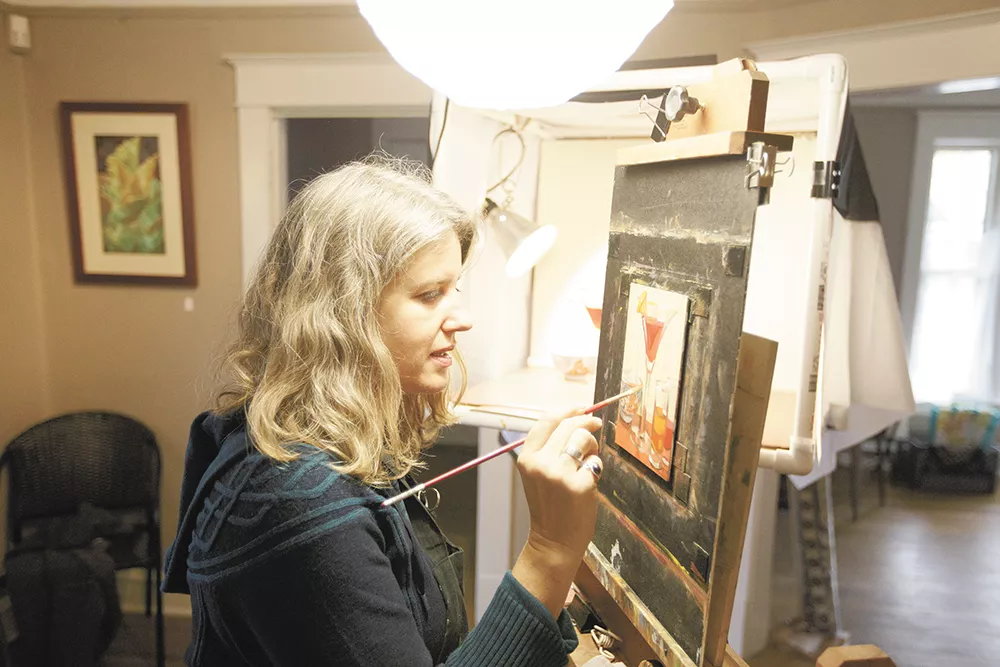 "I made gimlets and Manhattans and that's about it" before the Mixology project, Evans says, adding that her palate expanded into new realms as well. "I didn't think I liked gin, but it turned out to be which gin, and what you do with it. It got to the point that I was drinking just straight-up gin martinis, because it was some Gun Club gin that was amazing."
Evans stuck with classic cocktails for the book because she figured the recipes would be relatively simple, and "it gave me an excuse to buy a bunch of antique glassware." All of the drinks that made the book — from the whiskey sour to the Negroni — are ones she wouldn't hesitate to recommend. She's already planning on a Mixology sequel that would expand both her cocktail repertoire and painting approach.
"For this book, because it was vintage cocktails, I kept it fairly straightforward and traditional still-life setups," Evans says. "I think it would be fun to do more modern setups and viewpoints, kind of shake it up a bit." ♦
Mixology: the Art of Classic Cocktails exhibit and book release party • Fri, Nov. 7, 5-10 pm • Mizuna • 214 N. Howard • MixologyArt.blogspot.com
A recipe from Mixology: the Art of Classic Cocktails
Pegu Club
The house drink of the original Pegu Club in Burma, this cocktail starts out deceptively sweet, Evans says, "but finishes with a lovely balance of gin and bitter orange."
1½ oz. gin
¾ oz. curaçao
1 tsp. lime juice
Dash of Angostura bitters
Dash of orange bitters
Grapefruit or lime twist
Combine gin, curaçao, lime and bitters in a shaker with ice. Shake and strain into a chilled cocktail glass. Garnish.