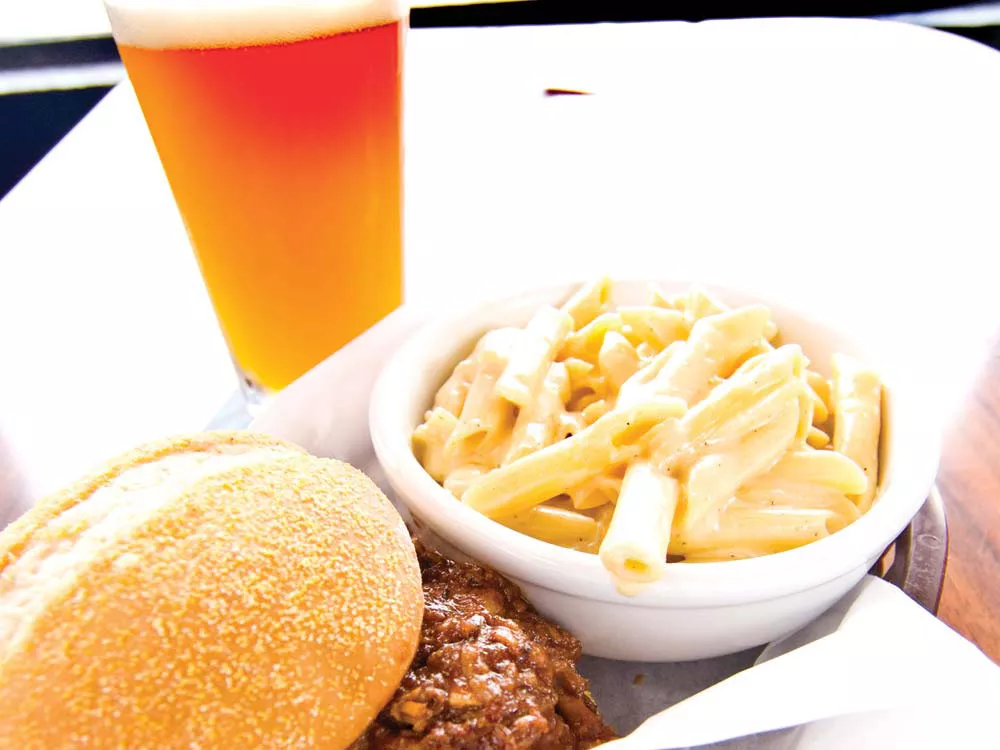 healthier?"
The Bulldog is an unhurried place — especially when Gonzaga students are on break (like last Thursday, when we had the place to ourselves), but even on shoulder-to-shoulder Friday and Saturday nights in the middle of the semester. The place lulls you into spending hours drinking and maybe shooting pool, then eventually just sliding slowly down into a booth seat.
Trish Mullarkey's tenure as owner has been unhurried as well. She bought the bar over a decade ago but didn't bring in liquor until five years ago.
It's fitting, then, that the biggest shakeup to the Bulldog's menu in years would be something as process-heavy and time-consuming as barbecue.
Pit Boss Chris Luce says his pulled pork takes about six hours to prepare. He'll often get to the bar at 7:30 am to have the kitchen ready by 11.
Luce was the heart of Lazy Bones, a short-lived South Hill experiment in haute barbecue, which closed last year. When Mullarkey bought a smoker, the pit boss came with it. Luce says he feels like he's found a calling in barbecue. "I love the process," he says. "I like coming home smelling like smoke."
His work here doesn't reach as far as Lazy Bones (there's no smoked, barbecued tofu, for example), but it still showcases his careful attention to flavor combinations.
The ribs ($8.45 for a half-pound) were a bit dry by the end of the night (we got there ten minutes before the kitchen closed, six hours before the bar itself closed), but even then the sauce was sweet and tangy. A little more heat would have been nice, but the balance of flavors was what barbecue should be: comforting and satisfying.
The pulled pork sandwich ($7.45) was gone almost before we had time to taste it. The buns are bought, not scratch made, but they held the moisture and their form nicely. The fries were crispy-soggy, ideal for sopping up booze, and the macaroni (a weird recipe that includes honey, Dijon mustard and blue cheese) was transcendent. Entrees come with a side. Additional sides are $2.69.
It takes time to change a place's identity — especially one that's been around for 60 years. But Luce and Mullarkey are content to let the smoker do its work slowly, turning an unassuming college hangout into a shrine to sauce. (Luke Baumgarten)
The Bulldog • 1305 N. Hamilton St. • Kitchen open Mon-Sat 11 am-8 pm, Sun Noon-8 pm • 487-6735
---
Yum Yum Dim Sum
Hong Kong Buffet is a step up from what you might expect in a mall restaurant. The newest offering from Vicky Zheng (the owner of Hong Kong Express) is cheerful and almost elegant, decorated in teal and red, with ornate, calligraphy-covered wall hangings.
And at 1:30 on a recent weekday afternoon, it was packed.
You'll find everything you'd want from an Asian-inspired buffet: chow mein, teriyaki chicken, fried rice and even a dozen kinds of sushi. The quality is good – no limp veggies or oily noodles. Dishes are replenished often and served hot. If you are looking for a gut-busting lunch at a bargain price, you'll find it here.
But I suggest you hold back on the egg rolls and look for the hidden gems. The dim sum are nestled like little presents in round steaming baskets. I went back for seconds on the lemon-colored peach buns and flower-like shu mai filled with dark, sweet bean paste. The chicken and sticky rice packets wrapped in bamboo leaves were another standout.
There are several kinds of soups on the buffet, including the hot and sour, which hit all the right notes. But the real fun is the soup bar, where you can fill a bowl with squid, shrimp, meat and noodles, then hand it to the cook, who will dunk the whole thing in hot beef broth and season it to your taste.
For dessert, try the green tea ice cream and some tropical lychees and loquats.
Hong Kong Buffet is a bargain at just over $7 ($10.99 at dinner). My 5-year-old is already asking when we can go again. For 50 cents per year of age for kids, he definitely got his money's worth. (Kirsten Harrington)

Hong Kong Buffet is next to Regal Theater at the Spokane Valley Mall, 14700 E. Indiana Ave. Open 7 days, 11am-9pm. Call (509) 928-9799.