K
ristin Cowan answered her phone the other day from a Portland hotel room, understandably a little tired. She'd been up many hours since the 4 am wake-up call for morning show TV interviews. Still on her schedule for that night was yet another curtain call on a frozen ice rink. But she was excited to talk about the Disneyesque dream, so many years in the making, about to unfold this weekend in her hometown of Spokane.
Cowan is one of the lead skaters in Disney on Ice's Rockin' Ever After show, which opens here tonight and continues through the weekend. Since turning professional in 2007, she's performed in Buenos Aires, Santiago, Istanbul, Prague, Paris, London, New York, Mexico City, and dozens of other major cities. But when she glides through the curtain at Spokane Veterans Memorial Arena, she will finally be back in front of a home audience.
She has some significant Spokane bona fides. Her grandfather is legendary KHQ-TV news anchor Bob Briley. Her mom is Robin Briley, a former KXLY news director who skated professionally in the Ice Capades as a young woman. Her father is Rich Cowan, a principal in the Spokane movie and media company North by Northwest, and the 5th District's 2012 Democratic nominee for Congress.
With ice skating deep in the family blood, Cowan began lacing up her skates at the age of 5 and began competitions at 7. She loved it and was winning events. There were countless 5:45 am alarms for before-school practice at Eagles Ice Arena, and more skating in the afternoon.
Then at the tender age of 12, it all went away.
Cowan was diagnosed with juvenile arthritis and was forced to leave competitive skating. It was a crushing blow, but she moved on and kept a happy disposition through her teen years and graduation from Spokane's Lewis & Clark High School in 2005. She enrolled at Santa Clara University with an eye on accounting.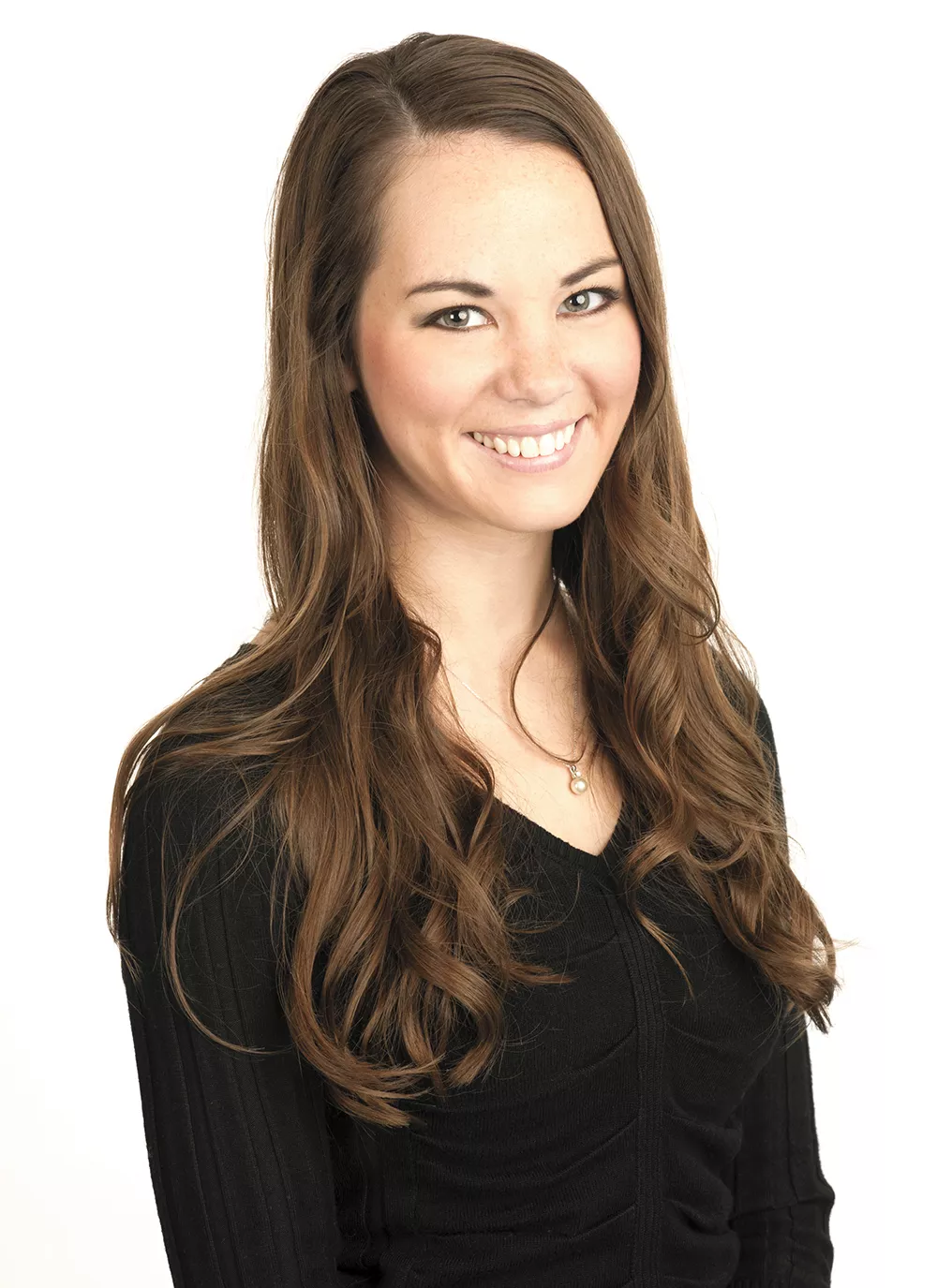 Along the way, her arthritis issues gradually improved. With prompting from friends, a former coach, and her mom, Cowan began listening to the idea that her ice-skating dream was still alive. Midway through her sophomore year at Santa Clara, she put it out there. She made an audition tape, and somebody liked it. She got an offer to join Holiday on Ice in Europe. She finished her spring semester and came home to Spokane to turn herself back into a full-time skater.
"That summer I trained and trained at the rink in Spokane. I had taken a lot of time off, and didn't know what to expect," she says.
She bought a plane ticket for the Netherlands. Looking back, she remembers a lot of anxiety about showing up in a foreign land and not knowing exactly how it might go. But that old competitive drive kept her focused.
"After I started practicing with them, I told myself, 'This is going to be fun. I feel prepared,'" she says.
The first job was a nine-month European tour that turned into three years' worth of continuing contracts. Then she took jobs with a series of smaller shows, one of which caught the eye of a Disney casting agent sitting in the audience at Myrtle Beach, S.C.
In the Disney show, she skates as Ariel from The Little Mermaid. One of the show's centerpiece numbers sees her performing acrobatic skate stunts high on a swinging rope — tricks that required several weeks of intense instruction and practice at a special circus school.
At 26, Cowan is coming up on her seventh year in professional shows. She knows that someday she'll skate off the ice and back into college to finish her accounting degree. But for now she's having fun, making good money, and building a lifetime of great stories to tell. Like the time the tour landed in New York last year, immediately after Hurricane Sandy. With seemingly half of the region displaced from their homes, there were no hotel rooms. But the show went on, for an audience that badly needed a diversion.
It may be hard for her to skate here without being hit by emotion.
"My grandma and grandpa have never been able to see me skate professionally," she said.
They'll be right there near the front, in a row or two of family and close friends, all watching the spotlight following the skater they know, the one with the beaming smile. As the rest of the audience enjoys the show, they'll know what it took her to get here. ♦
Disney on Ice: Rockin' Ever After • Thu-Fri, Nov. 7-8 at 7pm; Sat, Nov. 9 at 11:30 am, 3:30 pm, 7 pm; Sun, Nov. 10 at 12:30 pm and 4:30 pm • Spokane Arena • $18-$23/adult, $10/kids • spokanearena.com