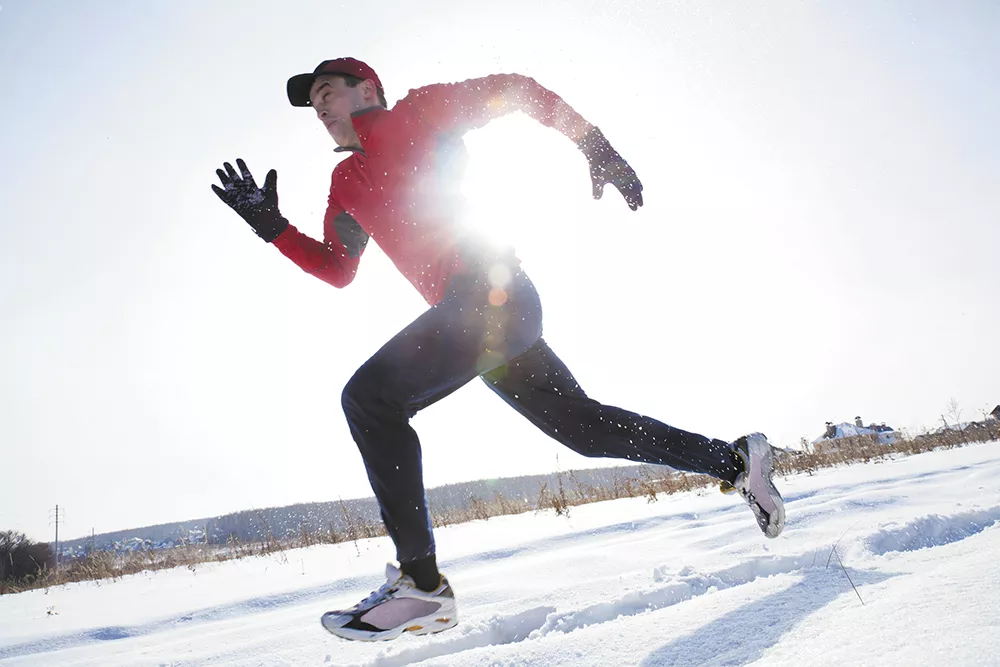 I am someone who likes to run a couple of times a week, because this is what I do to keep from getting any fatter. This often means dragging myself outside when I don't want to be outside.
I draw the line, though, when it comes to snow. I don't run in snow. I don't like my feet wet or cold or exposed to slippery conditions, or, God forbid, all three. And without a gym membership, this means my exercise takes place in my living room and requires one of those video series led by a Zeus-chiseled man whose level of excitement can be explained only by amphetamines.
But with snow on the ground throughout all of my go-to running routes for much of this winter, I've decided to toughen up, and thought a guy like Vince Hamilton could help me out. Hamilton is a senior on Gonzaga's cross-country and track teams and also works at the downtown Spokane Runners Soul store. He's been running in Spokane for most of his life, which means he can't wuss out when there's a little snow on the ground.
I sheepishly tell him that I'm terrified of running in the snow because the few times I've tried, I run on my tiptoes, certain that my next footfall will be my undoing. It makes for a painful, slow and is probably embarrassing for anyone who witnesses it. He understands my concerns.
"Part of that is your mental awareness. The first half-mile, you're very aware of your stride and might tip-toe. But for me, I get in a rhythm and stop thinking about it after a while," he says.
OK. I can believe in that thinking, but I need some more help. I ask about Yaktrax, those rubber-and-metal things that go on the bottom of your shoes. Those, he says, are more for walking, because at a running pace, you feel them on your feet a lot. He recommends the molded shoe attachments from Due North that feature spikes on the heel and the ball of the foot.
So I won't slip and die, but I'm going to be cold, right?
"Anything under 20 [degrees] is when I start wearing more thermal-type stuff," says Hamilton, who recommends a light hat and upper-body layers.
As someone who runs in shorts almost exclusively, I ask him what I should wear, considering that when I've run in warmup pants I feel like a Russian mobster who also happens to be an exceptionally slow runner. Hamilton says those sort of pants are fine, but thermal tights — you can wear them under shorts — might be the way to go.
"There's no right or wrong. Either you like the form-fitting stuff or you like the loose stuff," says Hamilton. "I prefer the tights just because it's sleeker and doesn't mess up my stride."
As for your shoes getting wet, there's nothing much you can do, says Hamilton, other than to listen to the part of your brain that says, "Maybe there's another route besides through that pile of slush or that untouched field of snow." If you get into the deep stuff, your feet will likely get wet, seeing as how almost all running shoes are not waterproof. To keep the feet warm, try SmartWool running socks, he adds.
Running in the snow isn't always fun. It's more often just about getting the miles in, even if the experience is uncomfortable, says Hamilton. I would argue this logic applies to running as a whole.
"It's about getting the job done. If Coach says I have so many miles today, I'm not lollygagging around. If I was going for an easy run, I'd stomp around in the snow at the park, but when I need a good pace, I shoot for the arterials," says Hamilton. ♦