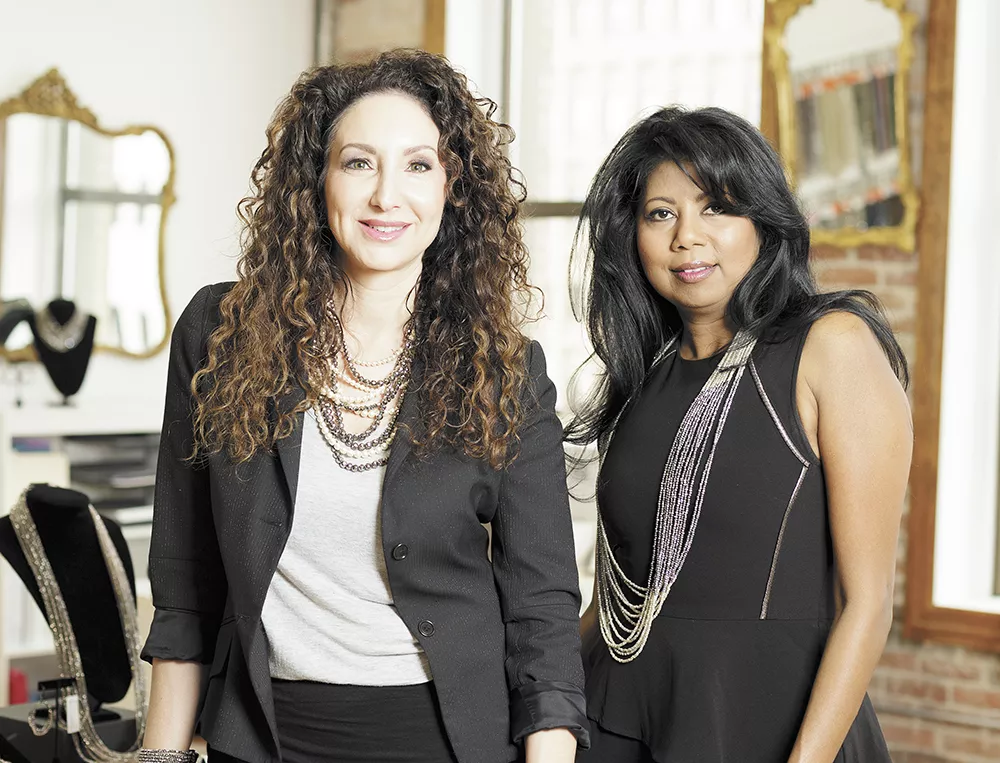 On a blustery fall day as leaves swirl across the downtown streets, the talk is all things spring on the sixth and top floor of Spokane's ironically named Empire State Building.
Natural stones and wooden beads; bright, warm color palettes and delicate designs are on top of the minds of jewelry designers Sharmilla Persaud and Arianna Brooke, founders of the Spokane-based jewelry house Millianna (the company's moniker is a melding of the two women's first names). Their elegant, neutral-toned winter collection was just released, but — as any fashionista can attest — the industry moves forward fast. The women are always looking far past the current season.
Millianna's collections are sparkly and eye-catching — with multifaceted, cut crystal beads, metallic sheens and opaque glass pearls. Silhouettes range from heavy, bib-style statement necklaces to delicate, draping pieces. Creating confidence in wearers of all ages and grabbing the attention of onlookers is Persaud and Brooke's mission in jewelry design.
"We wanted to do something that was fashion-forward, but still fun and approachable and very statement-driven," Brooke explains.
She's wearing the edgy but distinctly Art Deco-inspired "Lottie" necklace, a metallic black piece that wraps around the neck as a choker, draping down the chest with hand-beaded tassels at each end.
"Everything we do, we try to do in very sophisticated color palettes. It offsets the fact that it's a cut crystal, which can be a little over the top," she adds. "We don't want to look like Las Vegas, we want to look like Paris."
In mid-November, the business partners and best friend duo are planning and designing Millianna's spring-summer collection in person — a rare break away from their usual daily Skype sessions. Though the company is based in Spokane, Brooke's hometown, Persaud lives three time zones away in Greenwich, Connecticut, an hour northeast of Manhattan.
Despite the challenges, Millianna's East Coast-West Coast division is an ideal fit for the business. Persaud, 47, who designs the majority of the jewelry, is right outside one of the world's fashion capitals, available to meet with clients and keep a watchful eye on the latest trends. Meanwhile, Brooke, 44, oversees the company's marketing and production in Spokane's affordable business market. About 90 percent of Millianna's handmade pieces are made to order in Spokane, then shipped to accounts across the U.S. and around the world.
"We've always kept in contact, and we've always been friends," Persaud says. "We think the same, and we completely trust each other — that's why it's been functional. We're not perfect, but we get things figured out."
After spending decades working in the fashion industry — the women met and became close friends in the 1990s while at the label BCBG Max Azria in Los Angeles — the duo realized their dream of owning a fashion company together when Millianna was founded in 2010. Brooke's background is in fashion marketing, and Persaud was a designer for BCBG and Rampage, attending the Fashion Institute of Technology in New York City, where she grew up.
Millianna's sales have since grown year after year, and its pieces have received attention from numerous national magazines and have also been worn by actresses on TV shows and in films.
"One of our biggest challenges when we were starting out was people thought it was just for holiday or the opera," Brooke says. "And we were like, 'No you can wear it with jeans and a jacket and heels — desk to dinner!'"
Rather than focus on what's trendy in jewelry design, the duo pay close attention to clothing trends on the runway, to design timeless pieces that also complement whatever is "in."
"From a design perspective, I don't look at what I feel is 'This goes with this,' it's what you feel like in fashion is going to be strong — what necklines and silhouettes. I'm constantly thinking about how a piece goes with an outfit, and wearing it from day to evening," Persaud explains.
"[Our jewelry] has an aesthetic that's not going away. I think a lot of women would keep our product in their top drawer."
Nearly all of the hand-beaded or handwoven pieces in Millianna's collection are made by trained female artisans around Spokane. Millianna's owners assert that the quality of materials and construction is better than mass-produced factory counterparts, but this careful attention to production means prices for the handmade pieces are also higher. Pieces range from $55 for a pair of earrings to more than $700 for a heavily detailed necklace.
The 20 or so local artisans work on a part-time basis and are paid by the piece, depending on how much time it takes to complete each item. Several of Millianna's jewelry makers are local refugees who were connected to the company by the humanitarian nonprofit World Relief Spokane.
Most of the company's wholesale clients are based on the East Coast and in the South and Midwest, but orders can be placed through Millianna's website (millianna.com) or by visiting the downtown office and showroom in person. While the cost of Millianna's pieces may not be in every local budget, Brooke says she's working on getting the collections featured in more regional boutiques.
"Our product, when you see it in person and put it on, it's very different than what you see in photography and on the website," she says. ♦
On Thursday, Nov. 19, Millianna hosts its annual friends and family holiday sale, offering discontinued and sample pieces at heavily discounted prices. The event, open to the public, is from 3-7 pm, at 905 W. Riverside, Suite 608.