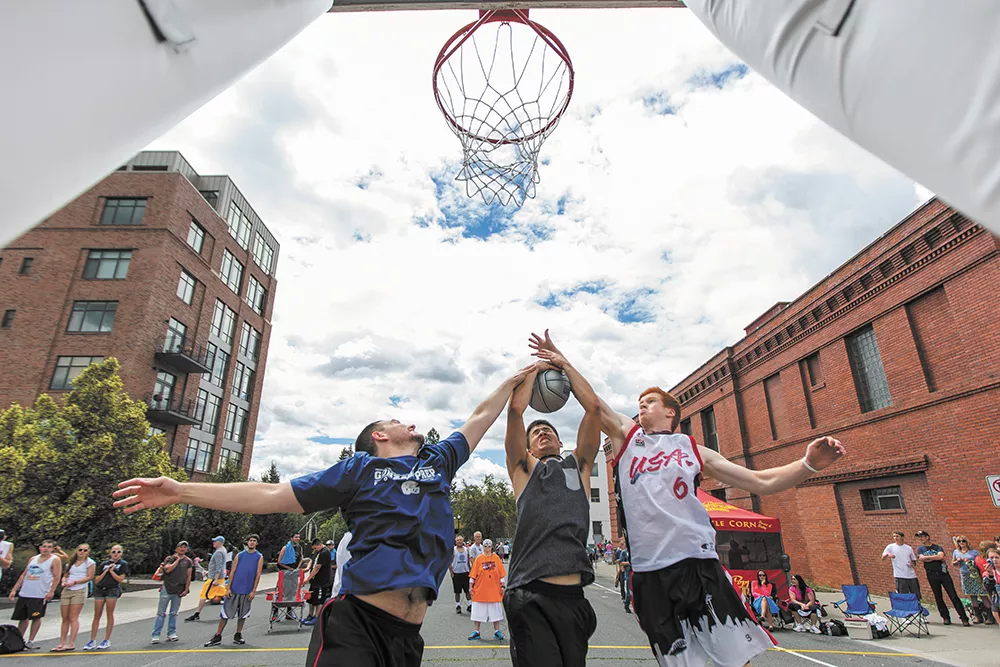 BLOOMSDAY
Why You Should Go
It'll make you a Spokanite. This event is is accessible enough that pretty much everyone can participate in some way, even if it's just by cheering on perfect strangers.
Where to Park
Far away from downtown. A bike corral is open for spectators and participants, or look for STA's shuttles.
Where to get the best view
The Spokane Club's patio has a prime view on Riverside, and direct line of sight of the finish on Monroe Street Bridge. But you'll have to be a member or know one to get in.
Don't Miss
The bands and mascots all along the route, including the famous vulture on Doomsday Hill.
Insider Tip
For security reasons, organizers ask spectators not to bring backpacks or large bags.
Must-Get Souvenir
The Inlander-produced results book, available Tuesday after the race.
---
HOOPFEST
Why You Should Go
It's often called the biggest three-on-three tournament in the world. And the numbers are impressive; 6,905 teams, 27,750 players and 3,000 volunteers in 2014. Plus, Hoopfest has donated nearly $2 million to charities.
Where to Park
Any garage downtown (expect to pay $10-$20 for the day) or one of the free lots where STA's Hoop Loop will pick you up.
Where to get the best view
Get up high, like on a downtown roof if you can access one, or in the skywalks on Riverside Avenue to take in all the madness at once.
Don't Miss
The Slam Dunk contest on center court. Do you really need any more details to know that's something you want to see?
Insider Tip
Download the Hoopfest app to follow teams and access the event map from your phone.
Must-Get Souvenir
Any of the custom Hoopfest Nike gear for sale in Riverfront Park.
---
IRONMAN
Why You Should Go
Not only are the athletes totally inspiring, but the whole community — 3,000 people volunteer to make this Ironman event happen — is eager to help them achieve their dreams.
Where to Park
North Idaho College campus. Better yet, ride your bike.
Where to get the best view
The bleachers above the finish line can't be beat (you may even see a marriage proposal). But if you're willing to get up early, the swim start at the City Park Beach is the chance to see the athletes amassed in one spot as the sun rises over the lake.
Don't Miss
After dark at the finish line (on Sherman Avenue between First and Second streets) is the emotional highlight of the event. As night falls and the clock ticks down, the finishes get more and more momentous. These are real amateurs, and their pride is contagious.
Insider Tip
If you know visitors traveling to Ironman, tell them to book their hotels early. Lodging fills up every year.
Must-Get Souvenir
The almighty volunteer T-shirt. Aside from being a finisher, helping out is going to get you the most street cred. ♦