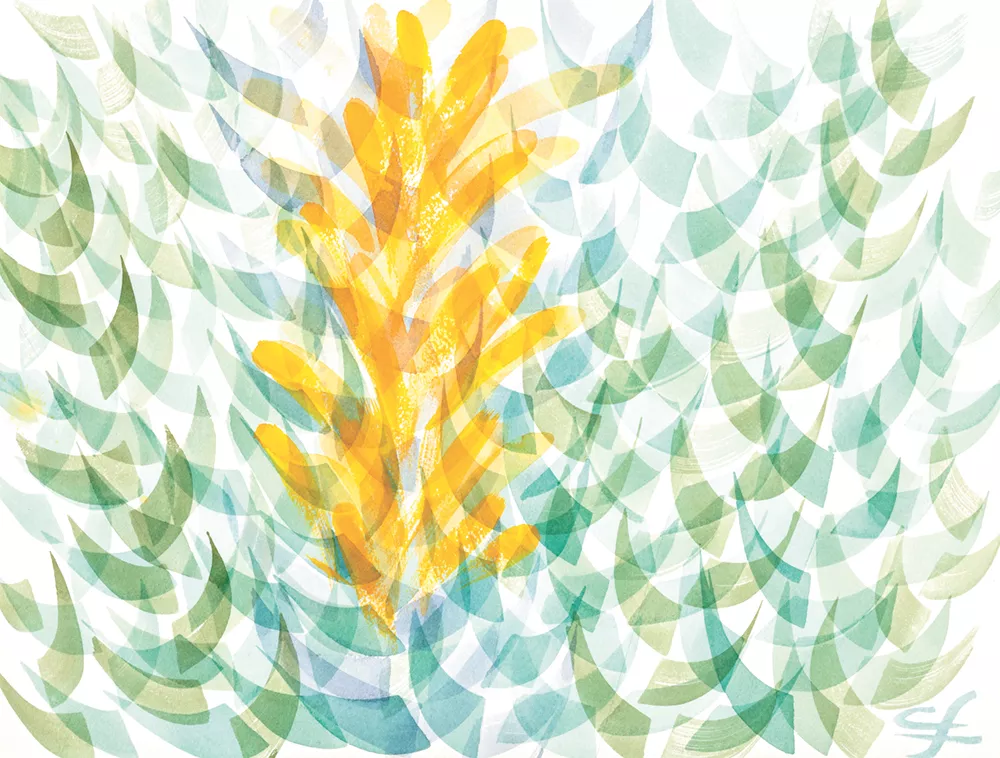 In celebration of Spokane Arts Month, which runs through October, the citywide celebration of arts that typically takes place for First Friday gets a major boost, offering some of the year's highlights in arts events, with most showcases running throughout the first weekend or all month. Some of these favorite events listed below include Terrain's 11th one-night juried arts showcase (technically two nights, counting Thursday's preview night), the annual Archie Bray Resident Show at Kolva-Sullivan Gallery and Spokane Arts' all-media juried show at the Chase Gallery. The following listings were compiled from information provided by Spokane Arts, local artists and venues. Most receptions occur on Friday, Oct. 5, from 5-8 pm, unless otherwise noted. More on Spokane Arts Month can be found at spokanearts.org/artsmonth.
Auntie's Bookstore, 402 W. Main
3 Minute Mic, guest hosted by Katy Shedlock. Oct. 5 at 8 pm.
Avenue West, 907 W. Boone
The gallery celebrates its 15th anniversary and hosts a reception for featured artists Marsha Marcuson and Kathryn Alexander.
Barili Cellars, 608 W. Second
Nature photography by Kathryn Alexander. Reception Oct. 5 from 4-9 pm.
Barrister Winery, 1213 W. Railroad Ave.
A showcase of work by members of the Spokane Camera Club. Reception Oct. 5 from 5-10 pm.
The Bartlett, 228 W. Sprague
Artwork by Emma Noyes, a member of the Sinixt (Lakes) Band of the Colville Confederated Tribe, based on the tribe's origin stories. Noyes' art is on display through October. Also at the Bartlett: The Spokane Zine Fest celebrates small-press books, zines, comics, drawings, prints and other handmade paper goods, on Saturday, Oct. 6, from 11 am-5 pm.
Berserk, 125 S. Stevens
Color photography by local photographer Nick Spanjer.
Blue Door Theatre, 815 W. Garland
No Clue is an all-improvised murder mystery show. Oct. 5 at 8 pm ($5).
Chase Gallery, 808 W. Spokane Falls Blvd.
The All Media Juried Exhibit 2018 features work by 36 regional artists, in an exhibition guest curated by Mason Miles.
Community Building, 35 W. Main
Fall-themed oil paintings by Conrad Bagley.
Community Pint, 120 E. Sprague
Space-inspired paintings and other pieces by Audreana Camm. Reception Oct. 5 from 6-10 pm.
Core Pilates & Wellness, 1230 W. Summit Pkwy.
Paintings by local artist Robin Pickering.
Craftsman Cellars, 1194 W. Summit Pkwy.
Sumi ink on paper by Keiko Von Holt and mixed media paintings by Mary Ahmed.
Dodson's Jewelers, 516 W. Riverside
Brushstrokes features gouache on paper by Spokane-born artist Caren Furbeyre. Reception Oct. 5 from 10 am-6 pm and Oct. 6 from 10 am-5 pm; show continues through Nov. 2.
EWU Downtown Student Gallery, 402 Second St., Cheney
Path to Tolerance features photography by Robert Lloyd. Reception Oct. 5 from 3-6 pm.
First Avenue Coffee, 1011 W. First
Photography by Scott Allan.
Gonzaga University, 502 E. Boone
The Gonzaga Jazz Program presents a short program with the Jazz Workshop Combos and Gonzaga Jazz Ensemble in celebration of ZagFam Weekend. Oct. 5 at 8 pm (free) in Music Annex Room 4.
Hills' Restaurant and Lounge, 401 W. Main
Music by a live jazz trio: Brent Edstrom, Eugene Jablonsky and Dan Keberle. Oct. 5 from 6-9 pm.
Iron Goat Brewing Co., 1302 W. Second
Oil paintings on wood panels by artist and composer Rick Garcia. Art on display through October.
Jensen-Byrd Building, 131 E. Main
Terrain 11 features art by more than 200 local artists, along with live music, literature and more. Preview night ($25) Oct. 4 from 6-10 pm; main event (free) Oct. 5 from 5 pm-midnight.
Kolva-Sullivan Gallery, 115 S. Adams St.
The annual Archie Bray Resident Show features functional and sculptural ceramics and mixed media by long-time and summer residents of the Archie Bray Foundation in Helena, Montana. Reception Oct. 5 from 5-9 pm; on display through Oct. 26.
Marmot Art Space, 1202 W. Summit Pkwy.
Art by John Morey Maurice.
Maryhill Winery Spokane, 1303 W. Summit Pkwy.
Encaustic paintings by Rachel Nelson.
New Moon Art Gallery, 1326 E. Sprague
Ethically sourced wood sculptures by Antonio Fletcher. Reception Oct. 5 from 5-9 pm.
Pottery Place Plus, 203 N. Washington
Batiks by October guest artist Toni Spencer. Reception Oct. 5 from 5-9 pm. On display through Oct. 28; open daily.
Resurrection Records, 1927 W. Northwest Blvd.
Creature Feature features art inspired by Universal Studios' five famous monsters, with a portion of proceeds supporting the cancer fund of Blaise Barshaw. Reception Oct. 5 from 6-9 pm.
Richmond Art Collective, 228 W. Sprague
Menagerie features art by Brian Deemy, CarliAnn Forthun Bruner, Grace June, Hanna Koeske, Ira Gardner, Julie Gautier-Downes and Reinaldo Gil Zambrano.
River City Brewing, 121 S. Cedar
October's all-ages garage party includes music Bossame, food from Skewers Food Truck and live art by Amber Hoit. Oct. 5 from 4-10 pm.
Saranac Art Projects, 25 W. Main
Dioramas of Disaster by Julie Gautier-Downes explores narratives of domestic violence, trauma and fragility of relationships. Also includes new art by Wendy Franklund Miller and Bradd Skubinna. Through Oct. 29; open Thursday 2-6 pm, Friday-Saturday 12-8 pm.
Spokane Art School, 811 W. Garland
Aesthetic Contraption by Larry Ellingson.
St. Aloysius Church, 330 E. Boone
For the Future, a ZagFam Weekend Concert Choir performance is presented by 66 musicians and includes a commissioned premiere by Timothy Takach. Oct. 6 at 7:30 pm. Free; donations accepted.
St. David's Episcopal Church, 7315 N. Wall
Blessing the Children features art by local and national artists responding to mistreatment of children around the world. Reception Oct. 5 from 5-7 pm.
Steam Plant Square, 159 S. Lincoln
Abstractions 2018 by Neicy Frey is on display at French Toast & Paper Nerd Stationary.
Terrain Gallery, 304 W. Pacific
Land/Escape features Spokane River-inspired art by Mariah Boyle, Karen Mobley, John deRoulet, Roin Morigeau and Ellen Picken.
V du V Wines, 12 S. Scott St.
Mixed media paintings by Craig Hunt and music by Crushpad. Reception Oct. 5 from 5-9 pm. ♦