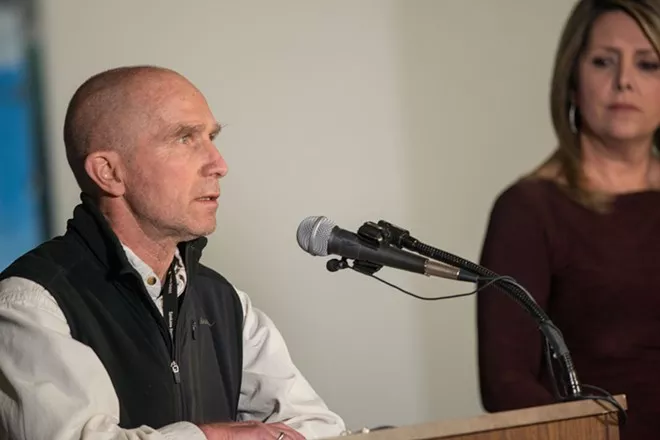 Since Spokane County moved into Phase 2 of the state's "Safe Start" plan, we've seen a spike in confirmed COVID-19 cases. In the last two days alone, Spokane counted 78 new cases, easily dwarfing any other two-day span since the virus hit the area.
None of this is a surprise to Spokane Regional Health Officer Dr. Bob Lutz, who expected a rise in cases with a
more robust contact tracing team and better testing ability
. With more tools to identify the virus, he knew case counts could go up.
But when it comes to potentially moving to Phase 3 of the governor's plan, the rise in case counts may not even be the biggest barrier. Rather, it's actually testing that may be the biggest obstacle for Spokane. The state suggests that counties should be testing 50 people per confirmed case in order to move on to Phase 3, for a test positivity rate of 2 percent. Right now, Spokane is only testing 20 people per confirmed case.
"It's going to be very difficult to get broad enough testing in the community to meet that metric," Lutz tells the Inlander.

In fact, the number of people tested per day in Spokane isn't much different than in mid-to-late March, when the area was under the strictest stay-home order and was first being hit with the virus. From March 19-26, for instance, Spokane tested on average 290 people per day. From May 24-May 30, during Phase 2, Spokane tested 286 people per day on average, according to the state's latest confirmed data.
That's not to say Spokane's testing
capacity
hasn't improved. Lutz stresses that, unlike in March, Spokane has the testing capacity for anyone with any symptoms of coronavirus, and for any close contacts of exposed cases. It's just that fewer people are seeking to get tested, possibly because it's no longer flu season and people aren't mistaking flu symptoms for the coronavirus.
"Although we have adequate testing capacity, we would need a lot more people to go in to meet that metric," Lutz says.
As for the higher test positive rate, Lutz says there's a key difference that would lead to a higher rate today. Unlike in March, the team of contact tracers and case investigators at the Spokane Regional Health District can now track where the virus is spreading and test targeted populations likely exposed. By testing the right people, the hit rate will be higher. Test 100 random people, and maybe a couple come back positive. Test 100 people connected to a known outbreak? You're likely to find more cases.
It's why in the last two weeks, the age demographic for confirmed COVID-19 cases has "dropped significantly," even as the number of hospitalizations has been mostly unchanged, Lutz says. Due to more effective testing, all those younger people who in March might have been walking around with few or no symptoms are now being included in the case count.
"They may have the sniffles, or nothing, and they're testing positive because of our case investigation," Lutz says.
Lutz has repeated that it's unlikely that Spokane will be ready to move on to Phase 3 — which would open all businesses except for nightclubs and large events — by next week. In order to meet the state's goal of 50 tests per confirmed case, Lutz says it may require some testing strategy across the community that would include, businesses, university and hospitals "to really test adequately enough to get a sense of what the disease burden is." He adds that there were more than 1,500 tests done since Phase 2 began than the previous two weeks.
Still, he says Spokane wouldn't necessarily need to meet that metric exactly before he would feel comfortable moving onto the next phase. He says he'd want to get the positive rate back down to about 3 percent, not necessarily 2 percent like the state wants. He's already discussed the issue with the state health department.
"These are ideals. People need to understand that there is still some wiggle room," Lutz says. "We need to get people away from being stuck on strict numbers and look at the whole picture."
The metrics, for instance, say that to move to Phase 3, Spokane needs less than 25 new cases per 100,000 people in two weeks (right now, we're at 39). If Spokane is just above that, however, that doesn't necessarily mean it can't move on.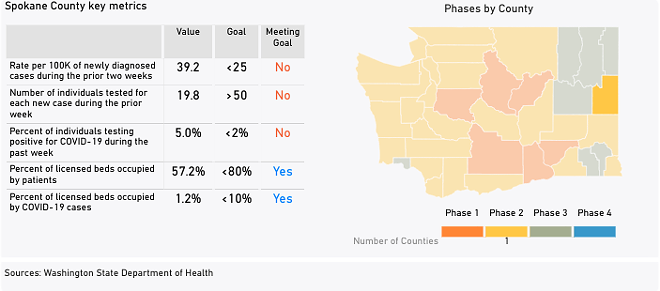 What's more important, Lutz says, is that Spokane has the ability to test anyone who needs a test, that health officials can trace where the virus is, and that hospitals have adequate capacity. He notes that Spokane is meeting the state's goal for hospital capacity.
"Those are more structural issues that are going to be able to accommodate any significant change in just numbers," Lutz says.