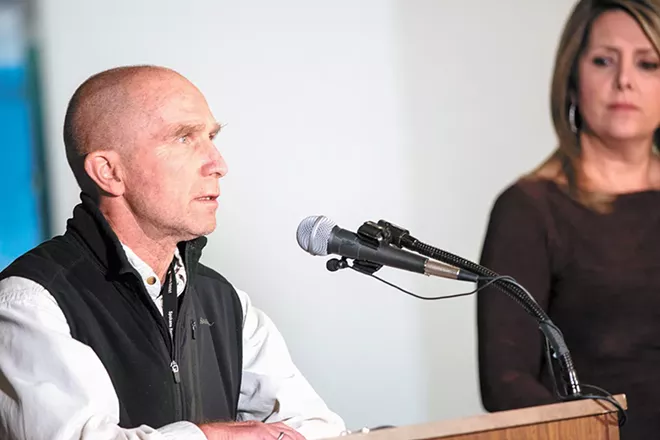 Spokane Regional Health District's health officer Dr. Bob Lutz was asked to resign yesterday, and district employees were told by email this morning that yesterday was his last day working there.
Amelia Clark, the administrative officer for the district, asked Lutz to resign after speaking about the matter with the Board of Health in an executive session on Thursday and hearing support from them.
Clark, board chair Spokane Valley Mayor Ben Wick, and health district spokeswoman Kelli Hawkins offered little to no clarity on the matter during a press conference this morning. Officials would not say if Lutz had actually resigned or whether he had been fired.

Multiple health district staff members, who spoke with the Inlander anonymously out of fear of losing their jobs, say they were completely blindsided by the decision and support Lutz. Some cried after learning of the news this morning.

"We are shocked and devastated," one employee says. "This caught everybody by surprise."

Multiple employees who have worked closely with Lutz throughout the COVID-19 pandemic wondered if the decision was politically motivated.

Lutz had been talking about whether to roll back parts of the community to more severe restrictions as the number of cases in pockets of the community has been spiking. However, it did not appear he had made an official move one way or the other before Clark asked him to resign.

Spokane Mayor Nadine Woodward issued a statement that references the idea that some are frustrated that the community isn't opening up even faster.

"Dr. Lutz has faced an extremely tough challenge over an extended time and gave everything he had to the community," Woodward's statement reads in part. "We have been learning about the virus as we go and those long months since have left our region anxious, tired, and frustrated that we are not progressing as fast as everyone had hoped. This is a community health and economic emergency and it takes partnership and community to solve it; we will rally together as Spokane always does. Please continue to put your loved ones, friends, neighbors, and colleagues first as you remain resilient and practice good mask etiquette and hand hygiene."

Spokane County has reported more than 1,200 new cases in the last two weeks and 203 deaths so far.

"Dr. Lutz has been a steadfast public health leader for all of us and has consistently done the right thing," one health district employee says. "This is completely unacceptable, particularly in this time. We cannot not have a health officer during a pandemic that is so negatively impacting our community."

Clark didn't say who would take over as health officer in the meantime. She says there will be a process to contract with a medical professional who would sign necessary health orders in the meantime, as they look for someone to fill the health officer role.

Health district employees say they feel left in the lurch, with many questions suddenly about how Lutz's standing orders might be impacted. For example, for some long-term care facilities with outbreaks, Lutz has given the order to conduct weekly testing; without his order, those facilities would need another doctor to sign off on their testing.

Hawkins and Clark consistently said they could share no more details on the "personnel matter" on advice of counsel. They did not cite the specific state law that would restrict them from clarifying if he was fired or resigned.

Lutz and his team had just been awarded the Sister Peter Claver Humanitarian Award for 2020 by Providence Health Care the day before the meeting in which Clark asked the Board of Health whether they would support her decision to ask him to resign.

The Spokane County Democrats called the move to oust Lutz "unconscionable." The Spokane County Republicans had not yet issued a statement, but had shared a link to a news article on Facebook with the caption "Breaking News Dr. Lutz asked to resign!"

Lutz had not returned a call seeking comment as of early Friday afternoon. Neither had multiple health board members.