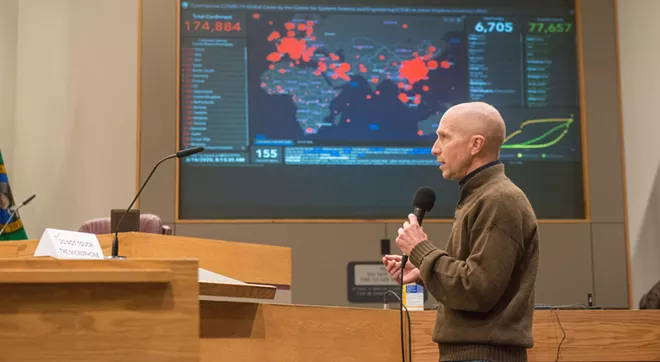 S
pokane bent the curve
— twice. First, we bent the curve of coronavirus cases downward, shutting down for months, weathering untold economic damage, and sending thousands on unemployment.
And now, at least by one data measure, we've bent the curve upward again.
Thanks largely to an outbreak at the Philadelphia Macaroni Factory — combined with an increase in testing and testing and contact tracing — the numbers of coronavirus cases in Spokane County have spiked to never-before-seen levels. A week ago, Spokane County was given the clearance to move to Phase 2 because it had less than 10 cases per 100,000 people over two weeks.
Today, we're not meeting that standard. From May 15-29, we had over
170 new cases —
with 30 new identified cases identified on Friday alone. That's about 27 new cases per 100,000. So does that mean that Spokane County is about to be forced to go back to Phase 1?


While Spokane Regional Health Officer Bob Lutz said at a press conference Friday that it was "very unlikely" we would be ready to move to Phase 3, he didn't believe Spokane was about to be banished back to Phase 1.
"I do not have a sense that's going to happen," he said. "Do I have concerns that that might happen? Always... Do I think it's possible? I sure hope not."
To begin with, the case numbers aren't the only figures the state is scrutinizing.
Lutz stresses that a lot of the increase can be attributed to the fact that an improved testing regimen is catching a lot of the cases, particularly in younger people with few symptoms, that might have been missed before testing availability.
"The fact that we're seeing more cases, again, is not surprising, given that we're seeing more testing," Lutz says. "With more testing, means more cases."
Still, County Commissioner Al French says that the danger of the county losing its variance has been discussed by community leaders.
"Have there been conversations?" French says. "
Yes. Is there a bright line, where you cross this line and you go back to phase one? No. It's situational."

Avoiding such a fate, French says, should motivate Spokane to do whatever they can to remain safe.


"Moving back into Phase 1 would be devastating for the companies that spent time money and resources to reopen," French says. "That's why it is so important that we all continue to adhere to the protocols with regard to the masks, cleaning your hands, social distancing."
It's a particularly
big concern
considering the tightly packed Black Lives Matter protests this weekend. Lutz says he's unaware of any cases of the virus spreading locally because of the anti-lockdown protests last month. It's far more difficult to spread outdoors than indoors. But these protests were far larger — making the risk that much higher.
O
n Friday
, however, Spokane got another reason to feel confident that we wouldn't be pushed back a phase: Gov. Jay Inslee repealed his old stay-home order, replacing it with new "Safe Start" order with a looser standard that gave individual counties more flexibility.
It's not that the coronavirus is any less dangerous or infectious today. But thanks to stronger testing and a contact tracing system, Inslee says, Washington state was able to open up more aggressively than before.
"We were kind of in a 'lifeboat' for a couple months of social distancing," Inslee says. "We're now getting out of that lifeboat. But we've got to get another lifeboat to get in. That's going to involve contact tracing and wearing masks. We've got to make sure that boat doesn't have holes in it."
Now, instead of requiring two weeks with less than 10 cases per 100,000, the new target for moving to the next phase is 25 cases per 100,000. Depending on how the next two weeks go, that's theoretically a target that Spokane could hit.
Still, there are a number of other metrics the state will be assessing counties, including the number of tests available, the rate of hospitalizations, the health care system's capacity, and how quickly contact tracers are able to reach potentially infected victims.


But Inslee stresses that these are more guidelines with rules.
"These goals are targets, not necessarily individual requirements," Inslee says. "Each will be evaluated in their totality to make sure that we can really move forward."


However, Washington state has not outlined what would force a county to return to a
stricter
stay-home order.

As a condition of getting permission to move to get a variance to the governor's public health orders, counties are required to keep a close eye on a slew of different figures.
Jessica Baggett, spokeswoman for Washington state Department of Health, writes in an email to the
Inlander
that there could be a number of reasons why the governor or secretary of health might revoke a variance to the stay-home order, including "
significant community transmission, no or minimal access to COVID-19 testing, inadequate surge capacity in the hospital, inadequate PPE supplies, inadequate case and contact investigations, inadequate isolation or quarantine facilities, or other conditions warranting significant concern."

But there was no "specific threshold," she emphasized.

Washington state Secretary of Health John Wiesman elaborated at Friday's press conference, saying, that if the
county's seeing their health care system get overwhelmed, or the contact tracing system breaks down, or a county starts to lose the ability to track down how the virus is being spread, he would work with the local health department to figure out how best to respond.

"Those conversations usually lead to public health folks pretty much seeing the situation the same and probably coming to the same decisions," Wiesman said.

But if they can't come to an agreement, Wiesman said, he has the authority to reimpose restrictions on a community if it comes to that.

On Friday, however, Inslee was optimistic, believing Washington state had the tools to respond to future outbreaks without reimposing restrictions.
"This is under our control to make sure we
don't
go back.
This is one of the good things about this. Our destiny is in our hands," he said.
"We do have to realize that if this comes roaring back, yes, we may have to take actions that are again uncomfortable. But, by gum, we've done this once. I don't want to do this twice."
I
nslee's optimism
was matched in Idaho by Gov. Brad Little. On Thursday, the whole of Idaho moved to
Phase 3
. Bars and movie theaters were allowed to open earlier than anticipated. Silverwood opened on Saturday.
In part, credit the increasingly persuasive evidence for the protective power of masks.
"If everyone wore a mask, 80 percent of the spread of coronavirus would go away," Gov. Little says "It's an epidemiological fact."
Asked by the Idaho press corps what would cause Idaho to reimpose restrictions, Little referred to some of the graphs showing a red-dotted trend line tracking figures like level of health care capacity.
"I can't emphasize enough the importance of that red line," Little says. "We've got a lot of places in Idaho where they have zero or no health care capacity."
When this started, he stresses, Idaho ran out of health care capacity in some areas of the state, due to the explosion of cases in Blaine County. But don't expect Little to reimpose another statewide shutdown if that happens.
"I anticipate, in consultation with our coronavirus working group, that it will be more regional in our reaction," Little says.

A successful recovery, Little says, isn't just about allowing businesses to open up. It's showing customers that it's safe enough again to actually show up to those businesses.


"That's where I believe where we are today and — knock on wood," Little says, rapping on the surface of the podium in front of him, "if the people of Idaho continue with the behavior they've had in the past, we'll continue through stage four and then we'll look forward from there."