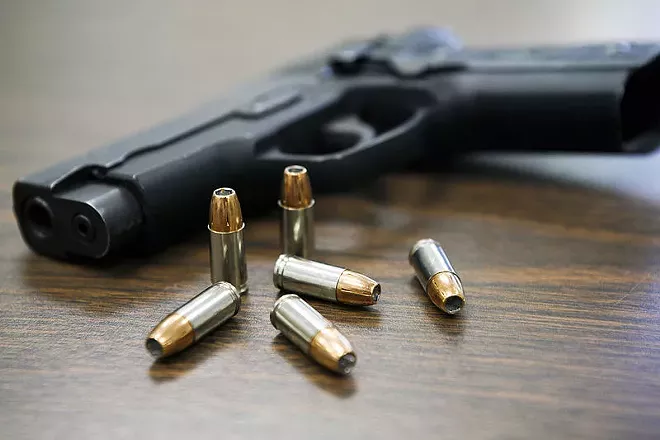 S

tate schools chief
Chris Reykdal has condemned an idea to use federal funds for arming teachers, calling it a "destructive and dangerous policy contemplation."
On Wednesday, the
New York Times
reported
that education Secretary Betsy DeVos was considering allowing states to use the federal Student Support and Academic Enrichment grant to purchase guns for educators. The grants, part of the Every Student Succeeds Act,
were
supposed to increase student access to things like art, music, mental health
and
technology programs in the country's poorest schools —
though
the program can be used for student safety as well. Washington school districts receive about $15 million from the program.
And Reykdal, the state superintendent of public instruction, says he will not allow that money to go toward the purchase of guns in schools.
"I will not authorize, permit, or distribute any resources to support efforts to arm teachers," he says in a statement. "State law is clear that our schools are gun-free zones for teachers and students."
There's an exception, of course, for commissioned police officers and school resource officers. But some school districts don't even arm their resource officers, Spokane
being one of them
.
The idea to use the grant program for arming teachers reportedly originated when Texas education officials asked whether districts could use the money to purchase firearms. The Department of Education
has said
DeVos' involvement in considering the idea has been "blown way out of proportion."
Still, the report has troubled educators. As Reykdal notes, there is no evidence to date that shows arming teachers improves student safety. There
is
research that
more guns lead to more gun violence
. While there's
honest
debate about whether arming school resource officers improves school safety, experts, teachers and school resource officers have
widely panned
the idea of arming teachers. President Donald Trump, meanwhile,
supports
the idea.
"The proposed approach by Secretary DeVos to promote more guns in schools appears to be based solely on ideology, and I remain deeply troubled that the U.S. Secretary of Education would consider increasing the risk of harm and possible death to students," Reykdal's statement says.
He says with
youth suicide
, domestic workplace violence and other firearm deaths on the rise, guns in schools would only put students and staff at greater risk of being hurt or killed by gunfire.
Asked by the
Inlander
about the consideration to arm teachers at a town hall meeting last night, Rep. Cathy McMorris Rodgers said she hadn't seen the details but was supportive of
arming
resource officers, not teachers.
"I haven't supported teachers bringing their own guns," McMorris Rodgers says. "I certainly support schools hiring resource officers to have security."
She also says she was the only member of the House this year to be honored by the Sandy Hook Promise, a nonprofit based in Newtown, Connecticut led by family members whose loved ones were killed in the tragic 2012 shooting. Sandy Hook Promise
condemns the idea
to use grant money to arm teachers.
Sen. Patty Murray has come out against the proposal,
according
to the
New York Times.
She says the intent of the Every Student Succeeds Act was not to arm teachers.
"When Republicans and Democrats came together to pass the bipartisan Every Student Succeeds Act, we were clear that these grants were intended to help foster safe, healthy and supportive environments that improve student learning — not prop up the NRA and gun sales," she said in a statement to
Times
.
When it comes to school safety, Reykdal says schools should be focusing on mental health rather than focusing on more guns in schools. He says his agency will seek additional resources for school counselors, threat assessments for students at risk of suicide or violence, and training for educators to recognize mental health needs.
"Secretary DeVos should be utilizing every resource at her disposal to reduce the number of firearms in schools and to increase resources to address our students' growing mental health needs," he says.