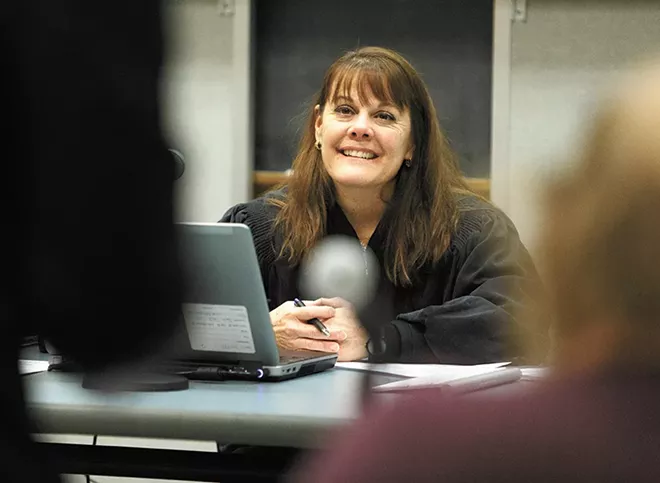 P
articipants in Spokane's Community Court
— an alternative court model where defendants accused of low-level misdemeanors are connected with services instead of jails — are less likely to reoffend, according to a new study.
First
launched in 2013
, Spokane's Community Court operates out of the downtown public library — officials have since launched an identical program at the Northeast Community Center — and serves defendants cited for nonviolent misdemeanors in the downtown core such as trespassing. Instead of getting booked into jail, defendants who opt into the program do community service and are connected to services that are co-located at the court, such as affordable housing, and addiction and mental health treatment providers. The program also accepts walk-in clients who want to access services.
Broadly, the goal of the program is to reduce crime and public nuisance by addressing the root causes of people's behavior.
Six years later, the innovative judicial model appears to be achieving its goal. In a study that was released yesterday, researchers from Washington State University found that participants in the program had lower recidivism rates than equivalent individuals who didn't go through it. They also noted that both defendants and walk-in clients accessed services on site at a very high rate.
To assess the program's impact on recidivism rates, the researchers used data from hundreds of cases that went through the Downtown Spokane Community Court between December 2013 and July 2017. For comparison, they also looked at case files that would have been eligible for Community Court but were arrested and convicted before it was established, as well as a group of individuals who were also eligible for the program but did not participate and were convicted during that 2013-17 time period.
The result? Noticeable differences in recidivism rates. Only 20 percent of the Community Court participants were charged with another offense within six months of completing the program, compared to 32 percent of the comparison samples. Similarly, within 12 months of completing the program, 30 percent of Community Court participants notched another charge, compared to 46 percent of the other sample groups. Three-quarters of program participants also had their conviction deferred while 70 percent "graduated" from the program.
"Overall, the results show considerably lower recidivism rates for the community court
participants, as compared to the historical and contemporary groups," the study reads.
Additionally, both program participants and walk-ins accessed on-site services at high rates. Roughly 90 percent of participants
received
a housing referral, while 41 percent of walk-in clients accessed services from the state Department of Social and Health Services and 50 percent pursued employment services.


Spokane City Councilmember Breean Beggs, a longtime proponent of the community court model, says that the study's findings are evidence that the program should be expanded, calling the model a "recipe for success."
"We would save money and be more effective if the majority of our misdemeanor court system was problem-solving based like community court is," he says. "You're handling the public safety aspect of it with law enforcement and prosecutors, but you're also handling the underlying problem with the social services side of it."
The study did list some
recommendations
to improve the program, such as increasing the presence of law enforcement in the process, boosting use of the program's risk assessment tool — an interview questionnaire used to predict an individual's chances of reoffending and identify needs, such as housing — and conduct evaluations for drug and alcohol addiction on-site.


In a press release issued yesterday, Municipal Court Judge Mary Logan, who presides over Community Court, states that the program is working to address some of the limitations identified by the study.
"We are taking steps now to fix these issues," she says. "We are ensuring that needs assessments are performed on every participant and tracked regularly, we have also developed a new partnership for chemical dependency evaluations, and we are reaching out to additional services providers to become part of the court."
Here's the full study: