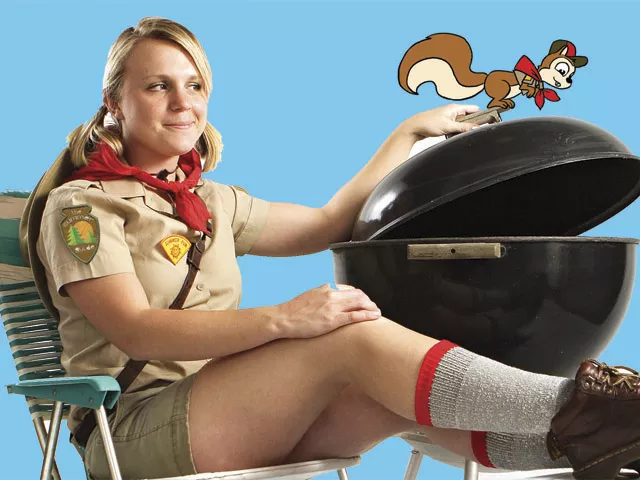 OUTDOORS
Go See Woody Woodpecker
If only real life was more like cartoons, trail hikers in the cool, forested dampness of LIBERTY LAKE REGIONAL PARK might hear this as they climb up towards an old cedar grove:

"Ha-haha-HA-ha. Ha-haha-HA-ha. Hahahahahahahahahahahhaha!"
That is, they might hear Woody Woodpecker, who is reputed to use the forested end of the park as one of his haunts.
OK, so life isn't really a cartoon (although — boy! — there are moments), and you can see 58-year-old episodes of the Woody Woodpecker Show on YouTube.
But the Woody Woodpecker of birds, the pileated woodpecker, is frequently seen at Liberty Lake Regional Park. And to see him, it's healthier than YouTube: You go outside and walk around. How's that for a novel concept?
"You should be able to see some pileated in there," longtime local birder Gary Blevins says of woodpeckers along the Liberty Lake trail. "Of course, a bird might not be readily available every time you go."
Drat! I can't tell if this is better or worse than YouTube. I can go either way.
But descriptions of the easy-to-moderate 7-1/2-mile trail at sites like trailsnw.com say the clockwise loop trail climbs to a cedar grove. This is good news.
Because when it comes to pileated woodpeckers and trees, "Their preference is larger cedars. Any time you get into cedars, it increases your chance to see a pileated," Blevins says. From last month to maybe about now, the woodpeckers will have been hammering on trees to attract a mate, he says. Later in the summer woodpeckers will be hammering on trees just to forage for food.

OUTDOORS
Bird Notes
If you don't want to get lost in the woods, local birder Gary Blevins says plenty of birds — black-throated and ruby-throated hummingbirds, cedar waxwings and yellow warblers — can be espied along the CENTENNIAL TRAIL through Spokane Valley. Slow down and look around bushes, he says, especially early or late in the day. Osprey and red-tailed hawks can also be seen patrolling above the river.

OUTDOORS
Playboating
From now until Aug. 4, there is an evening opportunity for a little WNP. Which, if you hang with members of the Spokane Canoe and Kayak Club, is shorthand for WEDNESDAY NIGHT PADDLE. Summer evening paddles begin around 5 pm and boaters play in Class III and Class II rapids (they will decline as the summer advances) in the Spokane River near Sullivan Park. Visit www.sckc.ws.
ETC
Flyin' Sign at Pines
Who says you can't have a bit of summer fun in Spokane Valley and not MAKE SOME COIN at the same time?
All you need is a Sharpie, some cardboard and imagination. Yes, we are talking about holding a cardboard sign at the end of a freeway off-ramp, known as "flying sign."
People already out there do this for a living or to survive another day and may not appreciate tourists doing a bit of slumming, so don't hog the corners.
But do have fun. Newcomers were in town recently with funny signs: "It's a long story…" Several years ago an art student showed up every morning with an executive briefcase and a suit and signs suggesting he needed gas for his Hummer. Have fun, donate your haul to charity of you like, and be careful out there.

OUTDOORS
Outdoor Movies
Cinema al fresco returns to PAVILLION PARK IN LIBERTY LAKE in July, opening with the movie Jumanji scheduled for July 2, Pursuit of Happyness July 3 and Rescuers Down Under on July 9. The films continue with National Treasure July 30, Mary Poppins July 31, the fun documentary King Corn Aug. 6, Brother Bear Aug. 7, La Femme Nikita Aug. 14, Princess Bride Aug. 21, and wraps up with Spider Man Aug. 28. Visit www.pavillionpark.org.
MUSIC
Sammy Eubanks
The popular Spokane bluesman — known for his regular appearances at Bluz at the Bend — brings his show to the picturesque ARBOR CREST WINE CELLARS on July 18. All Arbor Crest shows start at 5:30 pm and go on until dark. Tickets are $5.

OUTDOORS
Dishman Hills Birding
This is a small-group (up to 10 people) and somewhat strenuous half-day hiking trip offered by the SPOKANE AUDUBON SOCIETY on July 11. Iller Creek, at the south end of the Dishman Hills, has a variety of habitats that hosts several varieties of flycatchers, vireos, warblers as well as Swainson's Thrush, Ruffed Grouse, accipiters, chickadees and wrens. Much of the birding will be done by ear instead of by sight, so it's not recommended for beginners. Plus the group meets at the site at 6 am. (Faint!) Call Jon Isacoff at 448-2629 by July 3.
MUSIC
Big Head Todd & the Monsters
They're a pretty big band to be playing a PARK SHOW — a free one at that on July 24 at Liberty Lake Pavillion Park. Popular '90s college rockers, Big Head Todd & the Monsters, will rock a 90-minute set, hopefully including hits like "Turn the Light Out" and "Resignation Superman." Check out www.pavillionpark.org for details
Summer Guide 2010
SORT BY CITY Spokane • Spokane Valley/Liberty Lake • Coeur d'Alene/Post Falls • Sandpoint • Pullman/Moscow • West Plains • The Hinterlands

SORT BY CATEGORY Festivals • Food/Drink • Kids • Music • Outdoors • Sports • Theater • Water • Etc.

READ THE E-VERSION
Stories
•
Calendar listings