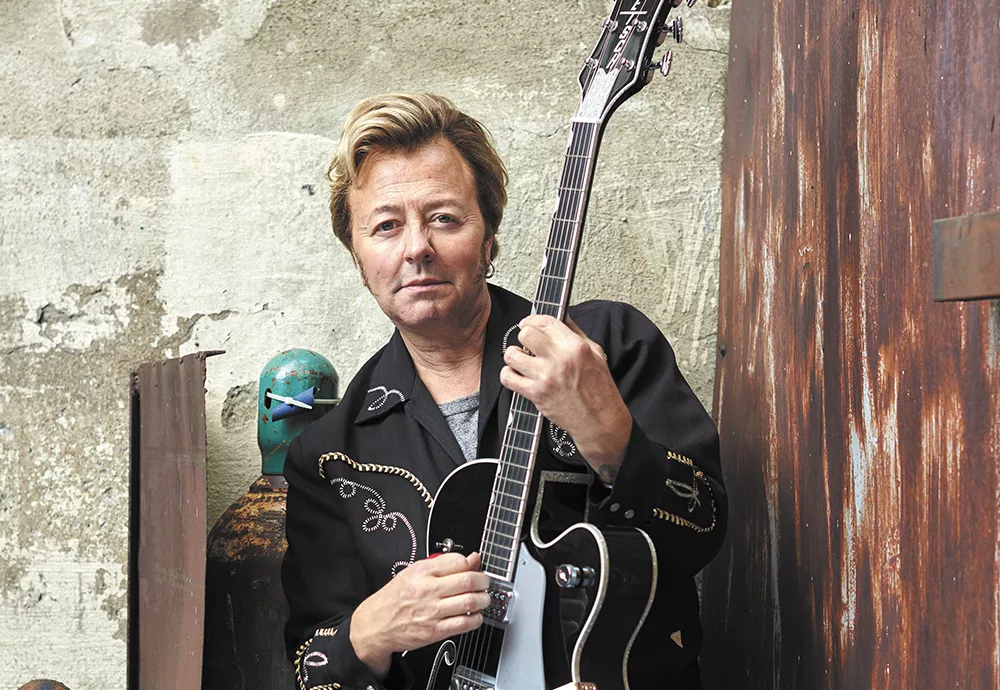 Being inundated with the sounds of the season every time you leave the house or turn on a TV or radio can make even the jolliest among us long for the day after Christmas, when Rudolph, Frosty and all grandma-crushing reindeer are retired until next year.
Spokane and the city's neighbors might want to consider just one extra day of fa-la-las and rum-pum-pum-pums this year, as rockabilly and swing revivalist Brian Setzer is bringing his 18-piece band to town Dec. 26 to explore a slew of holiday classics and originals in the distinct retro style the Brian Setzer Orchestra has mastered over the past couple of decades. And they'll bring a show full of songs from a brand-new Christmas album, Rockin' Rudolph, that's tasteful enough to make you remember Christmas tunes don't have to be saccharine or schmaltzy.
Thank the frontman for that. Setzer is undeniably one cool cat, one of the best guitar players on the planet and a mean singer, too.
As leader of the Stray Cats in the early '80s, he essentially reintroduced America to rockabilly music, using a new medium (videos) and new channel (MTV) to turn a whole lot of middle-America kids into fans of classic, gritty American rock music rooted in the blues. A decade later, he helped launch the "swing" fad — we're still feeling the repercussions of that one — with his Brian Setzer Orchestra big-band sound, full of blasting horns and led by his scorching guitar leads.
He started dabbling in amped-up versions of Christmas tunes with 2002's Boogie Woogie Christmas and continued with 2005's Dig That Crazy Christmas as a means to give his band a reason to go on tour between albums of original music. The sweaty, rocking Christmas tours he leads are some fine counterprogramming to the elevator-music trappings of Mannheim Steamroller or metal bombast of Trans-Siberian Orchestra.
"These are great songs," Setzer said in a record-label Q&A when he released Rockin' Rudolph this fall. "It doesn't matter if they are holiday songs or when they were written, they are just great songs. The trick is to make them sound hip, and some of them are eternally hip, you know? You don't have to do too much."
Among the songs on the album, you can find a rockabilly version of "Rudolph The Red-Nosed Reindeer" called, appropriately, "Rockabilly Rudolph." There's a wickedly complex take on "Carol of the Bells," with Setzer layering 32 guitars as substitutes for familiar rounds of vocals. "Hark! The Herald Angels Sing" gets the full big-band jazz treatment and skips the vocals altogether, while songs like "Here Comes Santa Claus" and "Most Wonderful Time of the Year" will be instantly familiar through their traditional presentations. The strangest song of the lot? That would be "Yabba-Dabba Yuletide," in which Setzer pairs some new lyrics he penned to the familiar Flintstones theme.
"I was jet-lagged laying in bed in Paris," Setzer said. "It was probably about 3 am, and I couldn't sleep. I was just laying there. It was hot. I started singing, 'Merry, Merry Christmas and a happy holiday to you' in a Flintstones-themed melody... In the middle of summer, being jet-lagged in Paris. It makes no sense, but that's how it happens sometimes."
Setzer's Christmas shows are bombastic performances befitting his big-band orchestra, and while he'll have to skip some favorites from past years in order to incorporate selections from the new album, he's excited for the band to tear into new songs like "Rockin' Around the Christmas Tree," the first song on the new set and an arrangement he's particularly proud of.
"You know it's the Brian Setzer Orchestra when it comes at you with the crazy chords from the beginning, but you don't know what song it could be," Setzer said. "It's just like chaos, and it sounds like you are stuck in traffic. Then the song comes in, and it's awesome. I had my way of scuffing it up and making it badass, substituting chords, scuffing about the vocal, and that great guitar solo. I really love the solo."
No doubt, the people at the Fox on Saturday night will, too. ♦
Brian Setzer Orchestra with Low Volts • Sat, Dec. 26, at 8 pm • $52/$62/$82 • All-ages • Martin Woldson Theater at The Fox • 1001 W. Sprague • foxtheaterspokane.com • 624-1200
---
Five Killer Brian Setzer Christmas Rave-Ups
• "Yabba-Dabba Yuletide"
• "'Zat You Santa Claus?"
• "Santa Drives a Hot Rod"
• "Dig That Crazy Santa Claus"
• "Run Rudolph Run"