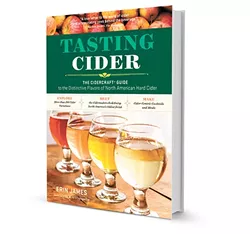 It's likely that you've noticed another beverage more frequently sharing draft lists and menus with your favorite craft beers and wines: hard cider. But though it might be newer to grocery shelves and some of our palates, it's not new to America — in fact, it's been around since our nation's founding.
"Cider is the drink that built the country," says Erin James, Seattle-based editor-in-chief of CIDERCRAFT magazine and author of the new book Tasting Cider: The CIDERCRAFT Guide to the Distinctive Flavors of North American Hard Cider.
Many of the Founding Fathers made and drank cider obsessively.
James wrote the book with the same goals as those of CIDERCRAFT: "What we do at the magazine is try to share the stories of the people in the cider industry. That's everything from producers of the product, to stainless steel tank-producing companies."
As you might expect, there are cider tasting notes for a number of varieties of ciders (and perries, a cousin of cider made from pears), a short historical orientation, as well as recipes for cooking with cider and mixing it into cocktails, from chefs and bartenders all over the country.
"We were just really trying to show all the sides of the apple," says James.
In Washington state, cider makes up 6 percent of the beer market (it's at 3 percent for the rest of the country). That's double what it was two years ago, with no signs of slowing down. This might make sense to us, since Washington is renowned for apple orchards, but Evergreen State residents might not be aware that cider apples are a whole different thing from those grown for culinary purposes.
"They are called spitters, because they're so bitter, so sour, so acidic — you can't chew them and swallow them down," says James.
Those new to cider might find some challenges to their assumptions about what it tastes like, which the book explores.
"Cider doesn't have to be sweet," says James. "Taste is subjective — no one is going to force you to drink anything. If you're looking for something drier, there are so many other options out there, and going to a cider bar or a bar with a good cider selection, if they have draft options, they are more often than not going to be dry. That's a good way to learn what you like. The worst thing you can do is spit it out and pick something new. Cider is a really good counterpoint to food, too, if you want to try that route."
James is hopeful that her book provides a path for those just discovering cider, as well as those who already appreciate the beverage.
"I don't think people understand the simplicity that goes into it — the complexity that can come out of it," she says, noting that at the elemental level, cider is just apples and yeast.
"That's something that I'm hoping that the book — as well as just the general growth of the beverage — can help people to wrap their brain around. It's a basically made, historic beverage that's made its first real comeback in 75 years. It's pretty epic, and you, too, can be a part of it." ♦
Find Tasting Cider ($19.95) at Auntie's Bookstore, and explore some locally made hard ciders at Liberty Ciderworks in downtown Spokane, Twilight Cider Works in Green Bluff, One Tree Hard Cider in Spokane Valley and North Idaho Cider in Hayden.