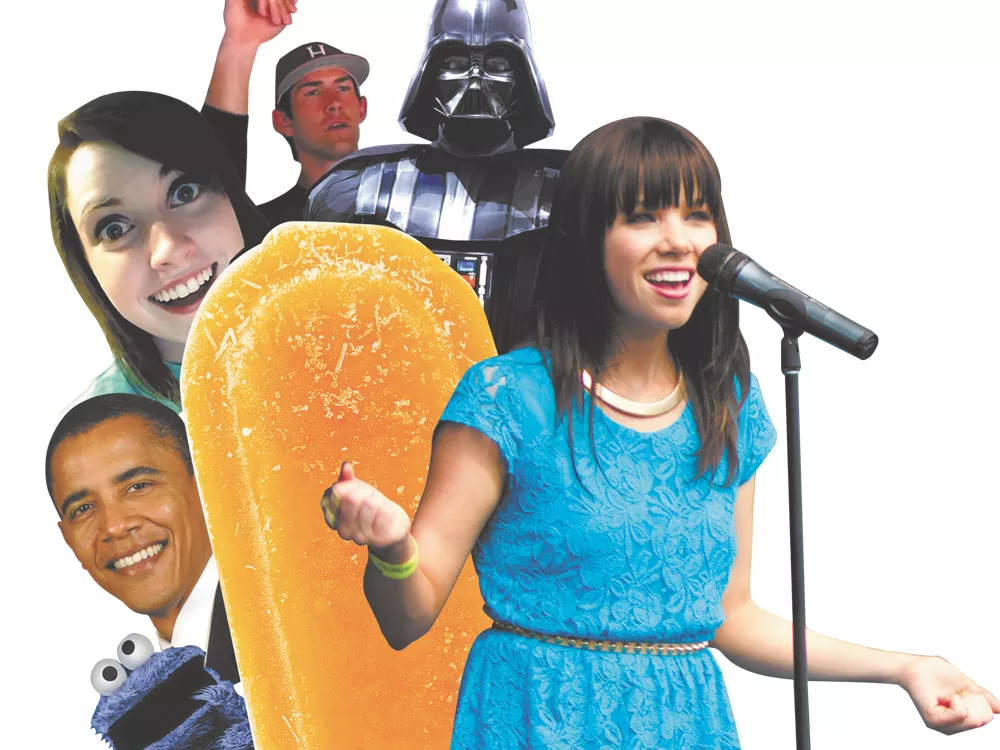 It will sneak into your brain. It will vibrate from your humming lips. It will bounce around the inner walls of your skull and you'll have no idea why. But this is exactly what this is supposed to do, because it's the song of the summer.
Not every summer has a song, but when a Song of the Summer arrives, you will know. There is no democratic process behind its selection; there is no pop music electoral college. It just happens. And this summer it happened to a cut called "Call Me Maybe" by someone named Carly Rae Jepsen.
Jepsen, like Justin Bieber, is Canadian. But Jepsen, unlike Justin Bieber, does not bear any resemblance to the freaky demon lady at the end of Ghost Busters. She does, however, appear about a decade younger than her 26 years, providing relief to bored dads who've clicked on her music video more than a few times. Although the song was released last September, but it didn't really catch hold on in U.S. until this spring. By summer, it was everywhere. That's all you need to know. If you never learned a single additional fact about Jepsen, you'd be perfectly educated.
There's nothing new about a particular track dominating the summer airwaves. We had it a few years ago with Outkast's "Hey Ya" and back in 1999 Smashmouth provided the confidence-boosting "All-Star." The very next year The Baha Men asked us "Who Let the Dogs Out?," which played all summer but hasn't been heard for the past decade, except for apparently in Mitt Romney's campaign bus. Perhaps someone owned up to letting the dogs out, rendering the song pointless. Who knows.
But where "Call Me Maybe" breaks new ground is in the fact that you can't fart in a windstorm without it taking on the sugary scent of Jepsen braying "I just met you, and this is crazy, but here's my number, call me maybe." (Dear Carly: You need to listen to some Smashmouth and get your confidence up. You really need the "maybe?" Just tell the asshole to call you "immediately." Love, Mike.)
Gone are the days when a hit summer song tormented you merely from grocery store speakers and passing car stereos. There are thousands of videos online of everyone from typical teenagers to the Bieber himself lip-synching to the song. There's one of the Harvard baseball team dancing stoically to the song while packed in a travel van. It's been viewed almost 15 million times. Because these guys went to Harvard and will be controlling your retire ment investment in a year or two, people have deemed this dance significant. There are hundreds of imitation videos to be found from seemingly every college, high school and youth sports team with access to a van. All of them are similar in both structure and annoyance.
Someone took the time to edit together clips of President Obama saying the words required to create the mostly vapid lyrics to the song. Another video features clips from the Star Wars franchise. Jepsen doesn't hold a candle to the vocals of Darth Vader.
Back in the day, you couldn't make a video like this to profess your love of a song. You had to go buy a lunchbox bearing the singer's likeness or gush about in your diary.
Several people I know had never actually heard Jepsen sing it until she appeared in a cramped room with Jimmy Fallon and the entirety of the Roots (Fallon's house band/the reigning authority in hip-hop music) playing "Call Me Maybe" with children's instruments. Somehow, the song is tastier, more accessible when performed with kazoos, xylo phone, tambourines and Fallon' s off-tune backing vocals.
But even then, it still rattles around your brain upon even half a listen. But don't worry, it will be gone soon. Those songs of fall, however, are never quite as catchy.