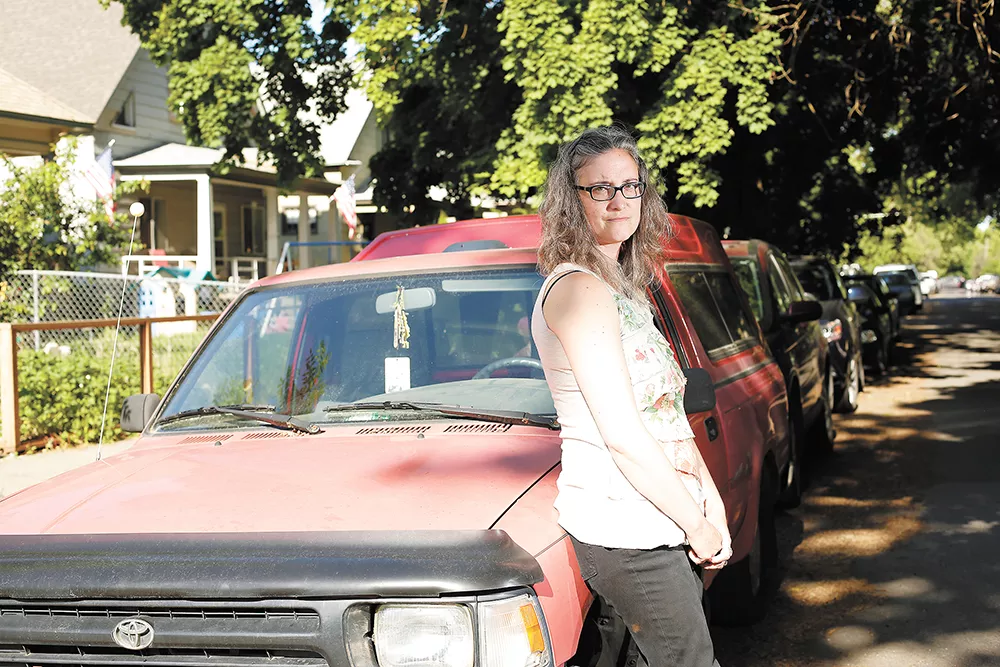 To West Central neighbor Arielle Anderson, her red truck, parked on the street in front of her home on Gardner Avenue, isn't a problem for the neighborhood. Quite the opposite.
"I use it primarily for community purposes... I collect trash, I clean up my neighborhood," Anderson says. "I haul stuff to the dump for folks."
She certainly didn't consider that leaving the truck parked in front of her house was illegal. But a city warning slapped on the front of her truck on March 30 notified her that simply leaving her truck parked on the side of the street for 24 hours was illegal.
She called the city to complain, and says she was told that she should consider off-site storage for her truck if she couldn't park it in a driveway.
"I'm a social worker," Anderson says. "I can't really afford that."
It wasn't just her. Anderson says a number of her West Central neighbors had been hit with warnings or tickets around the same time, enough for her to gather them all together, pick up the phone and dial the number for City Councilwoman Karen Stratton.
In 2016, 1,570 warnings and 1,498 citations were issued for violating the 24-hour continuous parking rule, says Heather Trautman, director of neighborhood services and code enforcement — though some of those vehicles also had other violations.
The 24-hour parking limit has become a weapon used by feuding neighbors. To Stratton, it's one that has a disproportionate impact on low-income neighborhoods and low-income neighbors.
"I don't see value in it," Stratton says. "It's a hardship. It's a hardship for the people who get the ticket... I don't think that's right. I don't think that's fair."
NEIGHBOR AGAINST NEIGHBOR
West Central neighbor Michelle Ortez has been on both sides of the 24-hour continuous parking issue. She lives across the street from Fahy West, a Section 8 apartment complex, and has been frustrated with the way some of her neighbors will park directly in front of her house, leaving nowhere for her to park when she got home from work.
"When I get home from work, and I've got to park two blocks away from my house and walk to my house, that pisses me off," Ortez says. "I started asking them to stop. This is my house. This is city parking, but I should have a right to park in front of my house."
So she decided to make a call to the city of Spokane, reporting the neighbors for being parked for more than 24 hours outside of her house. But then one of her neighbors struck back: Ortez found her own car — the one parked in front of her house — slapped with a warning. Then later, a $30 ticket.
She says a neighbor bragged about turning her in, telling Ortez's husband that her car wouldn't have been reported "if your wife wasn't such a bitch."
It happened again in April. The experience left her fuming.
The city of Spokane's parking enforcement crew doesn't go trawling for 24-hour-parking scofflaws. Each time, it's responding to complaints. And there are a lot of complaints.
From January 2016 to May 15 of this year, Trautman says, there have been more than "2,100 complaints from the community specific to continuous parking." Sometimes the complaints detail other violations as well.
Often, Trautman says, the complaints center around neighborhoods where parking congestion or a narrow roadway is an issue.
She says that a version of the rule has been on the city books since 1995, originally introduced to give the city a tool to deal with abandoned vehicles. In fact, originally the rule was even harsher: It was illegal to leave a car on the street for longer than 12 hours.
"Technically, if you came home at 5 pm and didn't leave until 7 am the next morning [you would be in violation]," City Council President Ben Stuckart said in 2014, before the city council unanimously voted to increase the time limit to 24 hours.
"Streets are a finite resource," says Trautman. She notes that ensuring turnover of vehicles is important for the city to be able to, say, clear the road for street cleaning, maintenance or a citywide event like Bloomsday.
But Stratton and several ticketed neighbors point out what they see as inherent inequities that the 24-hour limit creates. Some homes, particularly in areas like West Central, don't have driveways in front, and the alley access out back is difficult for larger vehicles to maneuver in.
Stratton and Anderson highlight perverse disincentives: The rule can actually punish neighbors for using public transit, walking or biking to work.
"One woman takes the bus — she takes the bus to work. She leaves her car at home," Stratton says. "So she got a ticket."
COMMON SENSE AND THE LAW
"Parking is one of the more contentious dockets we deal with," says City Prosecutor Justin Bingham. Stratton sent him the email correspondence from her angry constituents who'd been ticketed, and Bingham called them personally to talk about their circumstances.
"They were very reasonable people. They weren't asking for the moon... They're very confused about why they're getting these tickets. A lot of people felt they are being targeted," Bingham says. "We explained to the attorneys that cover those dockets that they need to use common sense. We need to look at the full context when they are dealing with the tickets."
Ortez says her ticket was waived by a deputy prosecutor at municipal court.
"She looked at my ticket and looked at the address and said, 'I don't even know why I'm even doing this,' and wrote me off and sent me on my way," Ortez says. "If [my neighbors] want to go ahead and be vindictive ... I will fight this tooth and nail every time I get the ticket."
But often, ticketed individuals don't have the time to go to court to protest.
"I think the city should back off the homeowners. If it's parked in front of their home, then there should be no ticket there," Ortez says. "It just seems like the city is being greedy."
Trautman, however, says that state law won't allow cities to hand private citizens the ability to permanently reserve stretches of a street.
Stratton is looking at ways to modify the current rule. She's considering a push to either eliminate the continuous parking provision entirely, or expand the time limit to two or three days.
In Boise, the continuous parking limit is 72 hours. It's the same in traffic-jammed Seattle, though you still might be required to move your car within 24 hours if the city needs access to that stretch of street.
Portland doesn't have a limit at all. If a car's license tabs aren't expired and it doesn't appear to be an abandoned vehicle, there's no limit to how long it can remain on the street.
The same goes for Spokane County.
"We don't get complaints like the city does," Spokane County spokeswoman Martha Lou Wheatley-Billeter says. She notes that plenty of people in the unincorporated area will have trucks, cars and tractors they'll park on the street.
"I don't believe cars should be ticketed unless there's a safety issue or unless there's an abandoned vehicle," Stratton says.
But what about when one neighbor is frustrated that another won't move their car?
That should be solved the old-fashioned way, Stratton suggests: "You call your neighbor and you work it out."♦