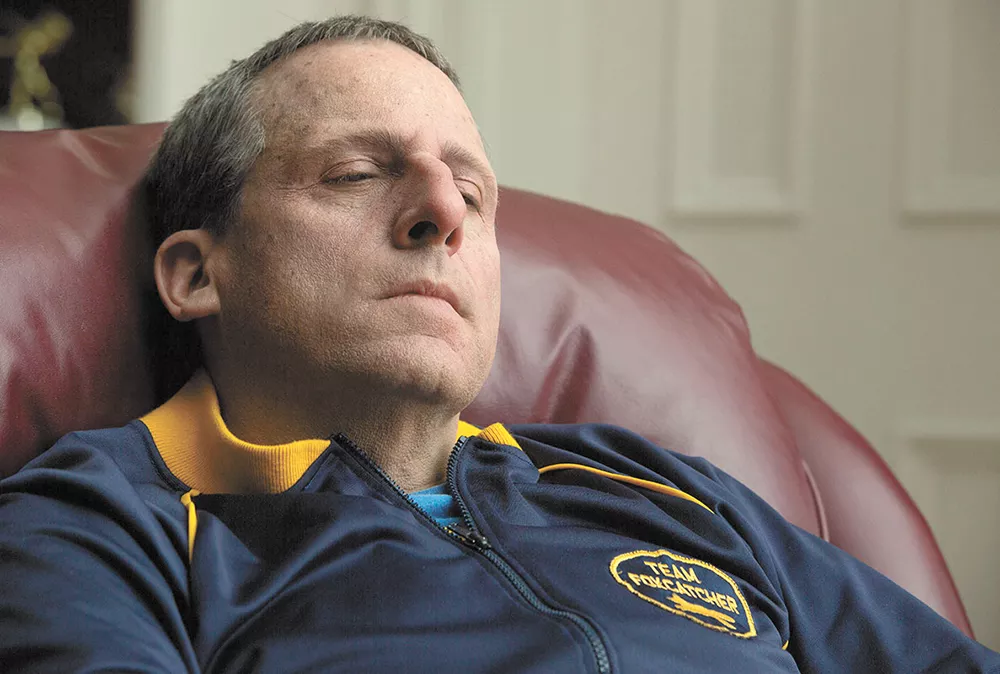 A palpable sense of doom hangs over the chilling Foxcatcher, like a vulture resembling the beak-nosed billionaire John E. du Pont (a prosthetic-enhanced Steve Carell), who's at the story's twisted center.
As the film slowly inches toward its inevitably tragic ending, you can't help but think: Nothing good can come from this. Based on headlines from nearly two decades ago, it recounts the uneasy relationship between wrestling enthusiast du Pont and the Olympic gold medal-winning Schultz brothers.
There's a studied creepiness that informs Foxcatcher, one that suggests its pregnant pauses and deliberate pacing will contribute to a greater meaning beyond the tabloid fodder that advances the otherwise mundane narrative of a privileged rich man with delusions of grandeur. Director Bennett Miller's execution is beautifully evocative, but to what end? Once the film concludes, the letdown weighs as heavily as the dark mood that permeates this contemporary American horror story.
The performances anchor the film, though not in the way you might expect at the outset. Much has been said about Carell's approach to playing the role of the borderline wacko du Pont, the wealthy heir to a family fortune who recites Reaganesque platitudes of patriotism while snorting cocaine, drinking scotch, and coaching — in the loosest sense of the term — the Foxcatcher wrestling team he believes will somehow elevate America's standing in the world.
No question: There's something unnerving about this cringe-inducing turn that separates Carell from the rest of the pack, something that will undoubtedly attract award nominations given his literal about-face here. But aside from the Mommy fixation and homoerotic impulses that the film tritely references to explain this enigmatic man, you're left with a performance that feels gimmicky, one in which an actor primarily known for his comedic chops goes weirdly dramatic.
As Dave Schultz, the older brother unwittingly drawn into the psychosexual drama between du Pont and the impressionable Mark Schultz (an intense Channing Tatum, taking it up a notch), Mark Ruffalo goes to the mat when the rest of the film wavers in its purpose. Although it's only a supporting role, he's the true champ in Foxcatcher.
As much as you want to admire (even like) this film, it's ultimately an unsatisfying experience, largely because you have no idea what to make of it. Is it a commentary on the frequent hypocrisy of red-white-and-blue political values? A critique of the extraordinary entitlement of the 1 Percent? An unrequited love story in which repression mutes the expression of desire? Whatever the case, Foxcatcher provides little insight. Art can shape the truth in ways that resonate beyond the obvious. Regrettably, the truth-shaping here grapples for significance, without any apparent aim. Catch as catch can. ♦