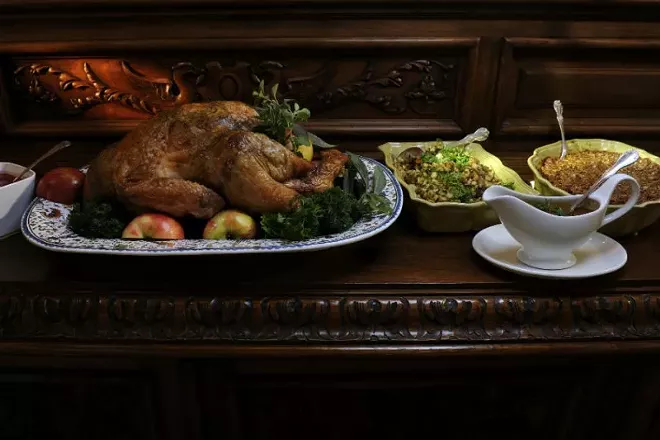 Well, it's that time of year again: Time to figure out how to answer the same questions from distant relatives about your career and relationship status a dozen different ways without losing your mind.
While we can't help you avoid noisy family members, we can help take the edge off with these weed-infused Thanksgiving dishes. These recipes may not be appropriate for a family dinner (unless your family is super chill), but they would fit right in at Friendsgiving.
Here's a simple stuffing recipe from the Stoner's Cookbook.
You'll need:
5 cups rye bread crumbs
2½ tablespoons poultry seasoning
½ cup raisins
½ cup almonds
½ cup celery
cup chopped onions
1 clove of garlic (optional)
3 tablespoons cannabutter, melted
½ cup cannabis bud
2 tablespoons red wine
To make, simply mix the ingredients together and stuff into your bird of choice.
And because it wouldn't be Thanksgiving without pumpkin pie, here's a recipe for Cannabis Pumpkin Pie, also from the Stoner's Cookbook.
You'll need:
¼ cup cannabutter
2 eggs, beaten
¼ cup sweetened condensed milk
1 teaspoon molasses
1 teaspoon nutmeg
1 teaspoon vanilla extract
¼ cup light brown sugar
1 (16-ounce) can pumpkin
1 (9-inch) unbaked pie crust
Directions:
1. Preheat oven to 350°F. 2. In a small saucepan, melt the cannabutter over low heat. 3. In a large bowl, combine the milk, eggs, molasses, cinnamon, nutmeg, vanilla, brown sugar and pumpkin and mix well. Add the cannabutter to the mixture and stir to combine. Pour the mixture into the pie crust and bake for 50 minutes. The pie is ready when the filling has settled. ♦