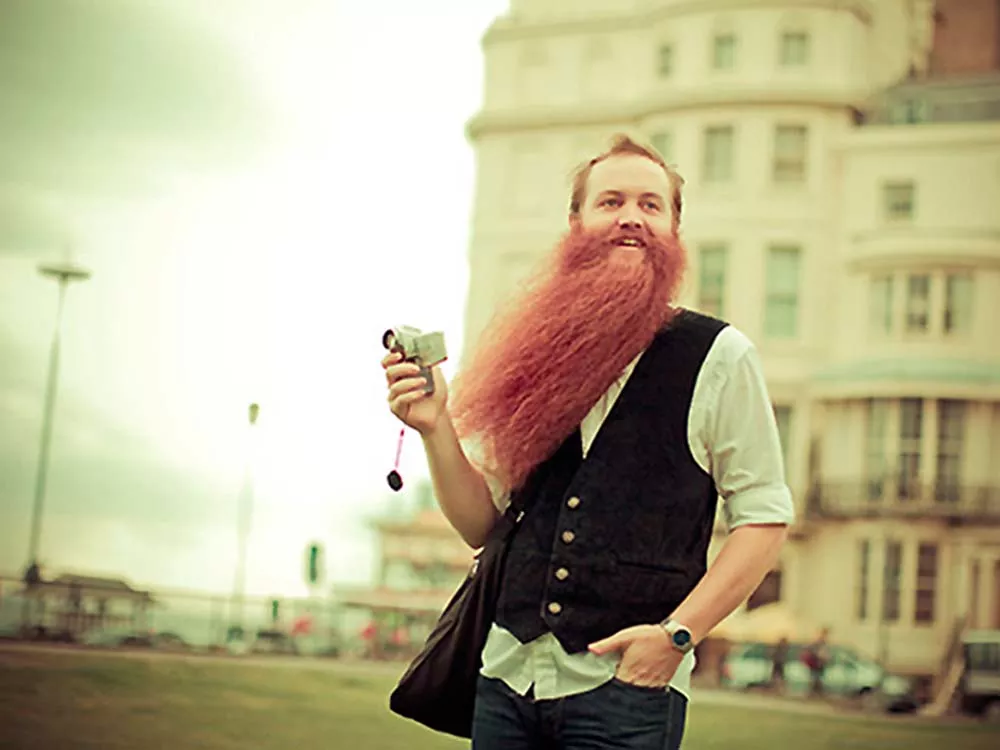 Blame executive producer Thom Beers — mastermind of testosterone-drenched shows like Deadliest Catch, Ax Men and Ice Road Truckers — for exposing your boyfriend to a dangerous, legitimate excuse to shop shaving.
Whisker Wars isn't a wannabe circus sideshow glorifying hygienically challenged men who boycott razors. Rather, the competitive bearding circuit is a formidable cadre of tress artists comprising 80 registered American teams. Criteria are complex, concerning length, sheen, hair density, and the slightly more subjective: how well one's facial hair compliments one's body hair.
Think Best in Show, with hairy people instead of canines. Catty backstage trash-talking ("I am the Muhammad Ali of bearding"), asinine humor, neurotic grooming regimens. It's all here. Behind-the-scenes primping — like Texan Alex Laroche's using 40-ounce tall boys for beard curlers — is unadulterated white-trash magic.
Rivalries, ironically, mirror historic riffs. A group of Southerners is threatening to secede and unite with Alaska. Beard Team USA is itching to dethrone Germany, the reigning global superpower of beards.
It all amounts to a bizarre — albeit enlightening – exposé on what it's like to function with the equivalent of a shag carpet attached to your face.
"It gets caught in my zipper, gets caught in my pants, gets caught in my goat's horns," says Texan contender Bryan Nelson.
Michael Scanlan of Ohio says he pees on his, occasionally.
Like the burly crabbing captains on Deadliest Catch, the whisker warriors make dynamic reality subjects. Their personalities run the gamut from hipster to hick, prima donna to soft-spoken hermit who wears lederhosen and lives in a forest.
What cracks me up is that they all seem to regard each other's facial accoutrement like an independent entity, wording sentences like, "There some was shit-talking that was coming from the beard attached to the mouth of Jack Passion."
At some point, however, the novelty of phenomenal facial hair exhausts its own wow factor. You begin to ponder the entanglement between identity and fawned-over fuzz, and digress: To what extent would these men be severing their sense of self if they bushwhacked their whiskers?
Still, when it comes to peacockery, it's no close shave. Whisker Wars trumps all the other pageants.
(Premieres Friday, August 5, 11 pm on IFC)
---
TIVO-WORTHY
Hillbilly Handfishin'
You could argue this show exploits a Southern stereotype. But an Oklahoman named Skipper Bivins teaching city slickers to use an appendage as a fishing lure? We haven't seen anything that awesome since an orange cat lured crawdads with his tail in Milo and Otis. (Premieres Sun, Aug. 7, at 10 pm on Animal Planet)

Detroit in Overdrive
Artists, inventors and business owners make Detroit not crappy in this three-part documentary. This includes Michigan native Kid Rock, who uses his American Badass Beer label to generate employment. Now you can support the Motor City by buying Eminem's "Imported from Detroit" T-shirt and getting drunk. (Premieres Thurs, Aug. 4-6 at 8 pm on Planet Green)

Tia & Tamera
Just when you thought they were gone forever in the tragic black hole of teen stars who have really nice skin and lukewarm acting prowess, the Mowry twins are getting married and having babies. Talk about a double dose of '90s nostalgia. (Premieres Mon, Aug. 8 at 9 pm on Style)