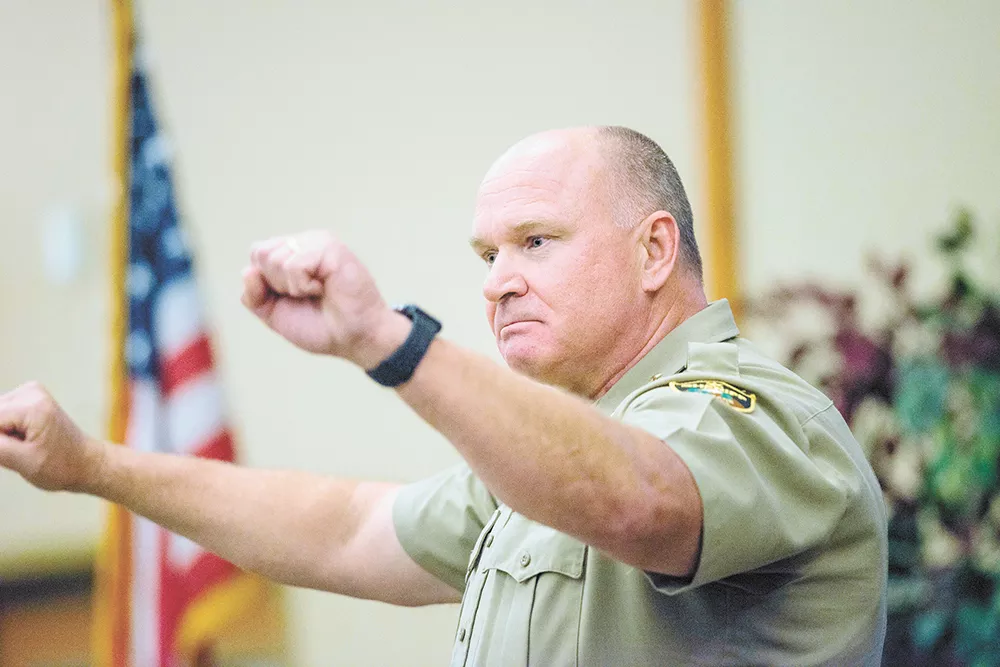 Spokane County Sheriff Ozzie Knezovich wades into the fray. A tightly packed, raucous crowd surrounds him in front of the Spokane County courthouse during a May 1 protest against Washington's stay-home order.
The sheriff isn't wearing a mask, later telling the Inlander that a mask would have just stoked their anger. But the anger of the crowd is plenty stoked anyway.
"I thought you were a Christian!?" one of the protesters yells amid a chorus of boos.
Knezovich wants to push back against misinformation, against those who claim that the coronavirus is a hoax or a conspiracy. He says he's against this protest, concerned that any one of them could end up infected with COVID-19.
"Could be me," he tells the crowd with a grim smile.
Shortly after, he aims his criticism in the other direction, blasting Gov. Jay Inslee for extending the state's stay-home order.
"What the governor announced is draconian. I mean, beyond draconian. It's not reasonable," he tells KREM 2 news shortly after. "Gov. Inslee has made a huge mistake here."
Knezovich isn't just weighing in as a pundit or even the local sheriff: Along with the county commissioners and the county's health officer, Knezovich is in charge of the county's Emergency Coordination Center, the entity that has guided the region's coronavirus response.
Knezovich has responded by offering a brand of bipartisanship that sometimes means bringing people of both parties together — and sometimes means lobbing incendiary criticisms at people of both parties.
"This pandemic cannot be a political football," Knezovich says. "I find it so distasteful that I can't put it into proper words."
But Knezovich's bomb-throwing approach has also drawn criticism for exacerbating the partisan divide precisely when unity has been needed the most.
ALL TOGETHER NOW
Two months ago, on Thursday, March 12, Spokane Mayor Nadine Woodward was preparing to declare a civil government emergency, handing Spokane more flexibility and funding to respond to the coronavirus. But she got pushback from county officials, including Knezovich.
"I would highly advise the mayor not to go and declare a state of emergency right now," Knezovich could be heard commenting after the end of a press conference the next day. "It's not the right move."
Knezovich says his opposition was because Bob Lutz, the county's health officer, wasn't yet ready to "push the emergency button."
The city administration wasn't happy, feeling like it had slowed down "precautions that will protect people" by days, City Council President Breean Beggs says.
Still, by the time that Woodward's emergency declaration was issued on March 16, a wide array of local governments were beginning to work in sync. Knezovich had officially activated the Emergency Coordination Center. At 8 am every morning, seven days a week, Knezovich began hosting a daily meeting of local officials — both in person and over video chat — to discuss the policy response to the virus.
"At the very first meeting, he called for unity and collective leadership," says Jim Nania, EMS medical program director for Spokane County.
Knezovich invited former Spokane County Fire District Four Chief Ed Lewis — who had incident management experience — to come out of semi-retirement to help out.
"The sheriff is very open, very honest about how he feels," Lewis says.
But others like Rep. Marcus Riccelli (D-Spokane) give Knezovich's recent leadership mixed reviews. Riccelli praises the honesty of Knezovich's blunt and straightforward communication style, but also says their back-and-forth hasn't always been "agreeable."
Knezovich hasn't shied away from controversial topics, say, by linking a recent property crime spike to the COVID-related release of inmates, sparking criticism from justice reform advocates that the sheriff lacked data for his contention. Nor did he hesitate to express his belief that the coronavirus policy group has spent too much time focusing on homelessness.
"It seems like almost every ounce of the response that we did was driven solely by the homeless issue," Knezovich says. "Never the working poor. Only the homeless."
Riccelli, however, says that it took weeks to get a task force up and running to address food security — a major issue for the working poor. While he credited Knezovich for supporting the effort, Riccelli says "the buck still stops with him" for the delay.
But Knezovich says he himself grew up knowing what it was like to grow up with bare cupboards — and that's why he's so worried about the economic costs of the lockdown.
"You go hungry," Knezovich says. "You wait until you can go to school where you know you have lunch, at least. Like it or not, our governor's response to this is causing that for people."
OZZIE VS. JAY
Knezovich didn't show up to respond to the May Day protesters without backup. Before the event, Riccelli says Knezovich called him directly, asking for his help to make the response a "bipartisan effort." Riccelli agreed, on one condition.
"I said, 'I'm not going to be part of you standing up and bashing the governor,'" Riccelli says, "He didn't do it in the [response to the protesters]. But then he did it in an interview 10 minutes later. That, to me, is not helpful. "
Granted, even Riccelli has been frustrated with the rigidity of Inslee's stay-home order. On Monday, Riccelli fervently endorsed Lutz's vote to ask the state for permission for Spokane County to move to the next stage of reopening.
But Knezovich goes further. He says that Spokane is ready for any business to reopen today, so long as they follow proper safety protocols.
Knezovich acknowledges that Spokane has struggled to get enough testing resources available. But for that, he blames Inslee.
"Spokane is the second-largest city in the state of Washington. And we can't seem to get any testing kits at the rate the west side did," Knezovich says. "We seem to have been forgotten by Jay Inslee."
At a Monday press conference, however, Lutz said the disparity in the amount of tests available throughout the state is not because of geographic favoritism.
"It's more a function of that's where the burden of disease has occurred," he said. "The west side has been hit much harder, much quicker."
Knezovich says he hasn't been sleeping much lately. He spends his evenings responding to emails or making phone calls.
"I called a business guy. He has two businesses in town," Knezovich says. "When I was talking to him, he broke down into tears, going, 'Sheriff, I'm about ready to lose everything. ... I'm watching my dream die.'"
On Monday, only four COVID patients in Spokane were officially categorized as "hospitalized."
"We're hard-pressed at this point to say this is a medical emergency," Knezovich says. "There's moral and ethical grounds to go, 'No, governor, you need to rescind this order in Spokane County.'"
In press releases and statements, the governor has touched upon the struggles of business owners and workers — but Inslee still stresses the lives that have been lost. This is the hardest part, Inslee argued at a press conference Friday, when a misstep could end more lives and more businesses.
"We want a full economic recovery," Inslee says. "We don't want to have to do this twice."
'CONSTITUTIONAL' SHERIFFS
Plenty of other sheriffs across the country have lambasted their own governors with similar complaints. Snohomish County Sheriff Adam Fortney declared that he would "not be enforcing an order preventing religious freedoms or constitutional rights."
"I do not believe that suspending the Constitution was wise, because COVID-19 is nothing like the plague," Bonner County Sheriff Daryl Wheeler wrote in a letter to Idaho Gov. Brad Little.
But Knezovich doesn't side with them.
"I thought what he did was fairly foolish," Knezovich says of Wheeler.
Neither Knezovich nor the Spokane Police Department have enforced the governor's stay-home orders with anything other than educational warnings. In fact, Knezovich boasts that he helped a church get clearance from Lutz for a drive-in Easter service — weeks before the governor allowed them.
But Knezovich finds himself defending Inslee against far-right activists like state Rep. Matt Shea (R-Spokane Valley), who the sheriff accuses of spreading hate and fear. Knezovich says it's off base to call Inslee's order flat-out unconstitutional.
"I can point to Supreme Court cases dating back to 1900 that say governors do have these rights and powers," Knezovich says.
But some of Knezovich's previous rhetoric has echoed the bombastic anti-Inslee rhetoric he criticizes today. Last year, he reacted to new voter-approved gun control laws by saying that it was hard for him "to enforce something that is unconstitutional." He also suggested that Gov. Inslee should be "arrested for obstruction of justice" for signing a law constraining state official's cooperation with immigration agents.
"I don't appreciate that," Riccelli says. "But I do respect that Ozzie has been very outspoken against Matt Shea and his rhetoric... and his extremism."
And even as Knezovich accuses Inslee of not taking the economic costs seriously, he's been horrified by those who seem to want to throw lives away.
"I've literally had somebody on the phone say, 'I don't care if 500,000 people die. I want to go back to work,' Knezovich says. "Somewhere in between the extremes is where we need to be." ♦