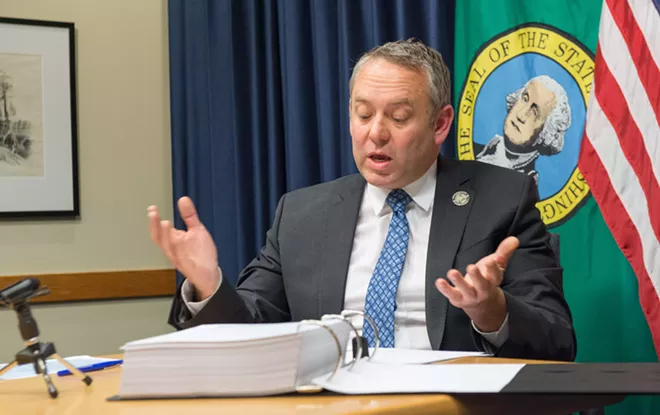 Members of the Spokane City Council call a press conference, summoning reporters to hear what they think should be changed with the mayor's proposed budget.
But then Mayor David Condon makes the unusual move of calling his own press conference — that very afternoon — to deliver an impassioned rebuttal.
That's what went down in
2014
. It's also what happened this year. On Wednesday, Council President-Elect Breean Beggs and four other members of the council announced that they'd be making a slew of changes to Condon's final budget.
But there's a big difference. In 2014, the confrontation between the mayor and the council over the budget happened in October, with months to spare before the City Council had to pass a balanced budget.
But this time? The clash happened in mid-December, with only a handful of days left before the year-end deadline.
With less than three weeks left in his term — and as the City Council prepares to vote on the budget on Monday evening — Condon has taken aim not only at the content of council's budget counter-proposal, but at how late they dropped it.
"The City Council laid out a 2020 budget plan that is nothing more than a money grab designed to fund their pet projects without any opportunity for the public to discuss or understand," Condon wrote in a press release sent out yesterday. "With only one remaining planned Council meeting before the end of the year, their 11th-hour maneuvering rips through our long-held budget principles and leaves our community at risk financially. To say I'm disappointed is an understatement."
That last-minute showdown represents a capstone showcase, not just of the philosophical difference between Condon and the City Council he's battled, but of the way their communication has deteriorated over the past year.
"The City Council laid out a 2020 budget plan that is nothing more than a money grab designed to fund their pet projects without any opportunity for the public to discuss or understand."

tweet this
POWER PLAY
<!——————StartFragment——————>In running for City Council president, Beggs stressed his ability to work effectively with the mayor's office and that he would strive for consensus, even if it is delayed. And as Beggs presents the list of 30 different changes the council members are pushing for with the mayor's budget on Wednesday, Beggs doesn't strike a combative tone.
"It's been a very polite and collaborative conversation, which I really appreciate," Beggs says about his discussion over the last few days with Condon's finance staff.
Some changes come across as relatively minor; around $25,000, for example, would be transferred from the police travel budget to the police overtime budget.
Yet the undercurrent of the council's budget proposals represents the council's latest gambit to put more control over the direction of the city in the council's hands.
Back in 2017, the council created five refuse-collector positions, but the mayor simply responded by refusing to fill them.
But now, the council is not only resurrecting those five refuse-collector positions, it's mandating that if the mayor
doesn't
fill those positions, that money would be swept up and put into a "Sustainability Opportunity Fund" that could be used only for certain "innovative" initiatives. In other areas of the city, the council wants to create similar "Strategic Opportunity" and "Crime Reduction Opportunity" funds.
Effectively, these changes would tie the mayor's hands — or at least constrain them — limiting how long the next mayor can keep positions vacant and how she can use those funds.
Most dramatically, the budget provides another major expansion of the City Council staff, a frequent area of disagreement between the
mayor and the council
. It would include hiring a full-time council spokesperson and four research assistants for a total of $468,000. Legislative assistants would get another big raise. Their travel budgets would be increased to $10,000. They'd make the council's lobbyist — the intergovernmental-affairs position — into a full-time position.
The overall city budget wouldn't increase. Instead, the City Council intends to pay for the 35 percent increase in the council's budget by eliminating vacant positions — like the position for the economic development director — and using extra funds earmarked for the Spokane County Jail.
Councilmembers argue that, considering how long it takes to create new policies on important issues like housing and homelessness, it's more important than ever to have the staff necessary to swiftly analyze these topics. Not only that, but City Council members argue that it's their duty to be a check on the mayor.
<!——————StartFragment——————>"We're not a rubber stamp," Councilwoman Lori Kinnear says. "We're supposed to be there to make sure the citizens get the best deal for their dollar."
But Condon accuses the council of using vacant positions as their own personal "piggy bank."
<!——————StartFragment——————>"The Council has a critical role in budgeting; they approve the budget," Condon writes. "But instead of being thoughtful, the Council is rushing to make last-minute changes that will have lasting consequences without adequate review."

JOINT MAYORAL-COUNCIL PROCRASTINATION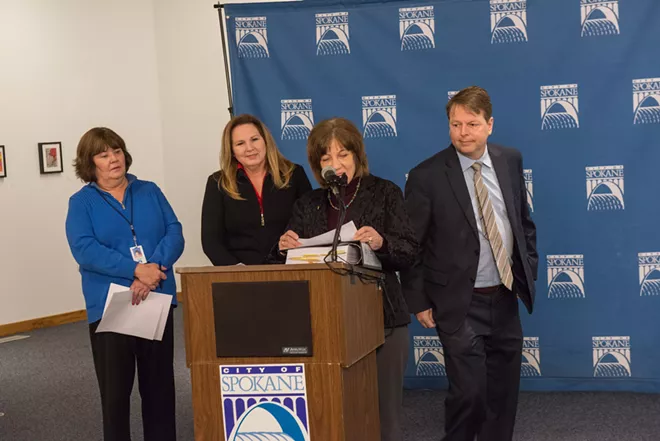 Condon has a lot of complaints — detailed, granular complaints — about the budget. For example, under their new proposals, Condon wonders if the city could use money saved by leaving a garbage-collector position open to fund a homelessness initiative. He says it's not clear.
"These things need a lot more deliberative and wonkish discussions — definitely more than we'll be able to [have] during this period," Condon says.
<!——————StartFragment——————>Condon compares their proposed budget to the use of "title-only" bills, a controversial state legislative practice of getting around statutory deadlines by introducing a bill with little more than a title, allowing legislators to fill in details later.
<!——————StartFragment——————> "I think the timing is very problematic," Condon says. "It doesn't allow a robust debate on pretty sweeping decisions."
So what happened? Who's to blame for the delay?
One problem, Beggs says, is that the mayor's line-item budget was late this year. While Condon presented the basic program budget to the
public in September
, Beggs says his final detailed budget proposal didn't drop until
early November
.
"I don't know how much of it was because of missing personnel, or because it was an outgoing administration and that wasn't a priority," Beggs says.
City spokeswoman Marlene Feist says the business of election season played a role.
Other factors further delayed the council's response. Because the vote total was so close, Beggs didn't even know he was officially elected City Council president until more than
a week after the election
. Only then, Beggs says, did he start to go line-by-line through the budget and identifying the changes he would make. His epiphany to create "opportunity funds" to sweep up money from vacant city positions was a recent one.
<!——————StartFragment——————>"I didn't have the idea until a couple of weeks ago," Beggs says. But before officially presenting the idea, he says he had about a dozen specific questions he needed to get answered.
"I gave that to them on the 27th, but I didn't get an answer back until Monday morning," Beggs says. It's only been in the past week, he says, that there's been a lot of back and forth communication on the issue.
And then there's the delay that comes from the City Council's internal negotiations. Kinnear recalls a number of big last-minute changes on the council dais in 2011.
"When you think about changes that seven people have to agree on sometimes, that's what it takes," Kinnear says.
But both Condon and Beggs cite another sticking point.
"For four years, I've been on the budget committee," Beggs says. "The budget committee really didn't happen this year."
There'd been turnover in key positions in the budget office, outgoing City Council President Ben Stuckart points out. The approaching election had heightened the tension between the two branches.
"The administration was not very organized, it was losing employees and was not in a collaborative mood in an election season," Stuckart says.
In previous years, Condon says, in early spring, the council would present the mayor with an official list of their budget priorities, often in a resolution. But that didn't happen this year either.
"There wasn't interest this year," Condon says. "There was nothing to react to."
Amid the heat of an election year, both the councilmembers and city staffers acknowledge that the relationship between the two branches has been strained.
"The mayor has canceled every meeting with me over the last six months," Councilwoman Candace Mumm says. "I haven't had an opportunity to meet with him or [City Administrator] Theresa Sanders over the last six months. It's been a lot of silence."
Turnover in the city's finance office didn't help matters. Still, Beggs is skeptical that the last-minute nature of the negotiations is truly a major problem.
"I never heard from the finance people that that was a problem. They never said, 'We need more time to analyze this," Beggs says. "My sense of it is that the mayor, for whatever reason, is grumpy on his way out the door."
Beggs notes that the budget proposal actually contains a potential
solution
to address future budget delays. It officially changes the title of the City Council's full-time "Senior Research and Policy Analyst" to "Budget Officer," tasking the staffer with working with the mayor all year on budget issues.
<!——————StartFragment——————>But — and this is another factor — that staffer won't be working with Condon's administration. For all the objections that Condon has had to the latest budget, he won't be in charge of implementing this budget — Mayor-elect Nadine Woodward will. And, if she chooses, she can negotiate with the council about amending the budget any time during the next year.
"We have copied Nadine Woodward on what we're doing, we've not heard a peep. She's the person who is going to be working on the budget, not Mayor Condon," Kinnear says. "We've all, to a person, pledged either privately or in public that we are going to work with this mayor and reset the clock. It's in the best interests of the public that we do so."