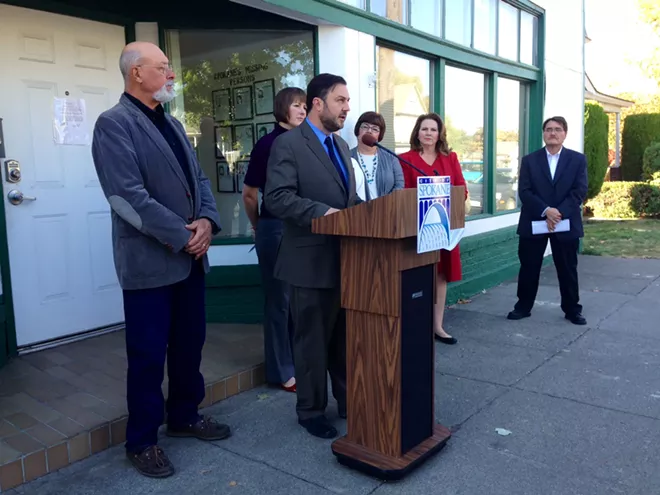 It's budget season and the gloves are off inside City Hall.
After the mayor released his final line-item budget this week, five city council members held a press conference Friday, most of them railing against raises for the mayor and his cabinet while some of their funding requests went unanswered.
Council President Ben Stuckart said he couldn't "in good conscience" vote for the budget, calling it part of a trend that "continues to build middle management that's getting raises to the detriment of citizens." Stuckart said, if asked to vote today, he didn't believe any member of the council would vote yes. Yet, Councilman Mike Fagan spoke soon after and hesitated, saying he wasn't there to "condemn or condone" the budget.
Stuckart and his allies on the council had submitted a list of requests to the mayor, including an ask for $60,000 to the COPS program, a volunteer neighborhood policing group. They also asked for more staff in the city's planning department, their own full-time attorney and $50,000 for unspecified neighborhood economic development work.
Councilmembers said Friday none of these were funded.
"I'm committed to changing the imbalance in this budget," said Councilwoman Amber Waldref, who complained that she's often met with an overwhelmed planning department when she looks for collaboration on projects.
Friday afternoon, the mayor held his own press conference to respond. In a rare instance, Condon didn't speak from written remarks, but defended his budget in a candid tone that isn't commonplace at his media events.
"I really believe the politicizing of wages does not serve this community well," Condon said, adding that the citizens voted to add the funding mechanism for the mayor's salary to the city charter in 2011 "because I'm guessing they wanted to take the politics out of the mayor's salary."
In Condon's proposed 2015 budget, Police Chief Frank Straub would become the highest paid employee, with both he and the mayor making $179,484. Straub would surpass Fire Chief Bobby Williams, who had been the highest paid city employee. Williams would make $176,018 next year under Condon's budget. The mayor argues he's legally required to give the raises because the police chief and others have contracts that require either cost-of-living adjustments or more pay after a certain amount of time on the job. (Condon and his budget planners say the city will pay a total of $1.7 million in increases of this kind city-wide over the next year.) Police leadership's pay is also tied to how much lower ranking officers are paid, which is determined by contracts. The city council approved contracts including pay raises for both the Spokane Police Guild and the Lieutenants and Captains Association this year. In turn, the clause in the city charter says the mayor's salary should match the highest paid city employee, so he gets a raise too. Condon cites the fact that he doesn't take pension benefits and his administration's commitment to limit utility rate increases to inflation as ways he's made government more affordable.
Stuckart argues that "just because you can doesn't mean you should."
"For four years Mayor Verner took a $100,000 salary. Was there outrage in the streets that she wasn't taking what the charter said? Absolutely not. It's ludicrous to stand up and make a legal argument why you have to take $180,000."
Condon points to a city legal memo that advises him to give (and take) raises, so city employees pay the full taxes they owe on that pay, and then leave it up to them whether to donate the increased amount back to the city.
At the council press conference, Fagan stepped up to interject: The council is set to get pay raises too. (Condon too brought up the council raises: "I did not comment on [those raises] this summer. I didn't come up here and have a big press conference saying this is crazy. And guess what? That's in this budget too.")
Stuckart then committed to not taking a raise in his own pay raise this year, saying he's "never wanted for anything" on his $55,000 a year salary (the other councilmembers make $30,000 a year). At the mayor's press conference, Condon said he planned to donate the raise in his salary to charity, specifically to a foundation that will fund heritage month celebrations his administration started this year, but, he says, could not continue funding in the 2015 budget. He also advised the councilmembers to take their raises and donate them if they wished instead of editing pay in his budget.
Fagan proposed the idea of charter and code fixes to change how the salaries of the mayor and his cabinet are determined, and both Stuckart and Condon said they were open to the idea. Condon said he would consider supporting tying wage increases to median income, which is about $42,000 in the city, but also warned that higher wages make the city government more attractive to the most qualified job seekers. Stuckart said a "couple" of councilmembers were working on a proposal to change the charter and code, but nothing specific has been introduced yet.
In response to council criticism about what he didn't fund, the mayor says the COPS program needs to become more self-sustainable, like community centers and other nonprofits operating in conjunction with the city. His staff leading the Planning Department hasn't expressed the same need for more planners, he says, and he doesn't believe the council needs a new lawyer.
The council will spend the next month changing the budget, on which it must vote by the end of the year. The mayor could veto line items in the council's approved budget, but the council's five-member voting bloc could overturn his vetoes.
"You will see a drastically different budget when this passes," Stuckart said