The last Spokane City Council meeting of the year will be held tonight, a week before Christmas. It won't include any presents for the council's conservative minority and will have a lump of coal for one council member.
Included in the council's packed Monday night agenda is a vote on an ordinance that will mandate that contractors for public works projects worth over $350,000 hire apprentice labor. If passed, the ordinance will require beginning next year that 5 percent of all labor hours on public works projects be done by apprentices. That requirement, which can be waived under some circumstances, will rise to 15 percent in 2017.
"Everyone agrees that there is a skilled worker shortage that's here now and is going to get worse in the future," say City Council President Ben Stuckart, who points to a survey of Washington state contractors who've had a hard time finding qualified workers.
Stuckart says the city has half a billion dollars worth of public work projects lined up. The ordinance, he says, will use the city's heft to help incubate new skilled workers, which are in high demand for both public and private projects.
"We have a vested interest in making sure that we have a skilled workforce to meet that demand," says Stuckart, who expects the ordinance to pass on a 5-2 vote.
If it somehow doesn't, there will be at least one administration employee with not much to do. In November, the City Council passed a budget that included a
$60,000 salary for a compliance officer to oversee the yet-to-be-passed ordinance.
Councilman Mike Fagan says that while he's supportive of having more apprentices, he views this ordinance as an overreach.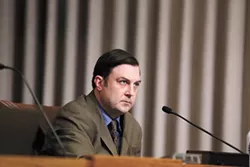 "Basically, what we are going to do is ram this apprenticeship program down the throats of people that will be employing these people," he says. "We will be biting the hand that feeds us."
Fagan says that the construction industry hasn't entirely rebounded from the recession and this mandate won't help.
Cheryl Stewart, the managing director of the Inland Northwest Association of General Contractors, opposes the ordinance as well. She agrees that there is a shortage of skilled workers, but she says that ordinance will just make it more difficult for the industry to manage its workforce and some contractors will avoid city projects.
"We all want the same things," says Stewart, who blames the worker shortage on not enough people being steered toward construction professions. "Instead of mandating and punishing, [the City Council] should be incentivizing and encouraging."
Fagan also doesn't care for the politics he says are driving this ordinance.
"We know that there is an outside special interest called Fuse Washington is driving this train," says Fagan, referring to a Seattle-based progressive advocacy organization.
Melissa Carpenter, the president for the Spokane Alliance, a coalition that supports the ordinance, says that there were a few people from Fuse Washington involved in the campaign, but she says it's being driven by people in Spokane.
To that end, she says that supporters of the ordinance will be packing the council chambers on Monday.
While this ordinance is likely to be the biggest thing on the council's agenda, it's also notable what's absent.
The council was originally slated to consider a pair of measures from Fagan related to how the mayor's salary is set. The mayor's salary is currently set by a clause in the city's charter, which the council has complained results in
overgenerous compensation
. Fagan's measures would have created a ballot proposition, which, if passed, would task the city's Salary Review Commission with setting the mayor's salary. He had hoped to get the proposition on the February special election ballot, which he says would have allowed enough time after its passage to apply the changes to the next budget cycle.
However, he said it was taken off the agenda by Stuckart at the request of the school district, which has a levy on the February ballot.
Stuckart defends the decision.
"We were asked by another taxing authority not to put this on the same ballot," he says. "It's a respect issue when they don't want something on their tax ballot."
He says that different issues bring out different voters, and "schools get 20 percent of funding from local levy, and we don't ever want to be in position where it fails because we had something on the ballot."
Now, the proposition likely won't be considered by voters until August, and Fagan suspects there won't be any changes to how the mayor's salary is set until 2017.
"The question that should be asked by the public is: Who does the council work for?" says Fagan. "Does it work for the school district?"