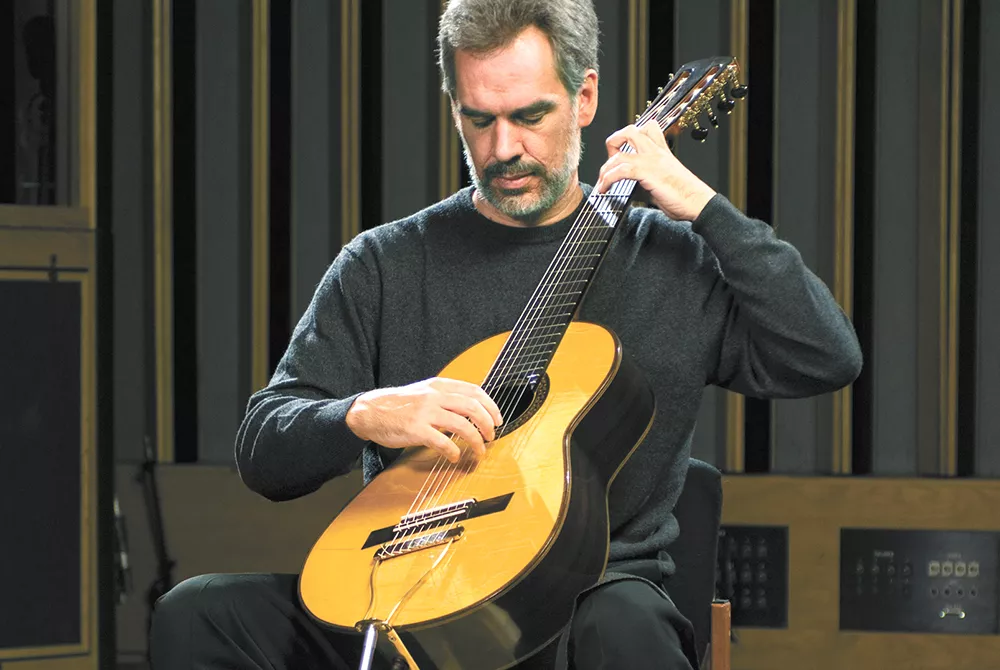 Every instrument comes with its built-in limitations, but Scottish-born guitarist Paul Galbraith has found adroit ways of working around them.
He has an admittedly unusual way of playing the guitar: He tips the neck upward, like it's a cello, which allows for a freedom of movement in both arms that traditional playing methods typically restrict.
It's the kind of method that might initially raise an eyebrow or two, but it's worked out for Galbraith: He's won a silver medal at the world-renowned Segovia International Guitar Competition, and scored a Grammy nomination for his 1998 album of Bach sonatas.
Galbraith is heading to Post Falls this week for a solo performance, the first in a four-part series highlighting classical guitar curated by local guitarist and radio host Leon Atkinson. During a stop in Southern California last week, Galbraith reflected on the origins of his playing style and how it gradually evolved: His first attempts involved him sitting on the floor with the guitar between his knees, not unlike the way you might play a sitar, with the guitar's neck resting on one of his shoulders.
"It developed over the years so that the guitar became much more vertical," Galbraith tells the Inlander. "I realized, I really am playing like a cellist, and then I moved to sitting straight up in a chair."
And like a cellist, the base of Galbraith's instrument, a specially constructed one known as the Brahms guitar, is retrofitted with a metal pin, which rests atop a resonance box that amplifies the sound. Since he adopted this style, Galbraith says he's noticed other guitarists taking similar approaches, including some of his own guitar students.
"I've never gone out of my way to tell people, 'You should play this way, this is the answer to the guitar,' because it involves a lot of investment," Galbraith says. "But if a student is convinced it's the way forward, then I teach it."
Galbraith, who currently lives in Switzerland, first picked up a guitar at around 9 years old, when his father saw one in a London shop window and impulsively purchased it. His parents weren't musicians themselves, but Galbraith says he was raised in a house that was often playing classical music, and that classical guitar in particular was experiencing a boom in the UK during the early '70s.
"At that time, the guitar was huge, and you could hear three or four concerts a week in the main concert hall in London," Galbraith says. "I immediately took to it, like in a previous life I'd played this instrument. It felt natural, and I just copied what I saw around me."
In the early '90s, Galbraith collaborated with the late English luthier David Rubio to create the Brahms guitar, which was inspired by a Renaissance-era instrument called the orpharion. The guitar has eight strings, extending the instrument's range in both directions; the higher strings of the Brahms guitar are actually shorter than those on a standard acoustic guitar, and the lower strings are longer.
"It's like a mini keyboard under your fingers," Galbraith says. "That really brought the project off the ground. If it hadn't been for David making such a fine-sounding instrument, it would have been tricky."
Because there isn't as wide a repertoire for classical guitar as, say, violin, Galbraith says his Brahms guitar opens up the possibilities for guitarists to finally get their hands on some of the classical world's greatest composers.
"We don't have the classical or great romantic repertoire, so we feel as though we're really missing out," he says. "This is a way to open up the range of the instrument; you can play some of Haydn's keyboard sonatas very well on this instrument, for example, and some Mozart sonatas have transcriptions, so you can fill in the gaps a little bit."
The Guitar Hour series continues into next year, and season tickets run $120. For a full schedule of performers, visit friendsofguitarhour.com. ♦
Friends of Guitar Hour Present Paul Galbraith • Fri, Nov. 3 at 7:30 pm • $35 at the door • Jacklin Arts and Cultural Center • 405 N. William St., Post Falls • thejacklincenter.org • 208-457-8950