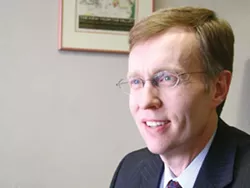 Foot-in-mouth syndrome?
Attorney General Rob McKenna may seek treatment from the reformed health care system after his decision to join a 13-state lawsuit challenging the freshly signed health care bill was blasted yesterday by state Democrats near and far. Senate Majority Leader Lisa Brown said the Legislature was looking to block McKenna from spending any state money on the lawsuit.
Speaking of government money The Spokane County Commissioners agreed yesterday to pay the family of Trent Yohe $50,000 for his fatal encounter with county law enforcement. Responding to a fire, sheriff deputies encountered Yohe in his home in May 2007 and Yohe, whose toxicology tests showed meth in his system, had a seizure, was Taser-ed and bound, and died a week later.
Rock down to Electric Avenue Avista is proposing a rate hike that could add more than $10 to the average Eastern Washington electric bill and four dollars to natural gas bills. Regulators in both Washington and Idaho must approve the hike, which could bring in almost $100 million in revenue for the company.
Crazy SUV A vehicle hanging from an electric pole? Was this a very public protest to Avista's rate hike? Probably not, but this Hayden wreck shows how improbable accidents happen. Don't pay attention, drive up the guide wires and, like that, your car's hanging by a string.
Al-Qaida nabbed Saudi Arabia swooped up three groups of alleged terrorists yesterday, including one cell containing 101 al-Qaida operatives looking to attack some oil installations. The groups, which consisted of Saudis and Yemenis, had a cache of arms, ammo, computers and telephone cards.