Day One
We're on tour with the Ax from Portland. We are driving a 1993 GMC Vandura, and the Ax have a rented car. The drive through the Panhandle of North Idaho and Western Montana is a beautiful drive. Our spirits are up. We arrive safely and hungry in Missoula, Montana. We eat at a famous local establishment, the Oxford. I order a burger and a Rainier. We meet up with our host, Chris. I give him his 14 Four Loko cans that he had me smuggle from Washington to Missoula because they are illegal in Montana. We venture to the space where Chris' band practices and drink Bud Light while catching up. We decide to head to the venue where we will be playing, it is a place called The BSMT.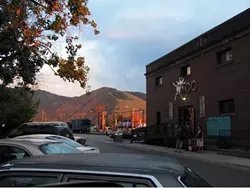 We play. We load and head back to the practice space. Aaron and Justin stop a rickshaw and head over to the liquor store to buy a 30-pack of Busch Light. We drink the night away with the rest of the bands. Aaron gets a massage from the other bands guitar player. The homeless man in the alley is angry and yells at us until he passes out. I think he was angry because his BP stocks just fell and he may not be able to retire on time. I could be wrong.
---

Day Two
We all wake confused. Aaron is missing, however his shirt is left behind, wherever he is he is shirtless. I eat Frosted Flakes. We get coffee. Apparently the World Cup is on and our host Chris loves soccer. He entices us with three dollar Bloody Marys. We arrive at the bar around noon. None of us in the band has ever watched a complete soccer game. The bar is awkward with nowhere to sit. When did soccer become cool? We stand in the corner drinking our Bloody Marys. The vodka straightens us out. We are human again. Today is Sunday and we have a day off, Belt of Vapor does not work on God's day. The Ax head back to Spokane to get a head start on the drive to Portland where we have two shows, one on Monday and Tuesday. We stay in Missoula for a day at the river. We visit a grocery store to get propane, kielbasas, and Coors Banquet Style (our apparent tour beer). We have no idea where we are going but we arrive at a beautiful part of the beach. We grill, we drink, and soak in beautiful Montana. It is quite the place when you stop and look.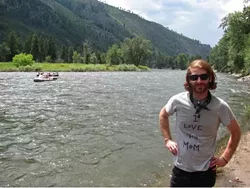 Some bro arrives with his pit-bull who almost eats our kielbasas. His name is Josh, nice guy. Our plan for the night is to camp at a place called Kreis Pond 29 miles outside of Missoula. We hit up a liquor store/bar/casino to buy alcohol and drink a Gin and Tonic before we head to the campsite. The first 20 miles of the drive are freeway miles. The last nine are old logging roads. I had been to this camp spot two years prior, so I did not think we needed directions. Wrong, the sun began setting and our gas was quickly running low and we are somewhere in the middle of Lolo National Forest.

We decide to head back to the freeway and find a different campsite. We take a random exit, find a beach, drink, and do not set up our tent. Sleep is overrated. We stay until 3:30 in the morning when we decide to drive to Spokane. I stay sober, and begin to drive the winding roads at four in the morning. It is not until the sun rises that I can begin to relax and feel at ease that there are no jackalopes following me. We arrive in Spokane and take naps.

Day Three
We are due in Portland later in the evening. We meet at noon. We have to jump the van because I left the headlights on. Now we are off. The van is doing well; it is a beautiful drive to Portland. However as we reach the Tokio Weigh Station we notice vast amounts of smoke in our rear view mirror. We pull over. Our transmission is purged of all its fluid. Transmission= dead. BoV= Angry.

We walk on the side of the freeway to Templin's gas station. Justin eats fish and chips while we plan our next move. We had to cancel the Monday night show in Portland; there is no possible way to make it on time. Our goal is to make it to Portland the next day for our Tuesday night show. Our first idea is to rent a Cargo van. The price of which is about seven hundred dollars too much. The mechanic says it would take a few days to fix the van so that plan is out. We decide to tow the van to Spokane while we figure out what to do. Because the tow is very expensive I decide to call AAA and sign up ($89). 45 minutes later I call back saying I need a tow. I tell the operator it was quite the coincidence that we broke down right after I purchased the service, weird I know.

We get a tow back to Spokane. We call our friend who has a mini van. We trade cars, she gets my 1990 Subaru legacy for the week, and we get her Kia van. We are now on the road, on time for our second show in Portland. So far life is good.