"Sing, my little bats."
So implored former Frames frontman Glen Hansard last night, performing with his band the Swell Season at the Knitting Factory. Hansard was playing an old song called "Lay Me Down," an autobiographical tune about being a 16-year-old AC/DC groupie dating a 15-year-old Cure fan. To appeal to her goth sensibilities, he explained in his thick Irish brogue, he bought a funeral plot and escorted her to the graveyard on Christmas night, asking her if she would do him the honor of being buried beside him.
He directed the audience to sing a lilting, spooky melodic line while he sang the chorus — a riff he said he felt compelled to include because without it, he was just singing her a country tune. So we bats sang.

Hansard and his on-stage companion (and former girlfriend) Marketa Irglova were the stars of the sleeper 2006 indie film Once, a low-budget project he and his friends worked on for fun but which became an international hit, landing them an Academy Award for best song in 2007.
The duo — backed by guitar, bass and drums — played almost the entire soundtrack from the film throughout the two-hour performance, interspersed with selections from their latest effort, Strict Joy.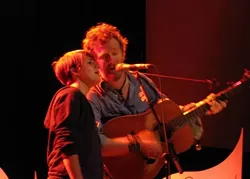 And while skeptics could write the band off as hopeless, folkie romantics, it was difficult to deny the power of either Hansard or Irglova's voices, or Hansard's gift for showmanship. The Irishman was charming, with his meandering stories, moth-eaten guitar and a crop of curly red hair that he shook like a Beatle.
At the onset of a five-song encore, Hansard emerged alone, stood at the edge of the stage, unamplified, and played "Say It To Me Now," the arresting opener from Once. Irglova answered with a solo of her own.
The finale Hansard dedicated to "the girl at the Stardust Diner."
"Satellite!" someone yelled from the balcony.
"Satellite Diner, you're absolutely right. Pardon," he replied, with a wry grin. "New to town... Satellite Satellite Satellite!"
The song was Bruce Springsteen's "Drive All Night," which then segued into a 17th century Irish funeral song, written from the perspective of the corpse, consoling the mourners. He led the audience to sing along: "Good night, and joy be with you all."
A simple line, but Hansard made it feel like church — hushing the packed house and thickening the air.