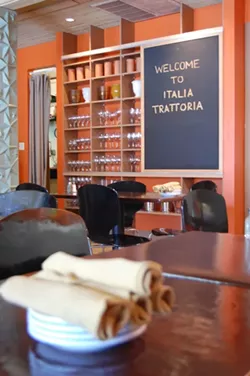 So it's been along, hard day at the office. You're tired. Your tummy starts to rumble and you think: "Boy, I could really go for some charred octopus right now."But then your craving is immediately thwarted. "Where might I find such a dish?"
Do you ever have this problem? We sure do. Think about it for a second: It's hard to get any eight-limbed denizens of the deep in this town, unless you cotton to calamari.
Well, we have good news to report, cephalopod seekers (and lovers of artfully prepared regional cuisine in general) — Italia Trattoria (144 S. Cannon St.) has finally opened in Browne's Addition, and there's mollusk on the menu.
The charred octopus, spicy tomato oil and lemon parsley salad ($8), is part of a varied dinner antipasti menu that includes tuna crudo ($8), a beef carpaccio and basil bread salad ($10), and that old favorite, a prosciutto and melon salad ($12). Entrees are going to run you $15-20. The lunch menu includes no less than eight types of bruschetta ($10-13).
We could go on and on, but we'd rather just post the menus: —-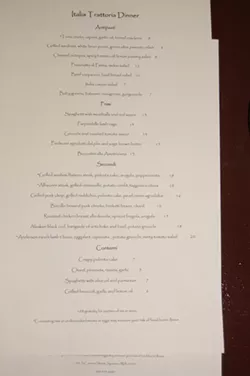 There will also be weekend brunches, the menus for which weren't completed.
Word of Italia Trattoria's opening leaked out on the Twitter and Facebook pages of the close friends of Anna Vogel and Bethe Bowman on Wednesday, the morning after their first dinner service. That's exactly the way the co-owners wanted it.
"From the beginning we decided we would just open the doors and let people trickle in," Bowman said.
The Trattoria is open:
Lunch Tues-Fri 11am-3 pm
Dinner Tues-Sat 3pm-close
Brunch Sat and Sun9 am-3 pm
Call 509-459-6000