You may have heard that "America's Mayor" Rudy Giuliani is coming to the Spokane Arena on Aug. 17 as part of Get Motivated!, a day-long business seminar with several speakers including Colin Powell and Gonzaga's Mark Few.
Single tickets are only $4.95.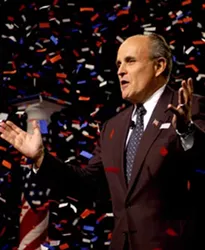 We're not sure what portion of the gate is going to Giuliani personally, but with news this week of his daughter's shoplifting arrest, he may need your support to mount her legal defense. According to the New York Times, Giuliani's 20-year-old daughter, Caroline, was arrested in New York on Wednesday after employees at an Upper East Side cosmetics shop caught her pocketing makeup worth more than $100.
This has created a bit of media frenzy, including a report by CBS today, which included speculation from a child psychologist that Caroline may be trying to stick it to her father, from whom she's reportedly estranged.
Either way, more fodder for his motivational speech on perseverance to us Spokies.