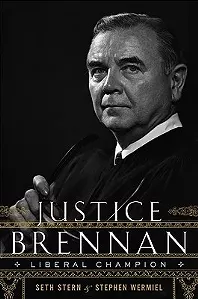 Aren't you lucky, you fancy blogizens (blogorians?), you? Those who rely on the stodgy old paper version of
The Inlander
are left to suffer, bereft of my wit and clear lucidity.
But you, you get an extra-special internets-only book review of a new biography of Supreme Court Justice William Brennan that just came out on Tuesday. I mean, just because I don't know the meaning of "succinct" this review is TOO HOT FOR THE PAPER (it might start fires) doesn't mean you, the peoples, shouldn't get to read it.
Here's an excerpt:
The Supreme Court is probably the most well-known institution in American government that the public knows almost nothing about. Every time a vacancy springs up, various special-interest groups from across the political spectrum drudge themselves up from the swamps of D.C. and plant themselves in front of a camera.

Yet for all the rancor and acerbity that accompanies a Supreme Court confirmation, we really don't know all that much about the justices, their private lives or their deliberations. Practically the only time we hear about what goes on behind those closed doors is when one of those justices writes a book — or has a book written about him or her — and, unfortunately, they're rarely revealing unless they're written posthumously.
Now, fly my pretties! Go read the whole review. Or the book, I don't care*.
*Yes, I do.
The review
. Then the book.