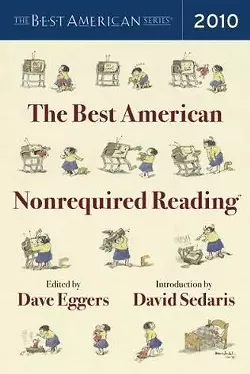 Ever since Reader's Digest ruined the reading habits of millions lost popularity, where can you go to get omibus collections of things?
The Best American Nonrequired Reading is not a collection of short stories (that's what The Best American Short Stories is for), but it provides an eclectic mix of fiction, nonfiction, lists and even some journalism you probably haven't seen yet. Year to year, the collection is of such quality it's become required reading in college courses — a bit counter to the name, perhaps, but such is life.
It's not a book that can be read in one sitting, straight through. Trying to do so will result in you giving up somewhere between half and two-thirds of the way through. Instead, pick it up as you would a five-pound chocolate Easter Bunny — nibbling a little here, a little there, until you finish it.
But of course, the best part of any Nonrequired is the list of lists in the front. They range from the arbitrarily chosen ("Best sentences found on page 50 of a book") to the hilarious ("Best American fast-food related crimes"). Here's a sample from my favorite, "Best American new band names":
Volcano Choir, We Were Promised Jetpacks, The Dead Weather, The Pains of Being Pure At Heart, Japandroids (!!), The Christopher Walk-Ins, The Van Gobots, Das Racist, Boys IV Men and Shark Pants.
There's actually an entire page of band names, in addition to 400 more of really good and/or funny and/or interesting writing. So check it out.
But some of you out there may not like the words so much, and that's why they also put out The Best American Comics**. A curated collection of some of the best indie comics, it does technically require some reading (with the word bubbles and all), but it's mostly pictures. They sample from a wide range of artistic styles, from black-and-white, simply-drawn sequences to a two-page full-color retrospective on the Bush years. Consisting of excerpts of larger work (like Josh Neufeld's A.D. or the latest Scott Pilgrim) as well as fully contained shorter pieces, it's got something for everybody.
This is not really a collection for comic-book nerds of the typical vein; that is, very rarely (if ever) will you see a straightforward superhero story contained herein. Instead, the book is aimed at people who enjoy visual art that tells a story — I can see people who regularly frequent art galleries and try to figure out the author's message getting a kick out of most of these. It's also a great way for people who enjoy graphic novels to find out about some of the up-and-comers. Basically, if you know who Art Spiegelman is, this is going to be worth your time and money.
* Where everything = comics and/or reading that's not required.
**Actually, there are something like a dozen "Best American" books, including
Best American Science Writing
,
Essays
and
Travel Writing
, to name a few. Most — if not all — of the 2010 editions are out now.