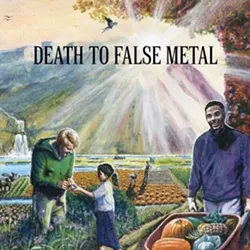 MUSIC
Death to False Metal, Weezer
Because somebody had to challenge Glee for most extensive oversaturation of the market, right? Just after their latest album, Hurley (which was praised by those who don't take Weezer too seriously and excoriated by those who do), the proto-nerd rockers dug deep (though not very deep) into their unreleased tracks and have thrown together an album of songs that sound like they're mostly from the Maladroit period — i.e., before hating them got to be as popular as hating the mainstream media*.
There album touches enough Weezer periods (mesozoic, Green Album, etc.) to satisfy anyone who liked the group at some point, but the high points are "Losing My Mind" and "I'm A Robot." Though different stylistically, both contain the Weezer-y essence everyone claims Weezer lost. "Losing My Mind" is pure sad-sack Rivers Cuomo: "Totally wasted, trying to find a date/Just want to find the thrill that I felt once before." Contrarily, "I'm A Robot" is a long-overdue tribute to 9-to-5, workaday schmoes: "I'm a robot/I don't have any feeling in my heart/I have a wife and child waiting at home/Occasionally I give my dog a bone."
Alright, haters. You wanted them to get back to their roots. What's your complaint now?
Cardiology, Good Charlotte — It's always heartening to see a band maintain the same style instead of changing with the times. Too bad for them it's not 2002 anymore.
National Ransom, Elvis Costello — Given my firm belief that you can, in fact, judge a book by its cover, I think this album is the greatest thing ever made.
Hey, Guess Who's Not Dead Yet:**
Dreams, Neil Diamond | Soulville, Huey Lewis and the News
---
DVD
Best Worst Movie
INT. OFFICE
Exec 1: Oh no, we're running out of ideas!†
Exec 2: Well, we have this movie called Goblins. Maybe we could use that.
Exec 1: Original ideas?! People would never pay for that. Let's make it, but we'll call it Troll 2.
Exec 2: But there's nothing about trolls in it. It's called f-ing Goblins. What do you think, guy who created it?
Creative Type: *Counts money* Meh.
It sounds like a terrible idea for a movie. In execution, it was even worse. The actors, the actresses, everyone involved in the production of Troll 2 thinks they — and everyone else involved — did an absolutely awful job. But, as hipsters are wont to do, they latched onto this abominable creation and adopted it as their kitschy, terrible own.
This documentary follows a few of the actors from the now-cult movie Troll 2 as they discover just how many people love the worst thing they ever did. The main actor is now a children's dentist, but he finds himself thrust into the spotlight 17 years after the movie's initial cratering. It's surreal. It's crazy. But damn if isn't a fun movie. We all know a few of those films that we love because they're so terrible (Mystery Science Theater made an entire TV series out of it), but Troll 2 is the epitome of the Ed Woods style of awful.
You won't get to see the whole movie... but really, that might be a good thing. With lines like "You can't piss on hospitality, I won't allow it!", the highlights are enough to get the gist of it. It's interesting to watch these people deal with their (possibly ironic) rise to fame, as well as fan reactions. --- (Those involved would be well served by remembering that fans watch this movie because — on some level, at least — they enjoy it.)
Toy Story 3 — True story: I actually have a friend who didn't like this movie. Well, I had a friend who didn't like this movie. Friends like Armond White, I don't need.
The Goonies 25th Anniversary Collector's Edition — Includes a making-of documentary, a Cyndi Lauper music video, a souvenir magazine about the filming, and updates about the cast. Is it worth the money? Probably not. Is it The Goonies? Yes. 'Nuff said.
Winnebago Man — Speaking of being catapulted to fame years after the incident, Jack Rebney made some ridiculous outbursts while making a Winnebago commercial in 1988, only to become an Internet phenom in 2005. This documentary follows the filmmakers as they try to track down this elusive "folk hero."††
The Larry Sanders Show: The Complete Series — Just can't wait for the new War for Late Night made-for-TV movie, which I'm assuming has already been optioned? Check out this mid-'90s classic sitcom about the travails of late-night TV.
---
VIDEOGAMES
Power Gig (X360, PS3)
I know, I sang the praises of Rock Band 3 last week, saying how awesome it was that they're trying to use real instruments. Well, it turns out that's not always the best plan. When your game requires players to hook up an electric guitar to a PS3 or an XBOX 360, you should really make sure your game actually knows how to make use of a real guitar.
Sure, some of the problems with this game are nit-picky. Like, say, even though you use a real guitar, you can't actually the play the game using the same fingerings you would on a real guitar. Sometimes the game even forces you to hold down multiple frets on the same string. Which is pointless on a real guitar. But hey, at least the game features Eric Clapton! That's cool, right?
Bottom line: You can plug your controller into an amp because it's a real guitar! Which poses the same question people have been asking since the release of Guitar Hero: Why not just learn how to play guitar?
Kinect Adventures w/ Kinect sensor (X360) — Hooray! The end of gaming with buttons! Because apparently everybody hates buttons! Hey, if they can design the Wii around buttonlessness (with the appropriate time and research put into doing it correctly), why can't all the other console makers release a $100 add-on?
Are You Smarter Than a 5th Grader? Back to School (Wii, NDS) — Here's what I don't get: Trivia games are usually played by people who like learning and therefore know quite a bit. It wouldn't be difficult to beat a fifth grader with an average adult's knowledge. So who's buying these games and watching that damn show?
Goldeneye 007 (Wii, NDS) — As anyone who got near a Nintendo 64 knows, Goldeneye is the best first-person shooter ever made. But, after a while, the graphics got a bit … dated. Reviews of the reboot are mixed, but if it can go even a little way toward capturing that retro magic, it should be worth the cash.
Movie Cash-Ins:‡
Megamind (NDS, PSP, PS3, X360, Wii) | Penguins of Madagascar (NDS) | Toy Story 3 (PS2) | The Amazing Race (Wii)
* Jon Stewart burn! (We kid because we love.)
** New feature! Listing albums from people I could have sworn were dead, or at the very least not recording anymore. (Though she's not listed, you should always assume Madonna has a permanent fixture on this list.)
†
If you listen closely, you can hear this being shouted every 15 seconds or so in Hollywood.
††
Their words, not mine.
‡
Another new feature! Because videogame manufacturers just can't help themselves from trying to ride the buzz of other franchises that were designed with a completely different medium in mind.