... the answers lie in some upcoming books. (Sure, some of these have already been released. But the idea here is getting a head start on your shopping for the bookaholic on your list.)
I'm Dreaming of a Black Christmas, by Lewis Black (Riverhead, 190 pages, Nov. 2)
The standup comedian channels Scrooge and excoriates the whole Yuletide industry. He spoofs all of it: the carols, the shopping, the tinsel, everything. (Basically, he's angry because "At Chanukah we get nothing.")
America's Medicis: The Rockefellers and Their Astonishing Cultural Legacy, by Suzanne Loebl (HarperCollins, 450 pages, Nov. 16)
An examination of arts patronage that works too hard, apparently to avoid controversy. Still: MOMA, the Rockefeller Center, Lincoln Center — the Rockefellers left their mark all over NYC (and elsewhere, too).
Hero: The Life and Legend of Lawrence of Arabia, by Michael Korda (HarperCollins, 800 pages, Nov. 16)
It's been nearly 50 years since the movie, with Peter O'Toole sitting astride camels and striding across sand dunes in his dishdasha and scimitar. The map of the Middle East looks largely the way it does today because of the efforts of a Welshman named Thomas Edward Lawrence in helping Arabs rebel against the Ottoman Turks during World War I. Word is, skip the opening 100 pages of military history and jump into the fascinating life of a man who could speak eight languages and led an uncoventional, liberating life.
Mother Country: Memoir of an Adopted Boy, by Jeremy Harding (Verso, 190 pages, Nov. 22; originally published in Britain in Jan. 2006 by Faber)
A British writer searches for his birth mother. Lots of false leads while flipping through public records. Harding makes discoveries about his adoptive parents and himself, too. (And closed-adoption laws come in for a drubbing as well.)
Designs on Film: A Century of Hollywood Art Direction, by Cathy Whitlock (HarperCollins, Nov. 30)
Back lots, backstage, and production design depicted in photos for lots of famous movies:
Top Hat, The Wizard of Oz, Ben-Hur, Rosemary's Baby, The Age of Innocence, Avatar
and more.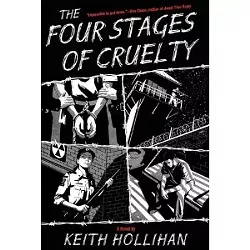 The Four Stages of Cruelty, by Keith Hollihan (Thomas Dunne Books, 300 pages, Dec. 7)
In this labyrinthine thriller, a female prison guard keeps an eye on a 19-year-old inmate who's helping another inmate create a graphic novel full of dark symbols about the prison's literally underground and abandoned isolation chambers.
Old Border Road, by Susan Froderberg (Hachette/Little, Brown; 280 pages, Dec. 9)
A 17-year-old wife deals with remote parents and her new husband in the desert of southern Arizona.
Yarn, by Jon Armstrong (Night Shade Books, 320 pages, Dec. 14)
Set in "Seattlehama," the sex-and-shopping capital of the world, this "fashionpunk" novel — a stand-alone sequel to Armstrong's 2007 novel, Grey — explores a dystopian, near-future world in which "saleswarriors" and "salessoldiers" battle for customers. In the plot, our hero is asked to weave a dress out of an illegal yarn that affects its wearers like a psychedelic drug.