No, this picture wasn't taken in Spokane's newly Arctic winter. It was sent to us by former Spokane city administrator Mary Franklin, who has moved to Fairbanks, Alaska. Pictured are two people she's befriended at Catholic Charities there ("Eskimo John" and "Phil," though we don't know which is which).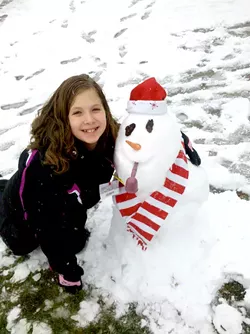 This, however,
was
taken in Spokane this week.
Inlander
reader Kara sent it to us with this explanation:
My children, who normally take forever to get ready in the morning, were so excited when they saw the snow. They ran downstairs, ate their breakfast and got ready for school in record time. My daughter was out in the yard and had this snowman built before the bus arrived! My son, who is 6, said, "I haven't seen it snow for half my life!" They crammed an awful lot of fun into those 20 or so minutes before school on the day of our first snow of the year! What a great morning!
Do you have pictures of the newly fallen snow? We're especially interested in seeing how the dump is affecting your life. Car stuck? Sledding to work? Let's see it.
Send to joels [at] inlander [dot] com.