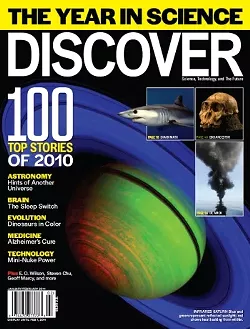 Sleepwalkers can move around in the middle of the night, eyes open, performing complicated functions — while they're asleep! — because only
parts
of our brains fall asleep at night. The others are still alive and kicking.
That finding, made by Washington State University professor James Krueger this year, ranks No. 32 among Discover magazine's Top 100 Stories of 2010.
The research found that the firing of our neurons causes the release of an important molecule called ATP, which, as it accumulates, sets off a chain of other reactions that make us sleepier and sleepier. But the important finding was that this isn't a "whole brain phenomenon" but a "local phenomenon — that bits and pieces of the brain sleep."
Understanding this, the university says, could lead to progress in sleeping aids and to better treatment for stroke and other brain injuries.
"This is an extremely important finding," University of Minnesota sleep expert Mark Mahowald told the magazine.
This is the second bit of big news to come out of WSU's sleep research recently. Last week, I wrote that WSU Spokane's Sleep Research Center is helping keep pilots awake. The Federal Aviation Administration's rules committee heard the testimony of two WSU scientists and changed its rules regarding how well-rested pilots need to be.