click to enlarge
Tonight, shows open at the community theaters in both Spokane and Coeur d'Alene. And next Wednesday night is your only chance to see the best touring show stopping in Spokane before Wicked in May.
In Don't Dress for Dinner (at Spokane Civic Theatre — Fri-Sat 7:30 pm, Sun 2 pm), Bernard is trying to get his wife, Jacqueline, out of the house so he can have an affair. But she's having an affair of her own. And pretty soon, the caterer is pretending to be Bernard's mistress (for a price, of course). Doors are slammed and high jinks ensue. (See our review next week.)
Of Mice and Men is, of course, the story of George and Lennie, migrant workers during the Depression, and of the sad and funny-bunny things that happen to them when they get hired on at a ranch in California's Central Valley. (This is the stage version of John Steinbeck's 1937 novella.) It's at Lake City Playhouse in Coeur d'Alene on Fri-Sat 7:30 pm and Sunday at 2 pm.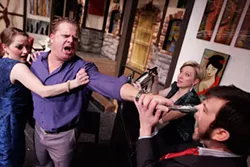 ... and don't forget the rock musical about the consequences of sexual repression,
Spring Awakening
— for one night only, on Wed., Jan. 19, at 7:30 pm at the INB Center.
Read our preview
("They So Horny") and then
buy tickets
.