When you work hard for years to achieve artistic nirvana — and you have to do it in close cooperation with three other intense, creative, emotional people ... well,
Opus
is about a lot more than just guys in tuxedos sawing away on stringed instruments. It's about collaboration, generosity, friendship, and striving for perfection while keeping one's life in balance. For
Interplayers
'
rendition of Michael Hollinger's
Opus
, opening night is tonight at 7:30, along with Sat 7:30 and Sun 2 pm.
Watch our slideshow preview
with voiceover by director Jadd Davis (right).
A Night in the Theater is a play within a play — or rather it's about two couples watching a play. In Lawrence Casler's 1993 comedy, we watch a quartet of friends chattering and gossiping about themselves as they (supposedly) are watching a performance of Hamlet. Ignite! Community Theater will present three performances: tonight at 7 pm at GU's Foley Center; Sat. 7 pm at St. Mark's Lutheran, 24th and Grand; and Sun 2 pm at the Blue Door Theatre, 815 W. Garland Ave. Call 330-1066.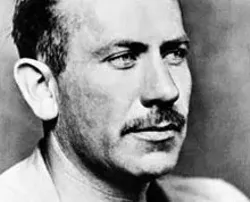 Of Mice and Men at Lake City Playhouse: Sure, it's just a little community theater in a small town. But in the central roles of George and Lennie, George Green and David Gigler are delivering remarkable performances, and the story by John Steinbeck (pictured) about fighting against long odds still packs emotional wallop. And you've only got until Jan. 30 to see it. Read a review. Performances Fri-Sat 7:30 pm, Sun 2 pm.
In Don't Dress for Dinner at the Civic, infidelity plots and role-playing get piled so high that you can't figure them out. All you can do is laugh. Director Thomas Heppler's production continues (right across the street from the Arena) on Fri-Sat 7:30 pm and Sun 2 pm. Call 325-2507. Read a review.
And as always, the improv comedy is freshly brewed on the spot at the Blue Door Theater: Fridays at 8 pm, Saturdays at 9 pm. Call 747-7045.